Healthy Kids Brantford-Brant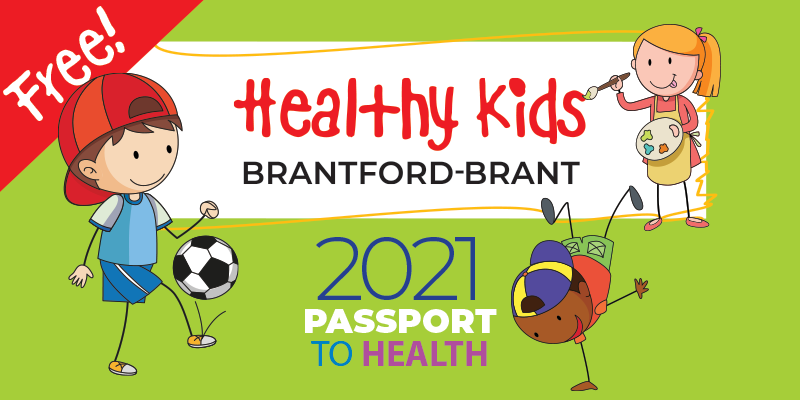 Healthy Kids Passport to Health
The Healthy Kids Passport to Health is your child's opportunity to try new activities for FREE in Brantford and the County of Brant from March 13 to 28, 2021. Due to the ongoing COVID-19 pandemic, this free program will be offered virtually this year. Learn more and register for activities at the Healthy Kids Passport to Health Calendar. New activities are being added every day, so be sure to check back often to secure your spot!
Over 20 community partners in Brantford and the County of Brant are offering more than 30 free virtual activities for children. Some activities include a cooking class, museum tours, art classes, STEMOTICS and more. Kids can participate in as many activities as they want, but space is limited in some activities and pre-registration is required. All activities and registration details can be found at the Healthy Kids Passport to Health Calendar.
Passport to Health Photo Contest
Thank you to all the Healthy Kids and families that participated in over 350 hours of free Passport to Health activities.
Congratulations to the Grand Prize Winner Anya Boyarkina who won the $400.00 City of Brantford Gift Certificate!
Congratulations also goes out to the nine additional prize winners below who won prizes valued at $100 each:
Crock-a-doodle – Nadine Renaud
Smak Dab Pottery – Jenean Killgore
The Bicycle Shop – Nicole Callander
Sport Check – Kristi Carlmusson
Brant Sports – Jessica Watson
Walter Gretzky Municipal Golf Course and Learning Centre – Bhandhavi Manda
Twin Valley Zoo – Lindsay Larion
Grand River Conservation Authority – Charelle Jollymore
Grand Experiences – Marta Aliev
About Healthy Kids Brantford-Brant
Healthy Kids Brantford-Brant is a community initiative focused on promoting healthy behaviours and physical activity for children 0 to 14 years of age.
Since September 2015, this popular program has been organizing annual themes to encourage children and families to live a healthy lifestyle. The Healthy Kids project team works with over 200 community partner agencies and businesses to offer, and help implement, programming that promotes physical activity, healthier eating habits, less screen time use, and develops better confidence and improved self-esteem.
Parent survey
Parents, you can win one of ten $20.00 Walmart Gift Cards by completing our online parent survey. The City of Brantford and the County of Brant in partnership with the Brant County Health Unit are conducting this survey to better understand the impacts of the Healthy Kids program.
Results of the survey will help inform future projects and activities for the Health Kids Brantford-Brant community. If you are a parent and have a child or children 14 years of age or younger, we would appreciate you taking the time to complete the online survey. The survey should take no more than 15 minutes to complete.
Healthy Kids At Home
Are you a family looking for fun activities while you are staying safe at home? The City of Brantford and County of Brant have connected with our community partners to provide a diverse list of online classes and activities.
Whether you're looking for fitness classes, art classes, access to books or online learning, there's something for everyone. Get your friends or family involved to stay connected while staying inside. Visit our Healthy Kids at Home webpage.
Subscribe to this Page