Healthy Kids Brantford-Brant
Healthy Kids Brantford-Brant helps children lead healthier lives through healthy eating, getting active, and making healthy choices. We are helping to change the culture of children's health within the community.
2019 Passport to Health
The Healthy Kids Brantford-Brant 2019 Passport to Health is your passport to try new activities for free throughout the City of Brantford and the County of Brant. These are just some of the free activities you can experience from March 9 to 24, 2019: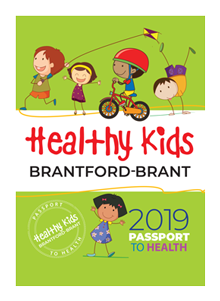 Boxing
Dancing
Geocaching
Music Lessons
Skating
Taekwondo
Yoga
and so much more!
Each child needs their own passport as their ticket to participate in as many activities as they want. Each provider will stamp the passport after the activity is completed. Completed passports can be dropped off to win bikes and helmets for your family. Submit your completed passports to any community centre or library branch in the city or Community Services at 15 Curtis Ave. N. in Paris.
Passports will be handed out at schools and daycare centres. If you need additional passports, you can pick one up at any community centre or library branch in Brantford or at the County of Brant Community Services office at 15 Curtis Ave N., Paris.
Learn more about the activities the Passport to Health has to offer in our Healthy Kids Brantford-Brant Passport to Health video that features community champions City of Brantford Mayor Kevin Davis and Krista Duchene alongside our Healthy Kids ambassadors.
Free Transportation for the Passport to Health
Children aged 0-12 can ride Brantford Transit for free, anytime. The passport can be used for complimentary transportation to access the listed activities in the County of Brant for March 9-24, 2019.
Parent Survey
Parents, you can win one of ten $20 Walmart Gift Cards by completing our online parent survey. The City of Brantford and the County of Brant in partnership with the Brant County Helath Unit are conducting this online survey to better understand the impacts of the Healthy Kids program. Results of the survey will help inform future projects and activities for the Health Kids Brantford-Brant community. If you are a parent and have a child or children 14 years of age or younger, we would appreciate you taking the time to complete the online survey. The survey should take no more than 15 minutes to complete.
Run. Jump. Play. Everyday!
We want all children to enjoy play, sports, and physical activity.
Water Does Wonders
Let's encourage kids and families to drink water when thirsty instead of sugar-sweetened beverages. It's the natural, healthy, and free choice.
Choose to Boost Veggies and Fruit
Make vegetables and fruits part of our everyday lives. Whether fresh, frozen, or canned, fruits and vegetables help provide children and families with the vitamins, minerals, dietary fibre, and overall energy needed to be physically active.
Power off and Play!
Power off devices before sleep, during meal and snack time, and encourage plenty of physical activity, social interaction, family time, and fun. Let's help children and families to build a balanced day not filled with screen time.
The Coordinated Youth Services Strategy
A vibrant, youth-friendly community is a place where young people are engaged, have strong connections with friends, family and resources, and many options to thrive. The Together for Youth Strategy provides a framework for the City of Brantford to continue to collaborate with community partners to support youth and youth agencies.
In 2017, the City of Brantford was awarded the designation of a "Youth-Friendly Community" by PlayWorks – the Ontario Partnership for Active and Engaged Youth.
Subscribe to this Page