Colborne St. Stabilization
The Report
The Final Environmental Assessment Report for the Colborne Street East Slope Municipal Class Environmental Assessment Study is now available.
The Study
The City of Brantford has initiated a Municipal Class Environmental Assessment Schedule 'C' for a section of Colborne Street.
A Class Environmental Assessment is a document that sets out a standardized planning process for which the applicant is responsible. A class environmental assessment is approved under the Environmental Assessment Act and applies to projects that are carried out routinely and have predictable environmental effects that can be readily managed.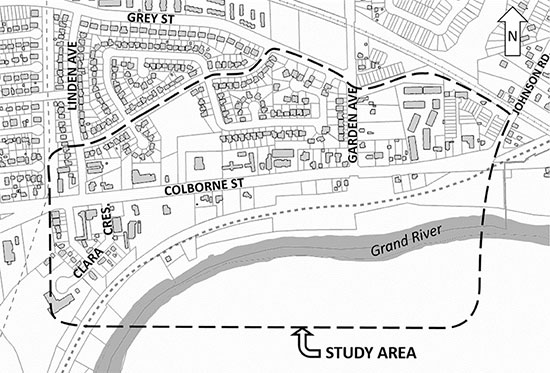 Public Consultation
Three Public Information Centres have been planned to provide interested parties with an opportunity to review and discuss issues related to the project. The first PIC was held on September 13, 2018. The second PIC was held on March 12, 2019. The third and final PIC was held on November 13, 2019.
The final PIC reviewed the Environmental Assessment process, provided a complete characterization of the existing conditions of the study area, summarized the alternative solution selected, and presented the preferred alternative design to address the slope stability concerns along Colborne Street (East).
Upon completion of the study, an Environmental Study Report will be prepared and posted for public review and comment. The document will detail the planning process and provide the preferred alternative. A Notice of Completion will be issued at that stage.
The study area includes approximately 1,200 metres along Colborne Street between Linden Avenue and Johnson Road, including the embankment extending to the Grand River. This study is intended to identify and evaluate alternatives, as well as to develop concepts to improve, manage or mitigate slope stability concerns in the study area.
If you have any comments or questions regarding this study, please contact:
Matt Welsh C.Tech., PMP
Project Coordinator
Design and Construction
Public Works Commission
City of Brantford
100 Wellington Square
519-759-4150 Ext 5446
mwelsh@brantford.ca
Jeff Prince, P. Eng
Senior Project Manager
Ecosystem Recovery Inc.
80 Courtland Ave East, Unit 2
Kitchener, Ontario N2G 2T8
519-621-1500
jeff.prince@ecosystemrecovery.ca
Subscribe to this Page