Greyfields Revitalization Strategy
The Greyfields Revitalization Strategy project began in 2018 is focused on addressing the obstacles to revitalizing greyfield sites and encouraging private sector reinvestment in these properties.
Greyfields can generally be described as previously developed commercial sites that are vacant or underutilized, and/or in a state of neglect or disrepair. Greyfields are viewed as lands where there are opportunities for revitalization because they have access to existing public services, infrastructure, and utilities and, unlike brownfields, are not perceived to be subject to environmental contamination. As such, revitalization of greyfield properties is an efficient way to accommodate new growth and achieve intensification goals and can also promote economic development and be a catalyst for positive change within a neighbourhood.
The City of Brantford has released a proposed Greyfields Community Improvement Plan (CIP) to promote and assist in the revitalization of greyfield sites.
The proposed Greyfields Community Improvement Plan aims to support the revitalization of greyfield sites across by helping property owners make improvements to their properties or redevelop their properties into mixed use developments. It is envisioned that these revitalization projects will provide for a variety of types and tenures of residential units, support existing and new commercial uses, and facilitate the transformation of clusters of greyfield sites into attractive and thriving commercial areas. The proposed Project Area (i.e., the area to which the CIP would apply) is the built-up area of the City, excluding the Downtown Urban Growth Centre, as shown below.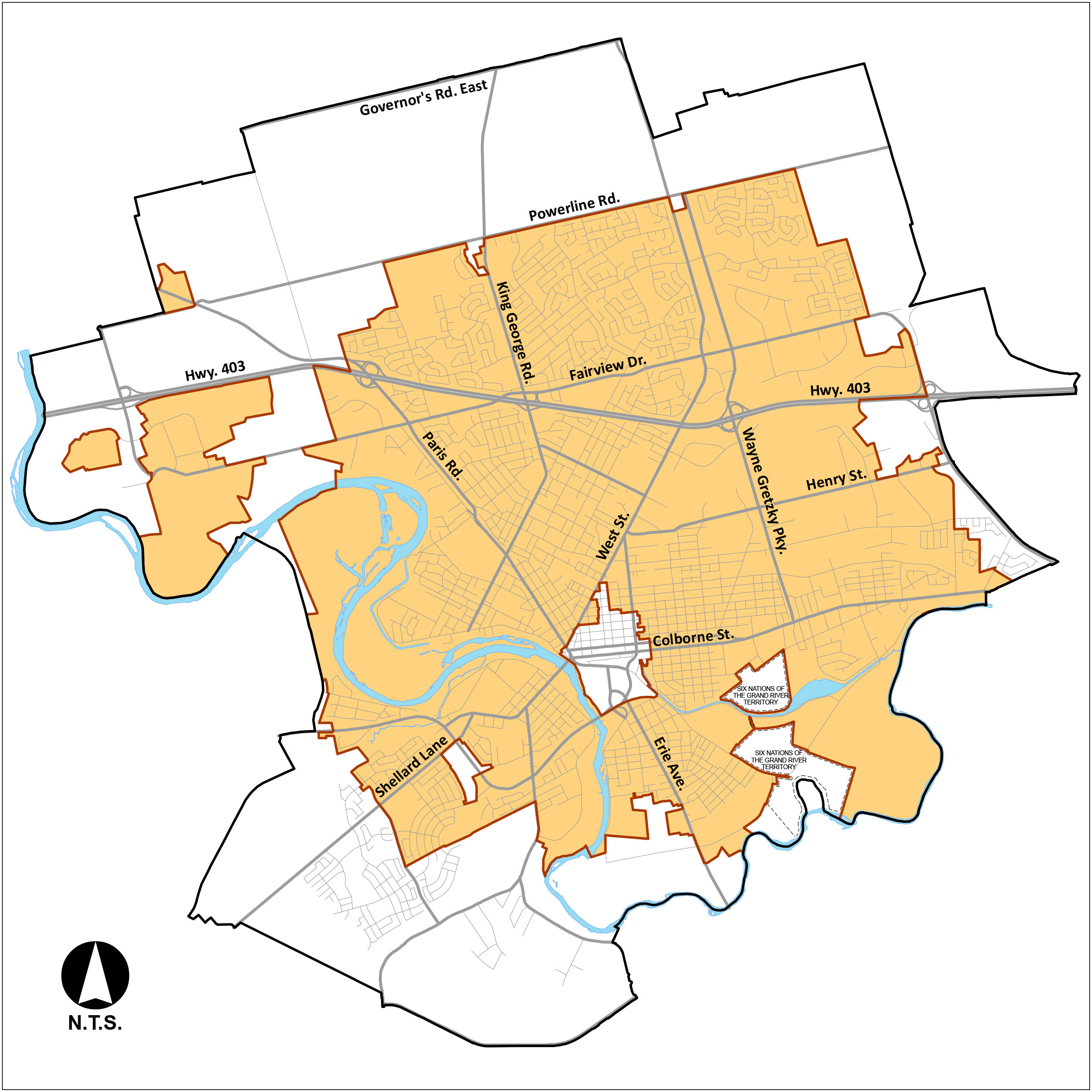 Proposed Project Area for the Draft Greyfields Community Improvement Plan
The proposed Greyfields CIP includes three financial incentive programs intended to facilitate private sector investment in greyfield sites to support their improvement or redevelopment, as follows:
The Property Tax Increment-Based Grant which is intended to promote the transformative redevelopment of greyfields into new mixed use developments (i.e., with both commercial uses and residential uses) that will increase a property's assessed value.
The Commercial Façade, Landscaping and Connectivity Improvement Grant which is aimed at facilitating improvements to the appearance and accessibility of existing commercial and mixed use properties in Target Greyfield Revitalization Areas.
The Mixed Use Building Improvement Grant which would support the conversion of existing buildings into mixed use buildings in Target Greyfield Revitalization Areas.
Upcoming Public Meeting
A virtual Public Meeting will be held on Tuesday, February 9, 2020, beginning at 6:00 pm. At this meeting, the Committee of the Whole – Community Development will hear public representations in respect of the proposed Greyfields Community Improvement Plan and a presentation from City staff. The Committee will consider a City staff recommendation to adopt the Greyfields Community Improvement Plan.
To ensure compliance with COVID-19 pandemic preventative measures that remain in place, this meeting will be held virtually with no in-person attendance. Members of the public are invited to participate in writing or via email, by telephone, or electronically via the Zoom platform. Please note that registration is required in order to participate by telephone or electronically via the Zoom platform. The Notice of Public Meeting provides more information about how to participate and register for the meeting, and how to watch a livestream of the meeting via the City's website.
For more information or to provide comments, please contact:
Victoria Coates, Intermediate Planner, Long Range Planning
Planning Department
100 Wellington Square
Brantford, ON N3T 2M2
Tel: 519-759-4150, ext. 5712
Email: vcoates@brantford.ca
Subscribe to this Page