Shellard Lane Corridor Improvements
Notice has been provided of a Pre-Construction Public Information Centre For Improvements to Shellard Lane - Phase 2 (McGuiness Drive to the West City Limit).
Schedule and Description of Work
Shellard Lane Phase 2 from McGuiness Drive to the West City Limit is scheduled for reconstruction from early March to Fall 2018. This section of the road will be urbanized to match the look of Phase 1, and will include the following design features:
Road widening to 4 lanes with curbs, turn lanes and median islands;
New intersections linking proposed developments on the north and south sides of Shellard Lane;
New traffic signal;
Multi-use trails and sidewalks;
Storm drainage and new water mains; and
Illumination and landscape plantings.
Shellard Lane Reconstruction Trail Closure Detour Map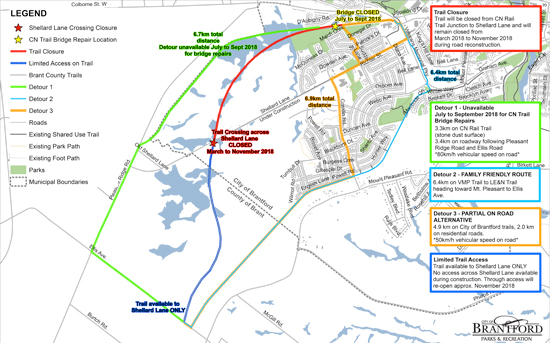 Road Closure and Traffic Detour
Phase 2 will be closed to public traffic for the duration of construction. The extensive road grade changes and large culvert crossing installations, and site conditions will not allow for safe traffic movement through the construction. Detour routes will be posted in the area and along the County roads to help direct traffic to and from the neighbourhood.
Road Closure and Traffic Detour Map
Shellard Lane - Trail Detour Map - Update June 25, 2018
Public Information Centre
In advance of the construction, residents and businesses were invited to attend a Public Information Centre for an opportunity to review the construction plans and the traffic detour map that was held on March 22, 2018.
Questions regarding this project can be directed to 519-759-4150 ext. 5705.
Subscribe to this page for updates to the Environmental Study Report for Improvements to Shellard Land from Colborne Steet West to the West City Limits.
Subscribe to this Page