St. Paul Avenue Project
Road, watermain, storm and sanitary sewer reconstruction
The City of Brantford will be fully reconstructing St. Paul Avenue from Brant Avenue to St. George Street. The construction will be split into two phases consisting of the following sections:
Phase 1 - St. Paul Avenue from Terrace Hill Street to St. George Street
Construction commenced in spring of 2021 and was completed in late fall 2021
Phase 2 - St. Paul Avenue from Brant Avenue to Terrace Hill Street
Construction is scheduled for spring 2022 and is expected to be completed in fall 2022
The work in each phase will generally include the following improvements:
Replacement of the existing watermain, including servicing to property line
Replacement of the existing sanitary sewer, including servicing to property line
Replacement of the existing storm sewer
Replacement of the asphalt roadway, driveway approaches, curbs, boulevards and sidewalks
Surface drainage upgrades
Additional structural work will be part of phase two (Brant Avenue to Terrace Hill Street) and will include the following improvements:
Rehabilitation of the lower retaining wall underneath the CN underpass
Replacement of the retaining wall adjacent to the Brantford General Hospital on the Southeast corner of St. Paul Avenue at Terrace Hill Street.
Project Update
St. Paul Avenue (Brant Avenue to Terrace Hill Street) - Brant Avenue Intersection Reconstruction
The City's Contractor, Beech Infrastructure Group Ltd., is moving into the next stage of construction of St. Paul Avenue, which will include reconstruction of the road, sewer and watermain within the Brant Avenue intersection.
In order to accommodate the work in a safe manner for both the workers and travelling public, there will be additional traffic control measures and detours in place to redirect traffic around the construction zone.
Starting the week of July 18th, the south side of this intersection will be closed and a detour will be posted to divert traffic northbound St. Paul Avenue traffic, as shown below. The detour will be in place until the work within the intersection is finished, which is anticipated to be mid-September, weather permitted.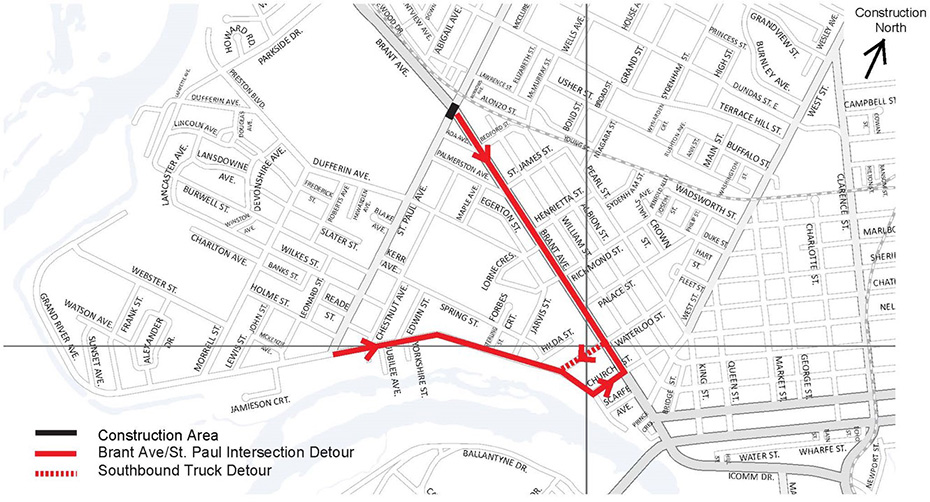 One lane of traffic in each direction will be maintained along Brant Avenue through the intersection, with the exception of when the work involves deep excavations near the center of the road. There will be period of approximately five (5) days when eastbound traffic (from Paris Road) will be detoured while the Contractor is working in this area. This work will take place during off-peak hours (7pm – 7am) while traffic volumes are low, and re-opened during the day.
Due to the limited space available within the intersection for large vehicles making turns, there will also be detours posted to divert trucks travelling from Paris Road and King George Road around this intersection for the duration of the work.
Those who normally travel through this area can expect delays and should allow for additional time to arrive at their destination.
Thank you in advance for your tolerance and understanding during this period of construction. If you have any questions regarding this project, please contact:
Matt Welsh, C.Tech, PMP
Project Coordinator
Design and Construction
Public Works Commission
City of Brantford
58 Dalhousie Street
226-387-0859
mwelsh@brantford.ca
Virtual Public Information Centre
Due to the COVID-19 pandemic, the City hosted a Public Information Centre (PIC) virtually. In addition to the following video, a transcript of the video content and PIC boards are also available for review.
We want to hear from you!
The question and comment period closed on February 22, 2021.
If you have any questions about this project, please contact us using one of the following methods:
By Mail – please mail to Alex Chalov, City of Brantford, 58 Dalhousie Street, Brantford, ON N3T 2J2
By Phone – please contact the City at 519-759-4150 Ext. 5783
By E-mail – please contact the Project Team
Subscribe to this Page