Ward 1 Vacancy
Notice of vacancy for Ward 1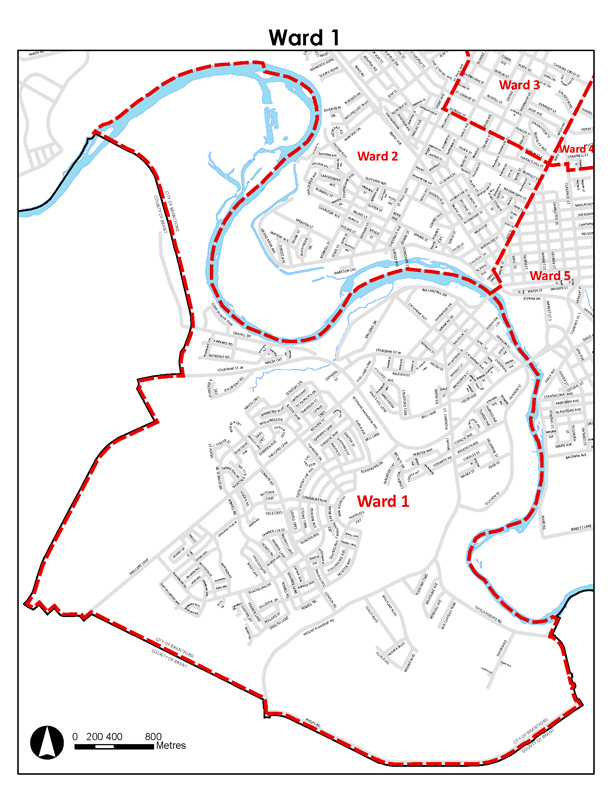 TAKE NOTICE that a vacancy exists on the City of Brantford Council for one (1) Councillor Ward 1 and that Council has determined to fill this vacancy by appointment in accordance with Section 263 1 (a) of the Municipal Act, 2001.
The term of this position shall be from the date of the Council appointment to when the new Council is sworn in after the 2022 Municipal Election.
A Special City Council Meeting to appoint a successful candidate will be held on Saturday December 11, 2021 beginning at 9:00 a.m.
A candidate for municipal office must be a qualified municipal elector as set out in Section 17 (2) of the Municipal Election Act, 1996. Prior to submitting an application, interested individuals should refer to the Municipal Act, 2001 and the Municipal Elections Act, 1996 for further details relating to the required qualifications.
List of Candidates
The Certified List of Candidates listed in Alphabetical Order by Last Name is below:
Biggar, Sandra
Caputo, Gino
Dignan-Rumble, Debi
Grieve, Catherine
Hunt, Linda
James, Erica
LeMay, Jared
Lickers, Sherry
Littell, Mark
Lucente, Mario
MacDougall, Paul
Moscoe, Rebecca
Nelson, Tiffany
Ray, James
Schelhas, Randy
Sicoli, Rose
Starkey, John
Straisfeld, Andy
Sullivan, Michael
Turmel, John
Tutt, Mike
Timeline

| Action | Date |
| --- | --- |
| Declaration of vacancy | Tuesday, October 26, 2021 |
| Decision to fill vacancy through appointment | Tuesday, October 26, 2021 |
| Public advertising of position | November 1 to 12, 2021 |
| Application deadline date | Friday November 19, 2021 at 2 p.m. |
| Confirmation of eligibility by the City Clerk | Monday, November 22, 2021 |
| Special Council Meeting for appointment selection | Saturday, December 11, 2021 |
| Inaugural Council Meeting of the new member | Tuesday, December 21, 2021 |
Frequently Asked Questions
What is the Term of Office?
The term of office starts on December 21, 2021 when the successful candidate takes their Oath of Office and ends when the new Council is sworn in after the 2022 Municipal Election.
Who can be a Candidate?
The Municipal Elections Act, 1996 sets out in detail the requirements to be met by candidates for office. These requirements have been summarized for your convenience below. Interested candidates may wish to obtain their own updated copy of the Municipal Elections Act, 1996 which can be downloaded from the Ministry's website at www.e-laws.gov.on.ca.

Candidates for the office of Councillor Ward 1 must meet the same criteria as eligible voters or electors.

You must be:
A resident of the City of Brantford, or an owner or tenant of land in the City of Brantford, or the spouse of such an owner or tenant;
A Canadian citizen;
At least 18 years old;
Not prohibited from voting under Section 17(3) of the Municipal Elections Act, 1996, as amended, or otherwise by law.
Please note that Section 29(4) of the Municipal Elections Act states that "if a Municipality is divided into wards, a person is eligible to be nominated for an office in an election in any ward of the municipality".
What are the responsibilities of these offices?
The Mayor and Council make up the local government for the City of Brantford. The City is divided into five wards. The decision-making process at the City of Brantford involves a series of Committees that report to City Council. Committees propose, review and debate policies and recommendations before they are proposed at City Council meetings for debate. Council relies on reports from staff and the recommendations of its Committees to make decisions. Council develops policies and adopts by-laws or resolutions based on these policies.
The role of Council is laid out in Section 224 of the Municipal Act, 2001.
Review the Ontario Municipal Councillor's Guide.
Will a list of candidates be made available prior to the Special City Council Meeting?
A certified list of candidates will be publicly available by November 29, 2021 to be considered at the Open City Council Meeting on December 11, 2021 at 9:00 a.m.
What is the time commitment?
The time commitment varies from individual to individual. A Member can expect to devote time for a minimum of 10 meetings per month along with various duties on Committees as appointed by Council.

This would include:
Council and Committee Meetings
Attendance at extra committees that a Member can be expected to be appointed to by Council and Special Council meetings (i.e. Budget)
Telephone calls and contact with constituents
Reading and research time
Special community events (i.e. ceremonies, parades, etc.)
What is the compensation for this role?
The Municipal Act, 2001, authorizes municipalities to pay remuneration and expenses to councillors. City of Brantford Council Members are paid an annual wage and their council-related expenses are reimbursed.
Is there a fee to file my nomination?
There is no fee required to submit a nomination for the Ward 1 Councillor nomination process.
Once I submit my forms, am I considered a candidate?
Candidate submissions will be reviewed and certified by the City Clerk following the close of the submission process on November 19, 2021. The information of certified Candidates will be provided to Council for review at consideration at the Special Council Meeting on December 11, 2021.
Contact us
If you have more questions about the process or vacancy, please contact give us a call at 519-759-4150 or email at election@brantford.ca.
Subscribe to this Page