Harmony Squirrel
Harmony Squirrel is the official mascot for Harmony Square. Have you met Harmony at events or programs you've attended?
Fun Fact! How Harmony Squirrel came to be
In 2018, a citywide contest was held, asking the public to vote on what mascot animal they would like to see represent Harmony Square! The image of the squirrel mascot was the most popular option. Next the community was asked to submit name suggestions, and Harmony Squirrel was selected. On June 9, 2018, Harmony Squirrel came to life and was revealed at the Harmony Square 10th Anniversary Celebration.
About Harmony Squirrel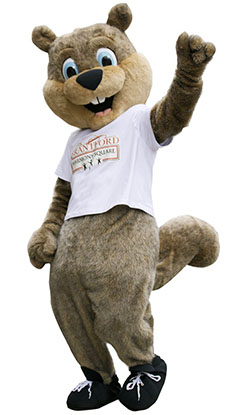 Favourite Food: nuts and peanut butter
Favourite Candy: peanut M&M's
Favourite Activity: Dancing around Harmony Square
Favourite Program: Movies in the Square
Favourite Movie Character: Scrat from the Ice Age movie series
Favourite Pastime: Meeting new friends! Say hello by emailing harmonysquirrel@brantford.ca
Birthday: June 9
Horoscope: Gemini
Harmony Squirrel's birthday party
Harmony Squirrel turned three years old on June 9, 2021. To celebrate, his friends threw him a birthday party, and you're invited to participate. Watch the video below to experience the fun, excitement, special guests, and a big surprise at the end!
Contact Harmony Squirrel
Harmony Squirrel loves to chat with new friends. Email Harmony Squirrel and you just may hear back!
Subscribe to this Page