Brantford Bulldogs
Brantford, get ready to welcome the Bulldogs with open arms and enthusiasm as we embark on an exciting new era of hockey right here in our beloved hometown. With every puck drop, every roar of the crowd, and every thrilling goal, we're set to create unforgettable memories together. To make your Bulldogs experience even more spectacular, we're excited to provide you with essential information about parking and transit options. Whether you're a die-hard hockey fanatic or a newcomer to the sport, this guide will ensure your journey to the games is smooth. So, don your Bulldogs gear, and let the excitement of hockey season in Brantford begin!
Brantford Bulldogs Game Day Parking and Transit Information
To ensure your visit to the Brantford and District Civic Centre is as enjoyable as possible, we've put together this comprehensive guide on parking and transit options. Whether you're arriving by public transit or car, we have you covered. By following these guidelines and using the available public transit options, we aim to make your visit to the Brantford Bulldogs games as convenient and enjoyable as possible. Thank you for supporting our team, and we look forward to seeing you at the games!
Home Games
The doors to the Civic Centre open one hour before games through the Main Gates. Please note that all tickets are digital, and the box office is conveniently located inside the main gates, where Bulldogs staff is ready to assist you. We kindly remind all attendees that the facility is a non-smoking arena, and re-entry during games is not permitted. Additionally, for the comfort and safety of all guests, outside food or bags are not allowed within the premises. Bulldogs games are cashless events, meaning that all ticketing, merchandise, and the majority of food and beverage stands will only accept credit or debit payments. Don't forget to check out Bulldogs 50-50 tickets, which are available at the arena and will soon be made available online.
Tickets
To become a Brantford Bulldogs season member or learn more about how to purchase individual game tickets and/or merchandise, please visit the Brantford Bulldogs organization website at: www.brantfordbulldogs.com.

To learn more the team's relocation to Brantford, please check out the: Celebrating the Brantford Bulldogs Video.
For the latest information about merchandise, please visit the Online Bulldogs Shop and stay tuned for more info about the Civic Centre Bulldogs Shop, coming soon.
Transit Information
Brantford Transit Enhancements: We want to make attending Brantford Bulldogs games convenient for everyone. That's why Brantford Transit has made several service enhancements on game days. Theses service enhancement aim to encourage the use of public transit, making it easier for fans to get to the games.
Brantford Transit has extended service to every 30 minutes, six days a week, starting in September, 2023. Each route will travel to the downtown transit terminal located at 64 Darling St.
Special shuttle service is available on Bulldogs game days. These shuttles will run from the downtown transit terminal (64 Darling St.) to the Brantford and District Civic Centre.
Shuttle service starts at 5:30 PM on game days and continues for up to 1.5 hours following the end of the games.
Shuttle service is free for those who used Brantford Transit to get to the downtown terminal and show their ticket to the driver. Regular Brantford Transit fare costs are in place for riders starting their trip at the downtown terminal.
Signs will be posted at the downtown transit terminal indicating where shuttles will pick up riders for transfer to the Bulldogs games
Parking and Traffic
Game Day Parking: Parking options are available to accommodate everyone attending Bulldogs games. Here are the primary parking locations:
Brantford and District Civic Centre Parking Lot

Address: 79 Market St. South
Pricing: Free

Market Centre Parkade

Address: 59 Icomm Dr.
Pricing: $2.25/hour Monday-Friday and free on weekends!

Overflow Parking Earl Haig

Address: 101 Market St. South
Pricing: Free

Overflow Farmers' Market

Address: 79 Icomm Dr.
Pricing: Free
Traffic Control Plan
To ensure smooth traffic flow and the safe departure of attendees, a traffic control plan will be in place on game days:
Traffic signal timings in the area will be adjusted to facilitate the movement of traffic out of the Civic Centre area.
The Brantford Police will be present in the area to assist in controlling traffic and ensuring everyone's safety.
Fans are encouraged to plan their post-game travel direction and park in the appropriate parking lot to simplify their exit strategy.
Motorists parking at the Civic Center or Earl Haig Parking lots will be directed south to either Veterans Memorial Parkway or to Erie Avenue and Clarence Street.
Motorists parking at the Market Center Parking lot will be directed west along Icomm Drive to access Colborne Street West and East, as well as Brant Avenue.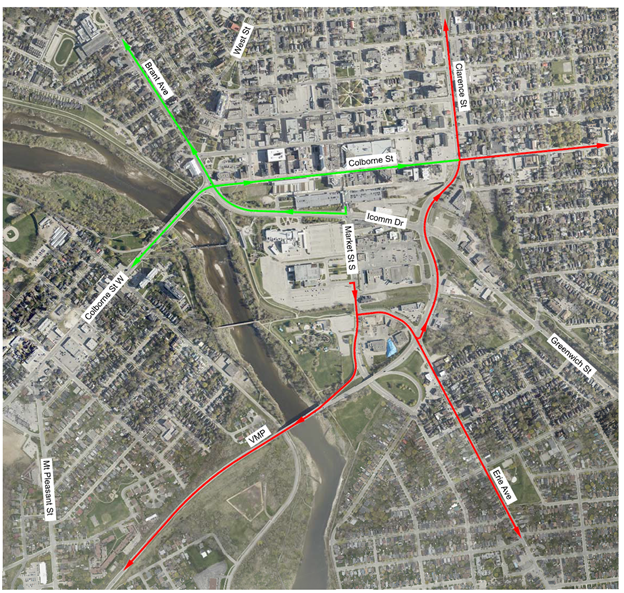 Extend your trip to Brantford
Get insider tips to experience the best of Brantford, including: hundreds of festivals and events annually, national historic sites, museums and galleries, and spectacular outdoor experiences along the Grand River and our 70+ km of trails. Spend some extra time in Brantford to enjoy all our community has to offer. Visit the Discover Brantford website for information updated regularly.
Subscribe to this Page