Cemeteries and Genealogy
The City of Brantford Cemeteries' Administration Office at Mount Hope Cemetery is now open with capacity restrictions allowing for two people at a time. Face coverings is optional. Appointments are no longer necessary.
Recent changes to attendance at funerals
As per the recently announced directive of the Bereavement Authority of Ontario the capacity restrictions for outdoor cemetery funeral services has been removed as Step 3 of the Ontario Roadmap to Reopen Plan, while the following conditions are being met:
All persons attending the gathering must remain at least two meters apart from each other and from persons conducting the funeral unless they are members of the same household/10 person limit social circle.
The persons conducting the funeral must ensure that it is conducted in compliance with the advice, recommendations and instructions of public health officials, including any advice, recommendations or instructions with respect to physical distancing, cleaning or disinfecting.
To limit personal contact and protect our staff and the families we serve, we are also taking the following precautions until further notice:
Witnessing of the lowering of the casket or interment of cremated remains and the closing of the grave will only be permitted from a predetermined distance at this time. Attendees are not permitted to touch or operate any equipment or the lowering device.
Cemetery staff will not assist with pall-bearing.
Mount Hope Cemetery office doors will be locked in order to ensure patrons are screened prior to entering. Please knock or call and a staff member will open the door for you.
We ask those that are unwell, those that have been exposed to an individual that has been unwell or those who have travelled out of country in the last two weeks not come to the cemetery office.
We recognize the sensitivities associated with these services and sincerely appreciate the support and understanding of residents in keeping our staff and the families we serve safe at this unprecedented time.
Brantford cemeteries
The City of Brantford operates and maintains five cemeteries:
Beth David Cemetery is not owned by the City. Email Beth David Cemetery if you have questions about this cemetery.
Cemetery services
We offer a variety of services to assist you:
View a current price list.
Office hours
The cemetery office is open Monday to Friday from 8:00 a.m. to 12:00 p.m. and 1:00 p.m. to 4:00 p.m. The office is closed daily from 12:00 p.m. to 1:00 p.m.
Find a loved one who is deceased
If you are looking for a loved one, we can help. Contact our office with the full name of the deceased person and date of their death.
Looking to use existing interment rights
Please call our office if you are looking to use a loved one's lot for an interment and would like more information.
BAO Consumer Information Guide
The BAO's Consumer Information Guide: A Guide to Death Care in Ontario is a free consumer-protection information booklet. The guide is written for families and the public to know their rights and responsibilities before entering into contracts with organizations that are licensed under the Funeral, Burial and Cremation Services Act, 2002.
View a copy of the BAO Consumer Information Guide.
Care and maintenance
We make sure that all of our cemeteries are properly maintained. We have special funds in place to ensure they are always well kept.
The Bereavement Authority of Ontario regulates cemetery operations in Ontario. The City of Brantford is legally required to follow the Funeral, Burial and Cremations Services Act.
A portion of your purchase of interment rights is used for the upkeep and maintenance of the cemetery and lots as per legislation.
A portion of every monument or marker payment is legislated to go to the maintenance of the markers and monuments.
Cemetery Operators License number CM00064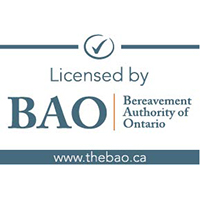 Subscribe to this Page