Basement Flooding Prevention
Basement Flooding can happen in any home. The good news? You can take steps to reduce the risk or prevent it from happening.
Why basements flood
Causes of basement flooding can range from drainage issues to extreme weather events. Here are some common ways that a heavy downpour can make its way into your home:
Poor lot grading
All homes need to have the lot grading slope away from the structure to reduce the risk of basement flooding. If stormwater drains towards your home, it may seep down the foundation wall and gain entry. In fact, improper grading on your property can also negatively impact your neighbour's property. Visit our Site Alteration page for more information.
Poor basement sealing
When a home is being built, the basement tiles and foundation need to be sealed properly. If this is not done correctly or deteriorates over time, water can begin to seep into the basement from the ground.
Weeping tile failure
Every home should have a weeping tile or foundation drain system built around the structure to help ensure that water doesn't seep into the home. If this system has been installed incorrectly or fails, the basement may experience flooding, especially during heavy rains.
Improperly installed downspouts
Your downspout is intended to direct water away from your home and its foundation. Downspouts should be at least 1.5 to 2 metres (5 to 6 feet) away from the basement wall and drain away from the home, usually towards the street or backyard. If your downspouts are broken or missing, water could will pool next to the house where it can seep down the foundation wall and pour in through cracks in the foundation. If downspouts are connected to sewer (sometimes found in older homes), rainwater can contribute to overfilling sewer pipes causing them to backup into homes. If you have downspouts connected to sewer, they should be disconnected for discharge to your property as described above.
Eavestrough debris
Eavestroughs or roof gutters or are essential to moving water away from your home to keep your basement dry. Gutters clogged with leaves, twigs, seed pods and other debris stop water from moving off the roof, through the downspout and away from the home. Overflowing gutters will force water down the sides of the home where it can pool and seep into the basement.
Protecting your home
Disasters happen but there are things you can do to reduce the risk that your home will be damaged.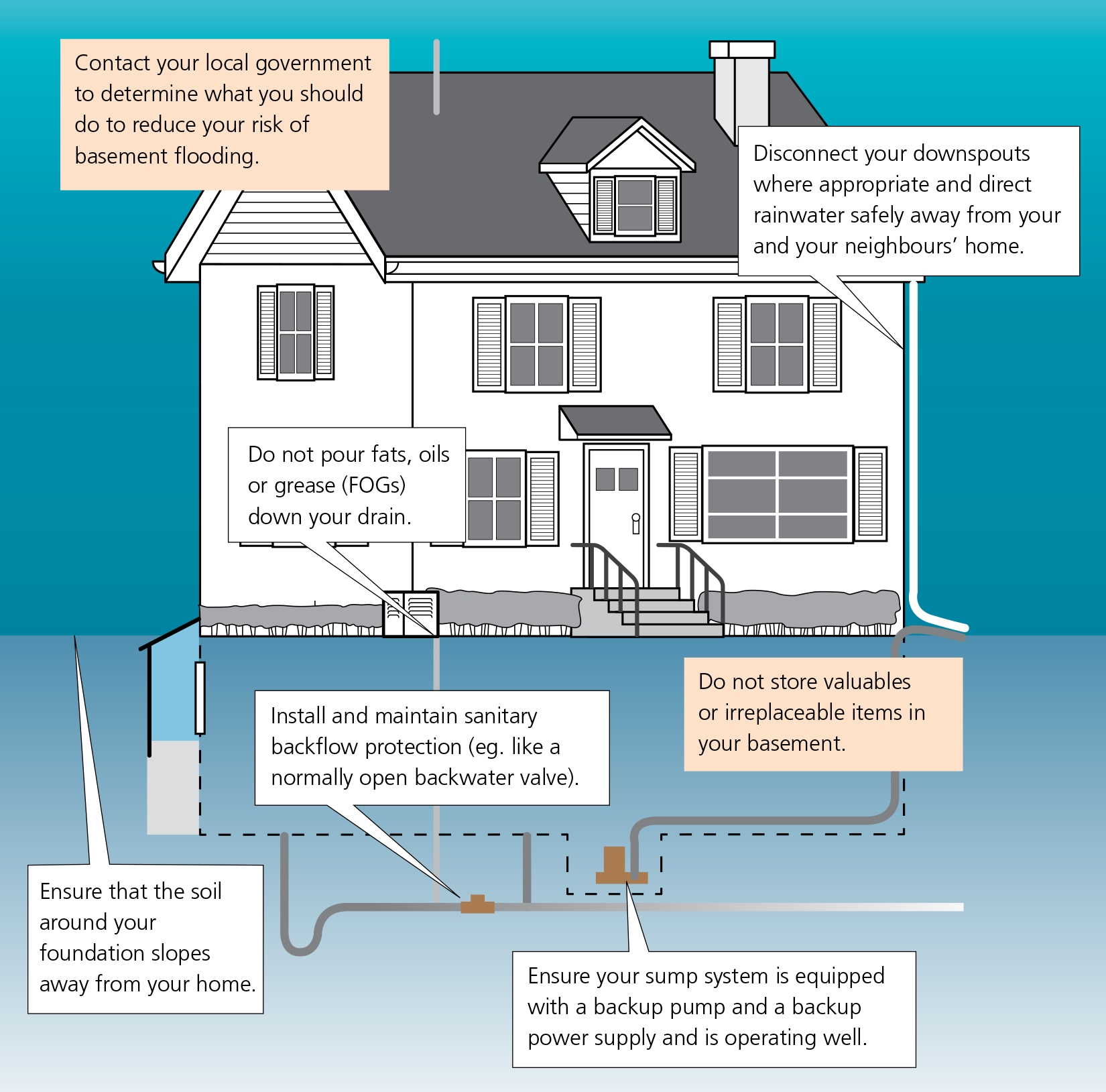 Residential overland flooding is generally not covered by standard property insurance. Talk to your insurer about the types of water damage that are covered by your policy. The Intact Centre for Climate Adaptation has provided some cost-effective tips for basement flood protection.
Here are some steps you can take to help reduce or prevent basement flooding from happening:
Inside your home
Maintain your plumbing system
Never flush wipes, or pour fats, or oils down your drain - they make clogs and cause backups!
Consider installing a backwater valve to prevent sewer lines from backing up in your home
If your floors are below ground level, install and maintain a sump pump system
Outside your home
Keep storm sewer grates on your curb clear of leaves, garbage, snow and ice
When landscaping, ensure the grading around your home slopes away from the foundation to help drain water away from your home
Extend downspouts at least 2 meters away from foundations and use rain barrels
Clean and maintain eavestroughs and downspouts annually

If possible, build rain gardens and plant trees to increase rainwater infiltration
Emergency preparedness
Emergencies happen when we don't expect them. Learn how to be emergency ready, and what to do during and after an emergency by visiting our Emergency Preparedness page.
Basement Flooding Prevention Grant Program
The City of Brantford Basement Flooding Prevention Grant Program provides up to $2,000 to help you lower the risk of basement flooding if you're a homeowner living in the North-East Flood Remediation Study Area. Learn more about how you can reduce your risk from the Handbook for Reducing Basement Flooding.
Program eligibility
To qualify for the program, your house cannot be under a new construction warranty and you must:
Be the owner(s) of a residential property in the North-East Flood Remediation Study Area;
Live in the home and have current and paid property taxes at the time of application; and
Not have received a subsidy through the previous basement flooding programs.
Eligible work and grant amounts
The maximum grant per household is $2,000. The grants cover up to 80% of the cost.
Basement Flooding Risk Assessment
You can receive up to $250 to help pay for a professional evaluation regarding potential water entry points into your home and how to reduce risks. Make sure to include a copy of the report and any video evidence.
Only one quote is required for this item. You can apply with or before applying for other eligible works.
Disconnection of downspouts
You can receive up to $200 towards the disconnection of downspouts from the sewer system. Disconnection is a requirement to be eligible for any grants from the program. Please see the Property Standards By-law (465.22.4) for more information about sump pumps on your property.
Make sure to include pictures showing the downspout's condition before starting any work with your application and include a sketch of proposed work. After disconnecting, you must send us pictures of the completed work and a copy of the paid invoice.
Disconnection of weeping tiles from sewer and reconnection to sump pump
You can receive up to $1,800 for the disconnection of weeping tiles from the sewer system and reconnecting to sump pump with backup power, which discharges to a permeable outside surface. Please see the Property Standards By-law (465.22.4) for more information about sump pumps on your property.
We require a plumbing permit but its fee will be waived if you include the finished grant agreement when applying.
Installation of a backwater valve
You can receive up to $1,200 towards installing a backwater valve that meets the Ontario Building Code. You can install it on the storm sewer and/or sanitary sewer.
We require a plumbing permit but its fee will be waived if you include the finished grant agreement when applying.
Other remedial works
You can receive up to $2,000 in other recommended remedial works that address flooding issues. We will consider them for grant eligibility on a case-by-case basis.
Any replacements or repairs to your existing system or devices are not eligible under this program as these are part of the normal upkeep or maintenance of your property.
How to apply
You can apply for the Basement Flooding Prevention Grant online. Please make sure to include an itemized, detailed quote with your application that has:
estimated costs for all work to be undertaken
separate line item costs for the eligible works, which include the costs of materials and labour
All contractors' City Business Licence Numbers
Please see our Grant Application Submission Checklist for more details. If approved, you'll receive a Commitment Letter that represents the agreement.
Finding contractors
We encourage you to research and hire a City of Brantford licensed contractor after checking references and asking questions throughout the process. Learn more about your rights when starting home renovations or repairs.
After you receive your Commitment Letter
Once you receive the signed Commitment Letter, you or your contractor must:
Apply for a plumbing permit and book an inspection for installation of any backwater valve or sump pump; and then
Continue with the recommended works.
Please note that utility locates are your responsibility as the homeowner. A contractor is responsible after they receive your authorization. Any preventative works that have been completed without an inspection and approval will result in cancellation of any approved grant amounts.
Payment process
We will pay 80% of the paid eligible invoice amount (maximum of $2,000 per household), after we receive:
Confirmation of payment of work completed by the contractor; or payment receipts for materials and equipment (excluding labour costs related to preventative works completed by the homeowner)
A satisfactory City verification of the downspout disconnection
A satisfactory City inspection of the sump pump or backwater valve installation
A completed Declaration of Work Completion form
Photo evidence of downspout disconnection(s) and capping of former discharge entry locations
Please email your documentation to floodprevention@brantford.ca or mail to:
Brantford City Hall
Public Works Commission
58 Dalhousie Street
Brantford, Ontario N3T 2J2
Please note that grant approvals are subject to funding availability on a first-come first-served basis. Approved grants are only valid for six months from the approval date and expire if:
Work is not completed
We do not receive confirmation of payment for work completed
Inspection or verification of eligible works is not satisfactory
Other forms are incomplete (e.g. Declaration of Work Completion form)
We have the authority to extend the grant period and make any other changes necessary for the program's success.
Subscribe to this Page