TH&B Crossing Bridge Project
We would like to thank every participant who shared their time and talents to make TH&B Crossing Bridge a bold and beautiful artistic statement of community collaboration! Throughout the duration of the project, over 150 volunteers participated by submitting and painting unique designs on the bride's interior panels, contributing to a giant community-developed mural depicting local stories.
TH&B Crossing Bridge is a pedestrian crossing south of Lorne Bridge (Colborne St. West) in Downtown Brantford. As a key part of the City's infrastructure and a landmark that spans over the picturesque Grand River, TH&B Crossing Bridge is a bold and beautiful artistic statement of community collaboration and civic pride.
Spring 2023 Bridge Paintings
In Spring 2023, the City reissued a Call for Submissions to engage more community members in the revitalization of TH&B Crossing Bridge.
29 designs were selected that depicted local history, culture, destinations, events, and people. Participants, including schools, community organizations, small groups, and talented individuals, painted their designs on scheduled painting days between May 1 and June 9, 2023.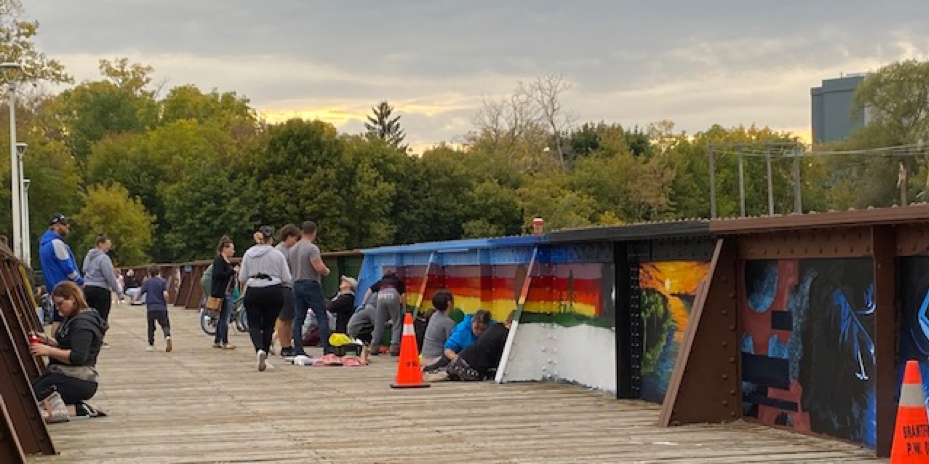 Fall 2022 Bridge Paintings
In Fall 2022, community volunteers came together to revitalize the interior panels of TH&B Crossing Bridge.
After submitting their ideas in August and September, 40 unique designs were selected that celebrated local history, culture, destinations, events, and people.
Individuals, community organizations, and school groups painted their panels over 10 scheduled painting days, braving a variety of conditions including wind, rain, and geese.
We would like to thank every participant who shared their time and talents to make TH&B Crossing Bridge a bold and beautiful artistic statement of community collaboration!
TH&B Crossing Bridge is a pedestrian crossing south of Lorne Bridge (Colborne St. West) in Downtown Brantford. As a key part of the City's infrastructure and a landmark that spans over the picturesque Grand River, TH&B Crossing Bridge is a bold and beautiful artistic statement of community collaboration and civic pride.
TH&B Crossing Bridge Panels
Photo Gallery: TH&B Crossing Panels will appear here on the public site.
Thank you participants!
Mike Anthony Tattoos
Jim Walsh (jimbo the hobo) local clown and charity fundraiser, commemorating the happiness he left behind.
Cathy Grieve
I belong to the Brantford Painting Guild in Brantford. I have taught painting at the Beckett Building for 40 years. Studied in Grand Manan for two summers. Through the years I have taught privately. Wonderful experience painting on the bridge. I hope it stays and my great grandchildren will know that I painted a lot in my life.
Jacenta Noelle
I hope to have captured the natural beauty and rich history of our city in my art. Living in the hometown of Gretzky made me believe dreams do come true.
Tik Tok - @JacentaNoelle
Wilfrid Laurier University
Since 1999, Wilfrid Laurier University has been an important institution in our community. Playing on the university's tag line of Stay Golden, our mural shares a positive message and celebrates Brantford's beautiful trail systems.
Deborah Gabriel-Whyte
My artwork represents diversity, urban life, rural life, and creative liberation in Brantford. Brantford can and should be a hub for creativity and artistic liberation if the city delves more into it and reaches out to the community for that purpose. Brantford is slowly becoming more diverse and that diversity should be properly acknowledged and appreciated. The urban and rural life of Brantford melds together in certain areas when you explore the city more due to its rich Indigenous history and white/migrant settlement. The woods and wildlife in Brantford is also wonderful to look at and explore! Communities must come together to keep Brantford healthy and extend grace to people that need it.
Sumedha Mongia
I was moved by the mix of people in Brantford and the love and warmth they share with all. The green background was inspired by the beautiful green spaces we have in Brantford.
Aoe Girard
"Connecting" inspired by the Brantford lifestyle which perfectly blends nature and activities. The TH&B Crossing bridge artwork is a symbol that brings the happiness of nature to the Brantford community.
St. Leonard's Community Services
The St. Leonard's Community Service piece showcases our sectors (Addictions/Mental Health, Employment, Justice, Housing) work in the community, the people we support, the journey they take, and spotlights the community it happens in.
Brantford Public Library
The intention of this piece is to highlight locations and moments of gathering, growth, and learning in Brantford.
https://www.brantfordlibrary.ca/
Jody Cook
This was a previous piece I did that my children chose for me to recreate. It's dedicated to my beautiful daughters Harley, Bowie, and Cooper.
Kristen E. Summers, Onondaga Nation Beaver Clan, Six Nations of the Grand River
Local history I have chosen for my theme, With the historical traumas that were caused by residential schools over the years I wanted to bring more awareness to the strengthen and resilience of the Ogwehoweh people and the generations young and old that are putting in the work to help revitalize and regain what has been lost to our people by decolonizing our minds and the growth of new seeds of knowledge, language and culture for the generations to come.
Brantford Pride
Brenda Lee Brabant
I am a retired Dental Hygienist living in Brantford with my husband Stuart and cat, Scooter. We had dinner one night out behind the restaurant, during Covid time where I took a photo. I named this painting, "Paris Under the Bridge".

Hannah Boudwyn
These panels are meant to capture snapshots of familiar places in Brantford. They depict streets that I've walk down countless times and showcase what I consider my home.
Sexual Assault Centre Brantford
Canadian Industrial Heritage Centre
Our artwork combines three areas of Brantford's industrial heritage. The first panel represents some of the logos from Brantford's most prominent industries. The second panel highlights the influence and contribution of immigrants by showcasing the Memories of Brantford project. The third panel is a tribute to the historical influence and development of Eagle Place. These panels serve as a memorial to the diverse history of Brantford's industries.
www.canadianindustrialheritage.com
Aleah Durham
Animals and Flowers of the Grand celebrates Brantfords local wildlife and the beauty of nature. It is designed as a look and find game for all ages to enjoy.
Alternatives Social Recreation Program CMHA Brant Haldimand Norfolk
Members contributed pieces to represent what Canadian Mental Health Association (CMHA) and specifically Alternatives Social Recreation Program means to them. Focus is on the services and programs offered. Shown is various programs CMHA offers for clients. Various pieces show the diversity and growth that occurs as well. The Phoenix is represented to show we can all rise above no matter our struggles we may face. Main message is to share your story with others and that we all have mental health and need to take care of ourselves.
Holly Enter and Steph DeClark
The intention of our painting is to highlight the Christian faith community in Brantford, represented by Onechurch. Inspired by VanGogh's "Starry Night", we wanted to make Brantford recognizable by including some of its iconic landmarks: the Grand River running through the middle of the city; the Bell Homestead; and Mohawk Chapel, whose soaring steeple bears a resemblance to the chapel in Van Gogh's original painting. All across the city, ordinary people are following the example of Jesus by showing extraordinary love and care for their neighbours. Brantford's churches are all shapes and sizes, but together we form one community of believers.
Instagram: @holly_enter
Facebook: @onechurchbrantford
Cindy Robertson, Sally Slater, and Roland Slater
Our painting celebrates our lives since receiving a house from habitat for humanity, which is across from the river. In the six years here we have lost 2 of our cats and our bunny, to old age. I also lost both my parents to cancer. It's been a rough 6 years, the river has helped get through these hard times. So this is our tribute to our loved ones that we lost.
Aoe Girard
This artwork is called "Blooming Joy", inspired by the connection between people and nature. Presenting with women which is my art signature. "Blooming Joy: encapsulates the vibrant essence of the spring and summer flowers found in the enchanting city of Brantford. Each stroke of the brush is infused with the vivacity and vitality of the blooming petals, breathing life into the panel.
www.rungkarn.com
Instagram: @aoespencil
Alicia-Lynn Morin
The piece is called Just Breathe, it's a reflection into our City and what land we are on and to not also forgot the issues that still trouble indigenous people, and what we have to go through to just belong and fight another day, it also hits close to home for me and my family, cherish those you love. Also, a big reminder to take a moment and Just Breathe and everything will always find its way to the surface. That we are resilient and that our voices are being heard.
Facebook: @Alicia.Lynn
Facebook: @ALM Treasures
Walter Gretzky Elementary School (Nicole Alexander and Karen Bradish)
For our design we wanted to showcase and represent the multiculturalism of our school. We represented all of the languages of the students from our school. We have over 26 different languages spoken by our students and staff members. Our design includes people covering the earth representing that we are all equal and important members that make up the world. The Indigenous Heritage is part of our daily values, so we also included the "Every Child Matters" statements and the medicine wheel.
Rebecca Miller
Brantford Bulldogs (Tim Nijenhuis)
CMHA Alternative Social Recreation Program
Cher and Tina Obediah
The title of our bridge panel is Brant's Ford. It's a mural honoring the history of how Brantford got its name. Joseph Brant was a Mohawk Chief who often crossed the Grand river by canoe in an area that became known as Brant's Ford. The artwork is a collaboration by cousins who operated a "Window Art"painting business in Brantford for over a decade.
Bianca Babics
A fish inspired by the Indigenous Woodland art style of Norval Morrisseau and a depiction of the Lorne Bridge.
Sponsored by Royal Machine Solutions and Carr Industrial - Art by Julia Maw
The welder almost appears to be welding together the bridge, representing the trades and industry of Brantford, an important part of the local culture.
Tammy Bennett
"Sunset On The Grand" captures the beauty of the Grand River. I paint with bright, bold colours that will draw you in to Relax, Reflect, and feel a sense of Peace. Thank you City of Brantford for this amazing opportunity.
Ecole Dufferin
Kindergarten to Grade 8 students at École Dufferin worked together to design and share their unique artistic expressions reflecting their feelings and gratitude for the land where they live, learn, and play.
Sumedha Mongia
Focusing on a newcomer's journey in the City, it signifies change, transformation, hope and life. Green spaces in Brantford attract so many butterflies and it is beautiful to watch them flutter all around.
Instagram: @sumedha.mongia
City of Brantford Design and Construction - Emma Theijsmeiher, Hana Abdulla, and Tracy Burgess
We wanted to share our passion for parks design through a fun, interactive map that brings attention to our parks and trails across the city!
https://www.brantford.ca/en/things-to-do/trails.aspx
https://www.brantford.ca/en/things-to-do/parks-and-playgrounds.aspx
Spenser Moore
My intention for this piece was to show the love and connection that our beautiful city has to the people that founded the land, those who share it today and those who surround it and support us, displaying the art, natural beauty of the passing by rail trail or the winding river that shapes our city, and I wanted to show people that we are all so connected and have so much love, history, innovation and greatness to share. Greatness comes from within... and I stick by it!
City of Brantford Community Programs
Girl Guides of Canada
Sparks (ages 5-6), Brownies (ages 7-8), Guides (ages 9-11), Pathfinders (ages 12-14), and Rangers (ages 15-17).
ViBRANT ARC - Belonging Brant
Belonging Brant has been working alongside a group of passionate citizens that value collaborative art as part of a thriving Brantford. This piece focuses on the importance of YOU in community.
The Bridge
At The Bridge we strive to close the gap between the larger Brant community and the 2SLGBTQ+ community. An important part of that is visibility, which can help the 2SLGBTQ+ community feel less isolated. So we reached out to The Bridge folks and found out what art they wanted to be included in the project.
https://www.facebook.com/TheBridgeBrantford
Ellie Nicole Rodgerson - 10 Years Old
The Cenotaph, The South African War Memorial, The Field Howitzer 1913. I used these memorials because they are a part of our family history.
Crossing All Bridges Learning Centre
The Expressive Arts program painted this panel to illustrate how CABLC inspires individuals with varying abilities to embrace a love of life, a love of learning, and lifelong friendships.
Crystal Greentree
Maria Hoit
My first painting celebrates our local trails and wildlife. It has a quote from one of my favorite poems Connoisseur of Chaos by Wallace Stevens. My second painting celebrates my love of gardens. My third painting is a shoutout and tribute to two of our local cat rescues that I support. They do tremendous work in our community
Lydia Moore
My painting depicts Wilkes Dam, a birdwatching spot enjoyed by many in Brantford. As an artist from Southeast England, I've been captivated by my first encounters with the once-endangered Bald Eagles, seeing first hand their powerful flight and attentive parenting. I hope my panel captures some of the eagles' grandness while paying tribute to their deep cultural importance within the indigenous community. We have such diverse wildlife that thrives near our city and my hope is that my art will encourage others to value, enjoy and protect our natural environment.
Lansdowne Children's Centre Theraputic Recreation (the Happiness Hikes Crew)
The Therapeutic Recreation program at Lansdowne Childrens Centre facilitates a group aptly named The Happiness Hikes Crew. Each week we come together at waterworks park, hike to Wilkes Dam as we discuss our day and share with one another, we then pause at Wilkes Dam to complete water colour paintings surrounded by nature before hiking back. On one of our adventures we each designed a butterfly and a child in order to create our version of the LCC logo. We of course also wanted to convey a special message "In a world where you can be anything, Be Kind!"
Facebook: @lansdownechildrens
Facebook: @TheRecRoom
Patti Giroux
Facebook: @PETPOPARTbyPattiGiroux
Instagram: @petpopartist
Jayme Petryschuk
Alexander Graham Bell, inventor of the telephone and the Bell Homestead. Dedicated to my Pa who worked for AT&T and Aunt Nell LaMarsh who shared her love of art.
Instagram: @and_jme
Sharon Gashgarian
Life is grand on the Grand. The tree in the artwork is a willow tree to memorialize its Mohawk name O:se Kenhionhata:tie which means "Willow River," for the many willows in the watershed. Brantford is so fortunate to have such a significant water source and we need to treat the Grand with utmost respect. I feel fortunate to have participated in this wonderful community-building event and feel privileged to have met many new people whose talents were given the opportunity to shine.
Cathy Grieve
I have taught painting for over 40 years for the city. I am a member of the Artists guild. Working in July. A project of different things for seniors in the community. I will be teaching watercolors, working at ARTC. I will be teaching in September (it is a day center for seniors). I have painted 2 paintings on the old railway bridge. Still involved with the Beckett Bulding. My love of my family and my art and my ministry makes my life complete.
Kinzie Forler
My painting is to represent the International Villages cultural festival where you can explore the diversified cultures of our community. You will enjoy continuous cultural entertainment including music, dancing, unique cuisine and beverages plus cultural displays of costumes and history.
École élémentaire catholique Sainte-Marguerite-Bourgeoys
This artwork depicts the journey of our students go through while developing their Catholic and French culture. The first panel showcases little sharks, representing our JK students, as they embark on their educational journey. They are welcomed by a larger shark, symbolizing our dedicated staff as our students grow and flourish. In the middle panel, the front of our school surrounded by radiant rays of light, an homage to our Catholic faith. We have included the Canadian and French francophone flags, representing our school's French heritage. Our artwork represents the core values of our school: diversity, equality, and inclusion.
https://smbb.cscmonavenir.ca/
Facebook: @EECSMBBRANTFORD
St. Leonard's Community Services
#GetLoudForMentalHealth2023
Sylvie and Stephan Namisniak
"Peace 4 All Villages" to represent the mosaic of many people who take time to share knowledge, wisdom, heritage, history, creating awareness, combined with listening, understanding and kindness. Our concept celebrates the cultural tapestry that makes Brantford a landscape of International Villages, where ideas are discussed and shared. Emerging from a field of daffodils and sunflowers, a symbol of new beginnings and peace, are the many faces that make up the fabric our community. Also emerging is a Ukrainian couple, forced to leave their war torn homeland, finding peace, only in Canada. They enjoy our boundless freedom, and respect. They are inspired by words and ideas they hear from all faces in our Village.
Jessica Jones
I created this mural because Brantford is home to some really amazing and iconic ice cream shops. We know that the warm weather is coming when they open back up for the season. Ice cream represents happy times and fun summer activities. I want people to have that feeling all year long when they look at my mural.
Instagram: @jessiejonescreative
Carmen Hana
History of the Project
In Fall 2021, an Environmental Assessment recommended that TH&B Crossing Bridge undergo minor rehabilitation to extend its service life.
In Summer 2022, Brantford City Council unanimously endorsed a proposal to issue a call for submissions for community members to participate in a unique public art project. Also endorsed by the Brantford Cultural Advisory Committee, the project was intended to celebrate the iconic TH&B Crossing Bridge by featuring artwork created by local community members, including school groups, community organizations, and talented individuals.
Over 2 round of submissions and painting, over 150 community members volunteered their time, ideas, and skills to paint visual representations of local history, culture, people, destinations, and events over 112 interior bridge panels.
Round 1 took place in Fall 2022.
Round 2 took place Spring 2023.
Subscribe to this Page