TH&B Crossing Bridge Project
Spring 2023 Call for Submissions
The City of Brantford is calling for submissions from community members to design and paint interior panels of the TH&B Crossing Bridge.
There are 41 panels available. Each panel is 7-8 ft. tall by 4.4 ft. wide. Community members whose designs are selected will be able to paint their assigned panels between throughout May 2023. The City will supply liquid and spray paint, paint brushes, mixing cups, and other supplies for participants.
For more information about how to submit a design, visit the online registration form page.
All submissions will be reviewed and selected by a team of staff from the City's Public Works and Economic Development and Tourism based on the designs alignment with the City of Brantford's Public Art Policy. Under this policy, submissions must depict one or more of the following themes:
Local culture
Local history
Local people
Local events
Local destinations
Priority will be given to submissions that utilize multiple panels for a cohesive piece (up to 5 panels per submission).
Submissions from individuals or groups under the age of 18 must identify an adult supervisor who will be present during the painting of their panels.
Submissions with any offensive, profane, hateful, insulting, rude, abusive, aggressive, violent, obscene, explicit, pornographic, or sexual content will not be considered.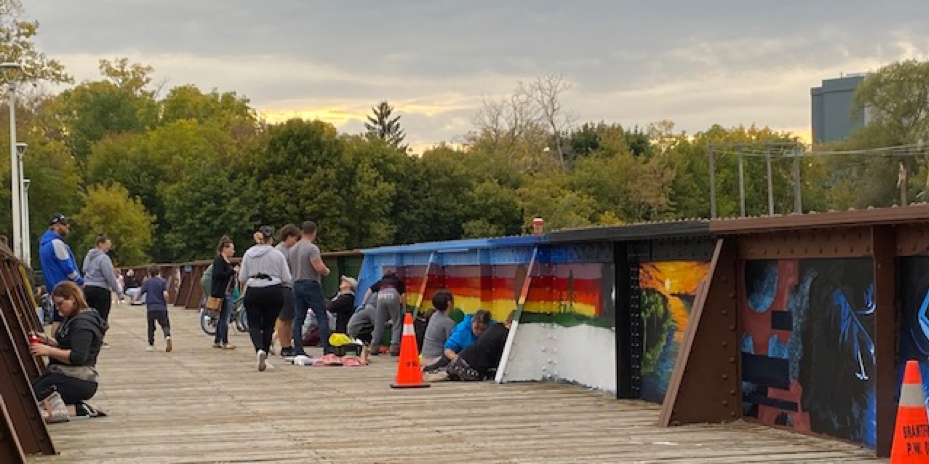 Fall 2022 Bridge Paintings
In Fall 2022, community volunteers came together to revitalize the interior panels of TH&B Crossing Bridge.
After submitting their ideas in August and September, 40 unique designs were selected that celebrated local history, culture, destinations, events, and people.
Individuals, community organizations, and school groups painted their panels over 10 scheduled painting days, braving a variety of conditions including wind, rain, and geese.
We would like to thank every participant who shared their time and talents to make TH&B Crossing Bridge a bold and beautiful artistic statement of community collaboration!
TH&B Crossing Bridge is a pedestrian crossing south of Lorne Bridge (Colborne St. West) in Downtown Brantford. As a key part of the City's infrastructure and a landmark that spans over the picturesque Grand River, TH&B Crossing Bridge is a bold and beautiful artistic statement of community collaboration and civic pride.
TH&B Crossing Bridge Panels
Photo Gallery: TH&B Crossing Panels will appear here on the public site.
Thank you participants!
South side panel 3: Mike Anthony Tattoos
Jim Walsh (jimbo the hobo) local clown and charity fundraiser, commemorating the happiness he left behind.
South side panel 4: Cathy Grieve
I belong to the Brantford Painting Guild in Brantford. I have taught painting at the Beckett Building for 40 years. Studied in Grand Manan for two summers. Through the years I have taught privately. Wonderful experience painting on the bridge. I hope it stays and my great grandchildren will know that I painted a lot in my life.
South side panel 5: Jessica Hadall
South side panels 6 to 9: Jacenta Noelle
I hope to have captured the natural beauty and rich history of our city in my art. Living in the hometown of Gretzky made me believe dreams do come true.
South side panel 10: Wilfrid Laurier University
Since 1999, Wilfrid Laurier University has been an important institution in our community. Playing on the university's tag line of Stay Golden, our mural shares a positive message and celebrates Brantford's beautiful trail systems.
South side panels 11 and 12: Deborah Gabriel-Whyte
My artwork represents diversity, urban life, rural life, and creative liberation in Brantford. Brantford can and should be a hub for creativity and artistic liberation if the city delves more into it and reaches out to the community for that purpose. Brantford is slowly becoming more diverse and that diversity should be properly acknowledged and appreciated. The urban and rural life of Brantford melds together in certain areas when you explore the city more due to its rich Indigenous history and white/migrant settlement. The woods and wildlife in Brantford is also wonderful to look at and explore! Communities must come together to keep Brantford healthy and extend grace to people that need it.
South side panels 13 and 14: Sumedha Mongia
I was moved by the mix of people in Brantford and the love and warmth they share with all. The green background was inspired by the beautiful green spaces we have in Brantford.
South side panels 15 and 16: Aoe Girard
"Connecting" inspired by the Brantford lifestyle which perfectly blends nature and activities. The TH&B Crossing bridge artwork is a symbol that brings the happiness of nature to the Brantford community.
South side panels 17 to 21: St. Leonard's Community Services
The St. Leonard's Community Service piece showcases our sectors (Addictions/Mental Health, Employment, Justice, Housing) work in the community, the people we support, the journey they take, and spotlights the community it happens in.
South side panels 22 to 26: Brantford Public Library
The intention of this piece is to highlight locations and moments of gathering, growth, and learning in Brantford. Visit the Brantford Public Library Website
South side panel 27: Jody Cook
This was a previous piece I did that my children chose for me to recreate. It's dedicated to my beautiful daughters Harley, Bowie, and Cooper.
South side panels 28 to 30: Kristen E. Summers, Onondaga Nation Beaver Clan, Six Nations of the Grand River
Local history I have chosen for my theme, With the historical traumas that were caused by residential schools over the years I wanted to bring more awareness to the strengthen and resilience of the Ogwehoweh people and the generations young and old that are putting in the work to help revitalize and regain what has been lost to our people by decolonizing our minds and the growth of new seeds of knowledge, language and culture for the generations to come.
South side panel 31: Brantford Pride
To be completed Spring 2023.
South side panel 32: Brenda Lee Brabant
I am a retired Dental Hygienist living in Brantford with my husband Stuart and cat, Scooter. We had dinner one night out behind the restaurant, during Covid time where I took a photo. I named this painting, "Paris Under the Bridge".
South side panels 33 to 26: Hannah Boudwyn
These panels are meant to capture snapshots of familiar places in Brantford. They depict streets that I've walk down countless times and showcase what I consider my home.
South side panels 37 to 38: Sexual Assault Centre Brantford
To be completed Spring 2023.
North side panel 2: Mike Anthony Tattoos
Lawren Harris
North side panels 3 and 4: Bianca Babics
A fish inspired by the Indigenous Woodland art style of Norval Morrisseau and a depiction of the Lorne Bridge.
North side panels 5 and 6: Julia Maw
The welder almost appears to be welding together the bridge, representing the trades and industry of Brantford, an important part of the local culture.
North side panel 7: Tammy Bennett
"Sunset On The Grand" captures the beauty of the Grand River. I paint with bright, bold colours that will draw you in to Relax, Reflect, and feel a sense of Peace. Thank you City of Brantford for this amazing opportunity.
North side panels 8 to 12: Ecole Dufferin
Kindergarten to Grade 8 students at École Dufferin worked together to design and share their unique artistic expressions reflecting their feelings and gratitude for the land where they live, learn, and play.
North side panels 13 and 14: Sumedha Mongia
Focusing on a newcomer's journey in the City, it signifies change, transformation, hope and life. Green spaces in Brantford attract so many butterflies and it is beautiful to watch them flutter all around.
North side panels 15 to 16: City of Brantford Design and Construction
We wanted to share our passion for parks design through a fun, interactive map that brings attention to our parks and trails across the city!
North side panels 17 and 18: Spenser Moore
To be completed Spring 2023
North side panels 19 and 20: City of Brantford Community Programs
North side panels 21 to 25: Girl Guides of Canada
Girl Guides of Canada. Sparks (ages 5-6), Brownies (ages 7-8), Guides (ages 9-11), Pathfinders (ages 12-14), and Rangers (ages 15-17).
North side panel 26: Belonging Brant
Belonging Brant has been working alongside a group of passionate citizens that value collaborative art as part of a thriving Brantford. This piece focuses on the importance of YOU in community.
North side panel 27: The Bridge
At The Bridge we strive to close the gap between the larger Brant community and the 2SLGBTQ+ community. An important part of that is visibility, which can help the 2SLGBTQ+ community feel less isolated. So we reached out to The Bridge folks and found out what art they wanted to be included in the project.
North side panel 28: Ellie Nicole Rodgerson
The Cenotaph, The South African War Memorial, The Field Howitzer 1913. I used these memorials because they are apart of our family history.
North side panels 29 to 31: Amanda Cole
North side panel 32: Crossing All Bridges Learning Centre
The Expressive Arts program painted this panel to illustrate how CABLC inspires individuals with varying abilities to embrace a love of life, a love of learning, and lifelong friendships.
History of the Project
In Fall 2021, an Environmental Assessment recommended that TH&B Crossing Bridge undergo minor rehabilitation to extend its service life.
Brantford City Council unanimously endorsed a proposal to issue a call for submissions for community members to participate in a unique public art project. Also endorsed by the Brantford Cultural Advisory Committee, the project was intended to celebrate the iconic TH&B Crossing Bridge by featuring artwork created by local community members, including school groups, community organizations, and talented individuals.
Throughout August and September 2022, the City received 40 submissions for designs covering between 1-5 bridge panels.
Painting for selected participants spanned out over 10 scheduled painting days between October 3 to November 2, 2022.
Subscribe to this Page