TH&B Crossing Bridge Project
The City of Brantford is calling upon community members to design and paint panels of the TH&B Crossing Bridge. Help us revitalize this important link in our vibrant trails network, prevent inappropriate graffiti and foster a sense of belonging through public art.
There are 112 panels available for community members to submit designs for review. Each panel is 7-8 ft. wide by 4.4 ft. tall. Selected candidates will be able to paint their assigned panels in September and October 2022. The City will provide painting supplies, such as Tremclad liquid and spray paint in a variety of colours.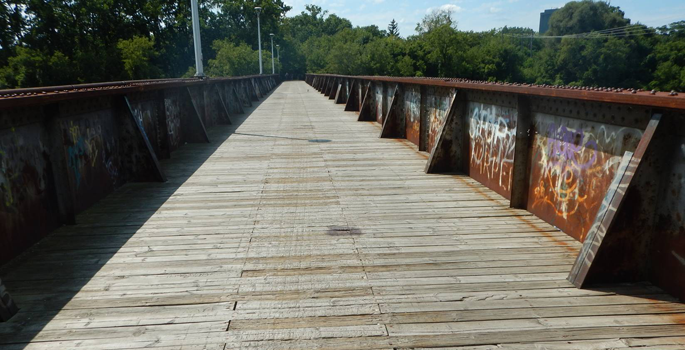 Participate in the TH&B Public Art Project
The TH&B Crossing Bridge is a pedestrian crossing south of Lorne Bridge (Colborne St. West) in Downtown Brantford.
How to participate
This opportunity is open to all community members, no professional experience required.
All submissions will be reviewed and selected by a team of staff from the City's Public Works and Economic Development and Tourism based on the designs alignment with the City of Brantford's Public Art Policy. Under this policy, submissions must depict one or more of the following themes:
Local culture
Local history
Local people
Local events
Local destinations
Priority will be given to those that utilize multiple panels for a cohesive piece (up to 5 panels per submission). Children and youth are encourage to get involved! Those under the age of 18 must identify an adult supervisor who will be present during the paintings of the panels.
Submissions for the TH&B Crossing Bridge Art Project are now closed as of September 23, 2022.
Hard copies of submissions can also be sent to or dropped off at Brantford City Hall, 58 Dalhousie St. P.O. Box 818, Brantford Ontario, N3T 2J2.
Submissions with any offensive, profane, hateful, insulting, rude, abusive, aggressive, violent, obscene, explicit, pornographic, or sexual content will not be considered.
Subscribe to this Page