Rotary Bike Park
The Rotary Bike Park ("Bike Park") is free to use and offers a wide selection of opportunities and challenge levels for beginners thru to advanced riders. There is free parking on-site as well as nearby washrooms and access to the City's extensive trail network. Access our trails map and video of the park to help plan your visit.
Location
The bike park is located in Rotary Centennial Waterworks Park at 390 Grand River Avenue, Brantford, Ontario.
Hours
The Bike Park will open for the season on Wednesday, May 10, 2023.
The Bike Park is open May thru October from 8:00 a.m. to 9:00 p.m. daily (weather permitting). Washrooms are available during open hours.
View open/closed status updates
Difficulty levels
Each area of the Bike Park is marked with signs to show each section's difficulty level. Know your limits and ride within them to avoid injury to yourself and others.
Green circle (beginners): trails that feature small obstacles and/or rocks, and mostly even terrain.
Blue squares (intermediate): trails that feature slightly larger obstacles such as logs and rocks. They may also have some tighter turns and include log bridges.
Black diamonds (advanced): trails that feature technical terrain with unavoidable obstacles, drops up to 15 inches, steep downhill sections, tight turns, narrow bridges and small to mid-sized jumps.
Rules
Please follow the rules to help make the bike park safe and fun for all.
Be respectful of others.
Children 12 and under must have adult supervision.
Use the park at your own risk and ride within your limits.
Do not add features. Unauthorized riding features will be removed.
Helmets are mandatory.
Motorized or remote controlled vehicles are not allowed.
No riding during wet conditions or poor weather. It will damage the park.
Pets are not permitted on the bike trails.
Protective gear is highly recommended.
Spectators must watch from outside of the riding areas.
Use the trash bins. Help us keep the park clean!
Review difficulty levels before riding. They are posted before each new feature.
Practice first on the beginner trails before moving onto the more difficult levels.
COVID-19 protocols
Sign-in and monitoring of users at this locations is no longer required. Sanitization practices remain in effect with signs regarding physical distancing requirements being posted. Physical distancing (2 metres or 6 feet) from others outside of your 10 person social circle must be practiced at all times.
Health and Safety remains a top priority for the City of Brantford and its citizens. Follow all COVID-19 safety guidelines including:
Staying home if you are sick
Sanitize your hands upon entry and exit and after touching common surfaces ( door handles, gates fencing etc)
Avoid touching your face and cough/sneeze into your sleeve
Do not congregate
Failure to comply may result in fines and eviction from the park.
Regular park rules apply. Obey posted signs and staff attendants.
Bring your own hand sanitizer and use it every time you touch a common surface (door handle, gate, etc.).
Thank you to our sponsors and community partners
The Rotary Bike Park is the result of the hard work and dedication of the Brant Cycling Club and many other community partners who contributed their time, expertise and financial support. Thanks to the Ontario Trillium Foundation for contributing $150,000 and to the Rotary Club of Brantford for their donation of $100,000. Our thanks as well to the following contributors:
Fortress Concrete Forming
Hoots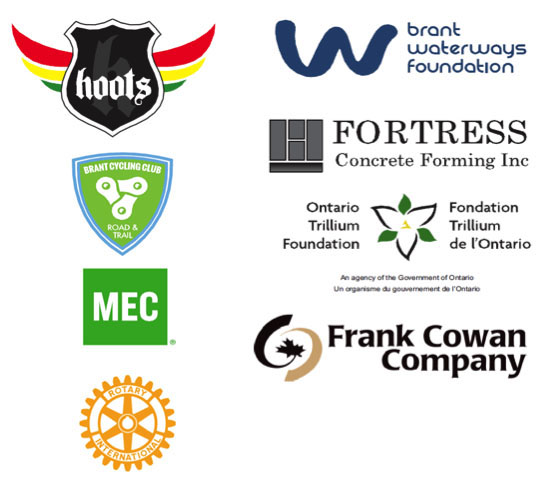 Subscribe to this Page