Current Projects
Woodman Park Renovation project
The City of Brantford is pleased to announce that construction is set to begin this month on the Woodman Park Outdoor Pool, located at 491 Grey Street, and will be completed to open for the 2023 season.
Features of the park may include new accessible play equipment and swings with rubber safety surfacing under play areas, multi-use court improvements, paved pathways, shade structures and more. Efforts will be made to ensure the new design complements the new Woodman Park Pool design and layout.
Pool construction update
The pool construction is planned to begin this month and expected to open for the 2023 season. Features of the new pool design include a 25 metre pool with a 2.0 metre deep end and a 1.2 metre shallow end pool complete with a walk-in entry and an accessible ramp, awnings to provide shelter from the sun, pool storage areas, and safety fencing designed to complement the new park development.
New playground design surveys
The New Playground Design Survey is now closed. Thank you to everyone who took the time to participate and selected their preferred play equipment design. We are pleased to share the results and the winning concepts for each park below. Please note that that each selected rendering is a concept drawing only, and the colours and equipment that is installed may not be exactly as shown in the picture.
Central Park, option 1, traditional playground equipment design won by 74%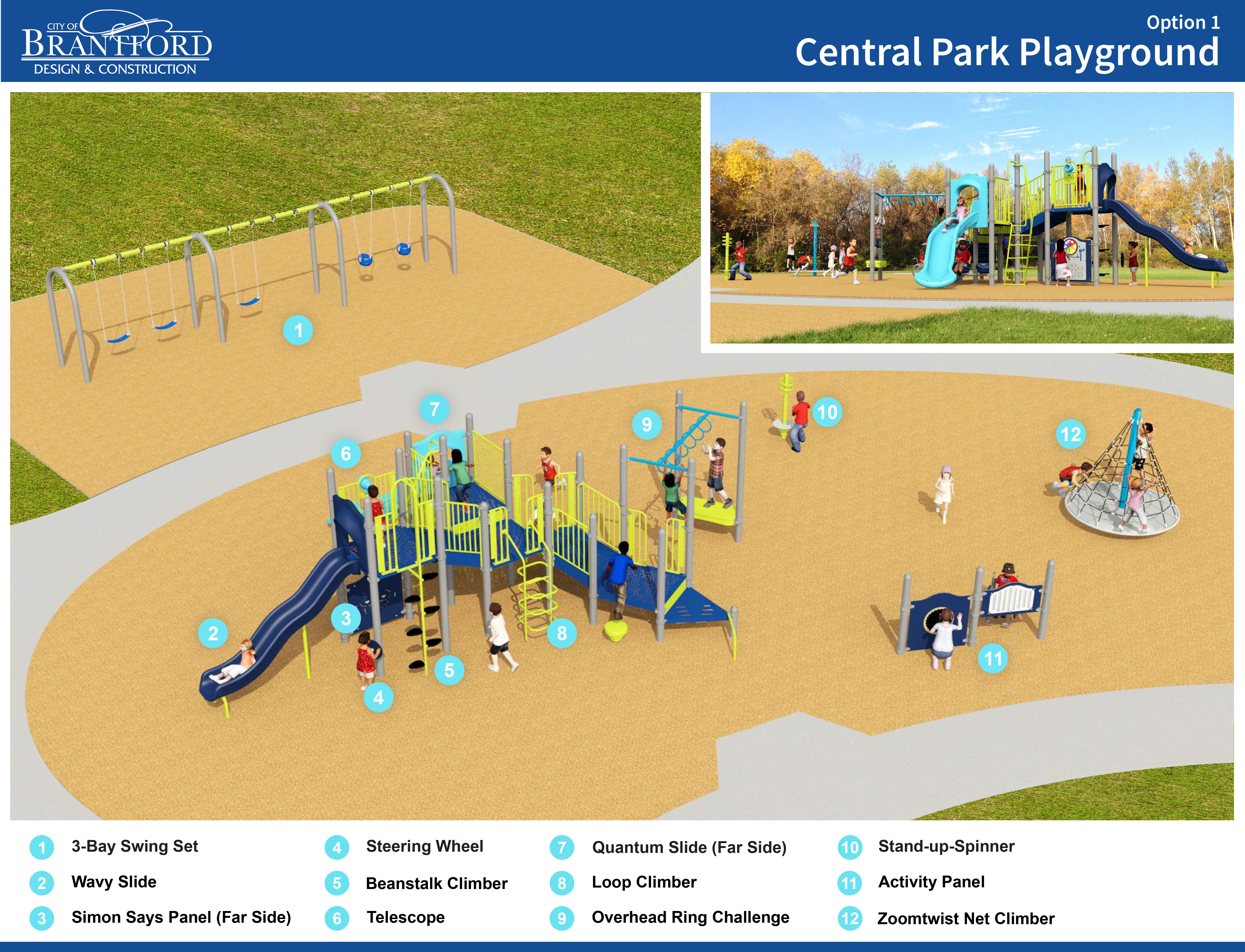 Hillcrest Park, option 1, traditional playground equipment design won by 82%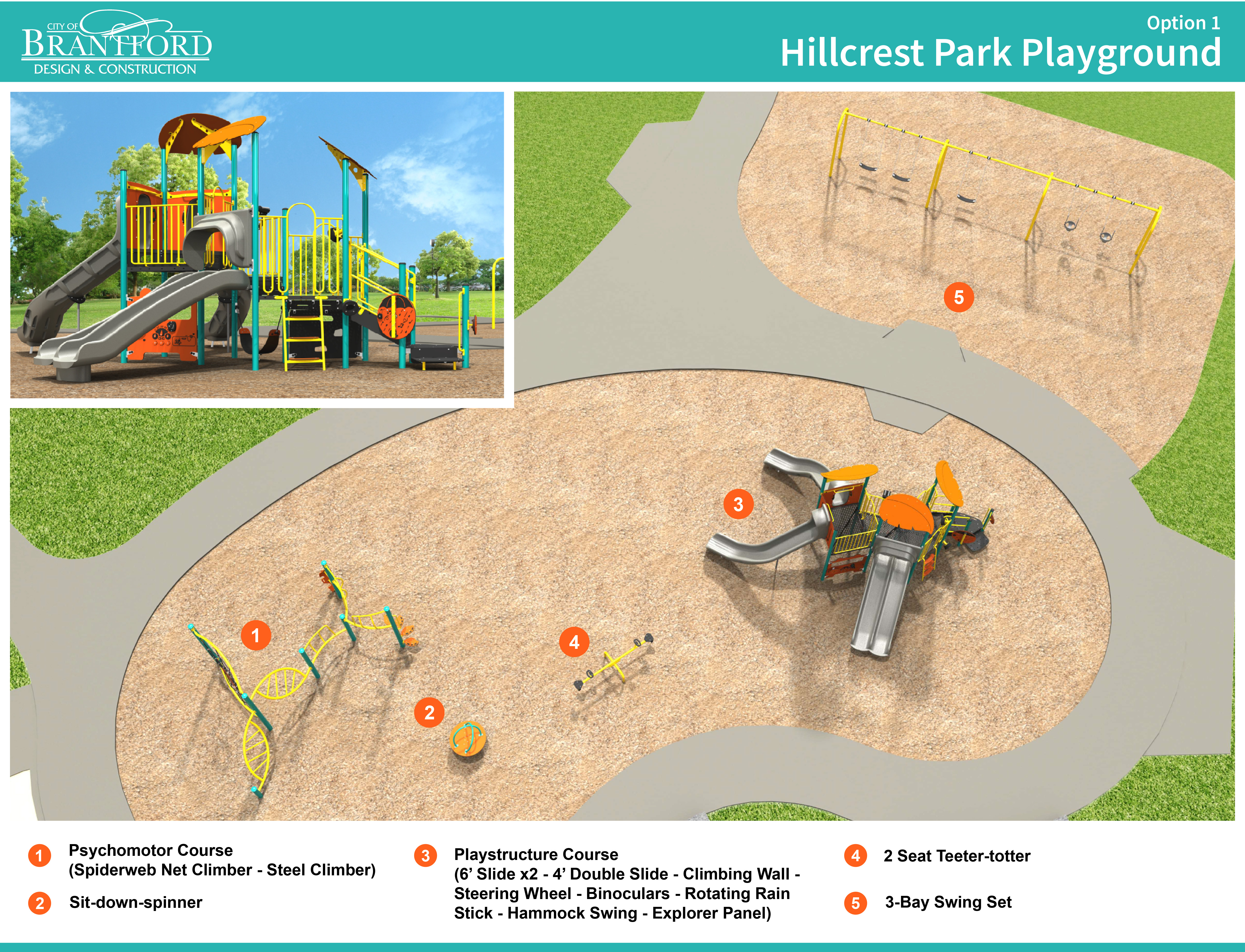 Recreation Park, option 1, traditional playground equipment design won by 65%
Waterworks Park Improvements
Waterworks Park is a large community park with a natural greenspace for recreation and relaxation with access to the main trail system, Rotary Bike Park and active sports fields. The park is located at 390 Grand River Avenue in Ward 2.
The City has proposed new upgrades to enhance the experience Waterworks Park.
The scope of work includes:
Improvements to the existing picnic shelter including roof replacement, re-staining and new signage
New pollinator garden beds, including various native plantings adjacent to the existing picnic shelter
New entrance signage to proposed garden area
New asphalt path through proposed garden area for accessibility
New benches along proposed asphalt path
Construction for this project is set to begin on October 19th, 2022, and will take approximately three weeks to complete phase one which includes pavilion roof replacement, garden beds, signage, asphalt path and benches. Phase two will be completed in Spring 2023, which includes the re-staining of the pavilion (schedule is dependent on weather conditions during construction).
Steve Brown Sports Complex Lighting Improvements
Steve Brown Sports Complex will be under construction to have the lights and poles replaced at the Red Baseball Diamond, lights and poles replaced at the Track Enclosure, and new lights and poles installed at the Blue Baseball Diamond. Construction is scheduled to be underway over the fall and winter of 2022-2023.
Playground Renovations
The City's dedicated Parks Services team works hard year-round to update parks and playgrounds. We are pleased to share updates regarding our playground renovation and rehabilitation program as well as our current and upcoming renovations and projects outlined below.
Playground renovation and rehabilitation program
The City's Playground Replacement Program dedicates funds and resources to continuously updating parks and playgrounds with fun and exciting new equipment. We also add new paved paths, benches, signs and trees. All these improvements help to make sure our playgrounds are inclusive, so everyone can enjoy them. The size and shape of each new playground depends on many factors. We work very hard to make sure that each playground design is the best it can be and residents have a chance to offer input. It takes two years to complete a new playground. In year one, the playground is planned and designed. In year two, the playground is built then opened for you to use.
How we decide which playgrounds are replaced
We use a variety of factors in choosing which playgrounds will be replaced. The most important of these factors is safety. Our playgrounds are inspected monthly. Important things like broken metal, rust, unleveled decking, and safety surfacing are all looked at. Findings from these inspections help us figure out which playgrounds need to be replaced sooner than others. We try our best to make sure that one playground in each area of the city is replaced each year.
We understand that there are many playgrounds across the city that needs an upgrade. While the playground closest to you may seem old and outdated, there may be others outside of your area that need replacement first. We appreciate your patience as we continue to move through our replacement list. Please call or email us if you have any questions about a park near you.
Playgrounds currently in the design phase
Find Park Renovation Surveys as they become available for each park.
Silverbridge Park Path
A 2m wide asphalt path is being constructed at Silverbridge Park to connect the sidewalk at Dante Crescent to the sidewalk at Ludlow Crescent. Construction is scheduled to begin in mid-September and is expected to last approximately three weeks.
Lorne Park Improvements
Lorne Park is a charming, century-old city park featuring manicured expanses and gardens. It is located at 15 Colborne Street West in Ward 1. The greenspace is often used as a destination for rest, recreation, relaxation, and photography.
The City has proposed new upgrades to enhance the experience Lorne Park.
The scope of work includes:
New gazebo structure on a concrete pad
New garden beds, including various plantings
New asphalt path connection to proposed gazebo
New picnic tables
Construction for Phase 1 of this project is set to begin on June 27, 2022, and will take approximately two weeks to complete. This includes the construction of the concrete gazebo base, asphalt path, and garden beds.
Phase 2 will include the installation of the gazebo structure. This is set to take place in January 2023.
Jubilee Terrace Park Improvements
Jubilee Terrace Park, located at 10 Brant Avenue, is situated on 2.25 acres of land adjacent to the Sergeant William Merrifield VC Armoury. Jubilee Terrace park is located where much of Brantford's history began dating back to 1784. The park is now home to a restored German Howitzer cannon, gardens, a flagpole display, a pathway connection to Colborne St. West, and two benches. The City of Brantford has proposed new upgrades to enhance the experience Jubilee Terrace Park.
The scope of work is summarized as follows:
New concrete pad/display area for the Howitzer Cannon including uplighting
Two new garden beds including various plantings
New concrete path connection to Brant Avenue
New concrete path to replace existing unit paver path
Space for a future memorial display
New bench
Construction for this project is set to begin on July 25th, 2022, and will take approximately six weeks to complete.
Dufferin Park Redevelopment
Construction of the new and improved Dufferin Park Redevelopment will begin in Fall 2022. The new Dufferin Park Plan is intended to be more inclusive and appeal to a wider range of interests and activities. Learn more.
Reimagining Arrowdale
On December 17, 2019 Brantford City Council voted to direct staff to dispose of the City owned lands at 282 Stanley St. to fund much needed affordable housing within the municipality. The sale of these lands provides a substantial capital foundation to create much needed, sustainable affordable housing in our community. The proceeds from the land sale combined with ongoing tax revenues, creative financial planning, partnerships with non-profit housing sectors and federal and provincial funding streams have the potential to result in over 470 units of affordable, sustainable, mixed income housing options for the residents of Brantford and Brant over the next 10 years. Learn more.
Subscribe to this Page