Southwest Community Centre and Park
In 2011, the City of Brantford evaluated development opportunities for a 36 hectare property on the north side of Shellard Lane in the southwest area of the city, at the same time an overall neighbourhood plan was developed. Plans for the area include residential, commercial and institutional land uses as well as a recreational facility comprised of playing fields, parkland, playgrounds, picnic shelters, trails and parking. The new Southwest Community Centre and Park (formerly known as the Southwest Sports Complex Project) will also include a community centre with a library, gymnasium and multi-purpose rooms for shared use with a proposed elementary school.
Site Design
The Design team, led by MBTW Landscape Architects, has completed the new site design. An updated Masterplan 2017 was presented to and approved by Council in April 2017 . The site will be developed in three (3) Phases.
Funding for Phase 1 has been allocated from 2016, 2017, 2019, and 2020 capital budgets.
Phase 1 is currently underway and includes general grading and excavation, servicing, the primary entry road to the park at the east end of the site, parking, stormwater management facilities, four (4) lit, ball diamonds, a concession, maintenance and change facility, a playground, multiple trails and associated signage, landscaping.
In 2018, the Masterplan was updated to account for an expanded wetland feature south of the hedgerow bisecting the site, resulting in resizing one of the proposed football fields in phase 2 to a smaller soccer field.
Future Phases are expected to include artificial turf sports fields, natural turf sportsfields, service buildings, trails, a splash pad, a multi-sport court, and an artificially refrigerated skate trail. The south portion of the site is also expected to include a new elementary school combined with a gymnasium and a library.
Aerial Video View of the Southwest Community Centre and Park Site
Work to Date
Much has been accomplished to date- most of this work is not visible but is required before construction can begin:
Detailed Surveys and Geotechnical investigations have been completed;
Tender drawings and specification for Phase 1 of the project are at 97% completion;
An Environmental Impact Study (EIS) researching flora and fauna as well as documenting water levels and quality of water on the site has been completed and has been reviewed by the Grand River Conservation Authority (GRCA) and the COB Engineering Department;
A Stormwater Management plan has been completed and has been reviewed by both the GRCA and the COB Engineering Department. This plan also needs to be approved by the Ministry of the Environment (MOE) which is underway;
Meetings and communications with other departments to review project objectives and discuss site servicing, roads and integration of the park site and proposed fieldhouse into the overall property continue.

Archaeological Investigations
A Stage 2 archaeological investigation was completed in 2017. The Stage 3 investigation has also now been completed by Wood Inc. and the report to the Ministry of Tourism and Culture submitted. The site has been found to be rich in pre-European contact Indigenous archaeological finds in specific areas, and a Stage 4 assessment was deemed necessary. This final stage was initiated immediately following completion of the Stage 3 in July 2018. The scope of the Stage 4 is broader than first expected with sites dating between the Late Paleoindian to Early Woodland periods. Items recovered show that the area has been inhabited for several thousands of years at various times (ca. 8500 B.C – 900 B.C) with numerous camp sites of different periods established next to or even overlapping one another.
Stage 4 is anticipated to continue through 2020 and early 2021. It is necessary to complete the archaeological work on site before any construction work begins.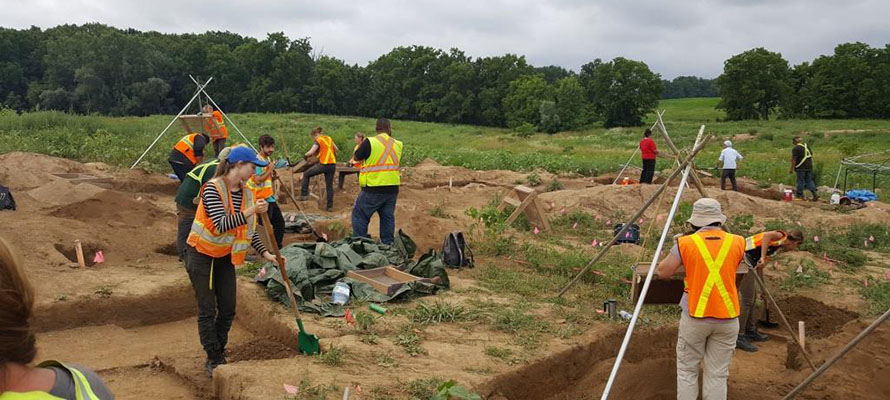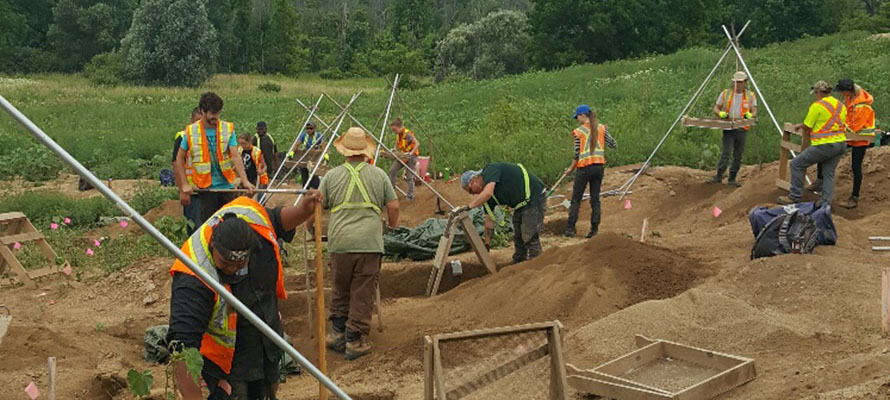 Shellard Lane Task Force
A task force has been established and is comprised of Councillors, staff and members of the public. The group will continue to work with the consultants and staff to confirm the direction of the designs and to provide feedback and input throughout the project phases.
Next Steps - 2020-2021
Continue with the Stage 4 archaeological investigations on site
Submit drawings for Site Plan approval
Obtain final approvals of the EIS and the SWM plans
Issue a prequalification for general contractors (2021)
Project Schedule
Complete /award Phase 1 specifications for tender issue -winter/spring 2022
Complete Stage 4 archaeological investigation and final report- spring 2022
Begin construction-summer 2022
Complete construction of Phase 1-fall 2023
Preliminary Concept Plan
Masterplan
Get Involved
If you have questions, would like to participate in this project, or would like further information, please feel free to contact the following project team members.
Parks and Recreation Main Office
1 Sherwood Drive, Brantford ON N3T 1N3
519-756-1500
Les Camm
Designated Project Manager
Colliers Project Leaders
905-639-2425 ext. 252
leslie.camm@colliersprojectleaders.com
Accessible formats and communication supports available upon request. For more information please contact, the City of Brantford Accessibility Coordinator at accessibility@brantford.ca.
Subscribe to this Page