National Day for Truth and Reconciliation
The federal government declared September 30 as the National Day for Truth and Reconciliation to be observed annually. This federal statutory holiday seeks to honour First Nations, Inuit and Métis Survivors, their families and communities and to ensure that public commemoration of their history and the legacy of residential schools remains a vital component of the reconciliation process.
On September 30 each year, City facility flags are lowered to half-mast, in recognition of the National Day for Truth and Reconciliation. The City of Brantford stands with Indigenous people in our region and across Canada to remember and honour all of the Indigenous children that attended residential schools in Canada. Every Child Matters.
What is Orange Shirt Day?
The statutory holiday on September 30 coincides with Orange Shirt Day, inspired by the story of Phyllis Webstad, a former residential school student who had her orange shirt taken away on her first day at residential school. Wearing orange on September 30 honours and remembers the experiences and loss of Indigenous children who were placed in residential schools.
Local events
The City has partnered with multiple Indigenous organizations to facilitate a National Day for Truth and Reconciliation event at Mohawk Park (51 Lynwood Drive) from 1 p.m. to 6 p.m. The event is led by Brantford Native Housing, with the City of Brantford supporting in partnership with Woodland Cultural Centre and Niwasa. All are welcome at the event that will feature traditional Indigenous dancers and drummers, singing, craft vendors, food and information booths. Attendees are encouraged to bring their own lawn chairs.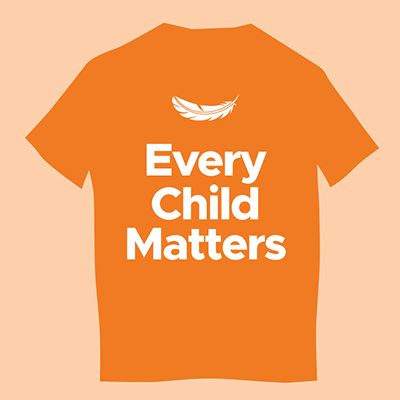 Educational Resources
We encourage you to learn more about the Truth and Reconciliation Commission (TRC) Calls to Action and the progress of the work of the Truth and Reconciliation Commission of Canada. These calls to action represent a transformative initiative that emerged from Canada's efforts to address the legacy of its residential school system. They offer a roadmap for healing, understanding, and reconciliation between Indigenous and non-Indigenous peoples. Whether you're an educator or an engaged citizen, the TRC Calls to Action provide an opportunity for learning and meaningful action that can contribute towards building a brighter future.
Woodland Cultural Centre
The Woodland Cultural Centre is the premier destination to explore, learn, and share the rich histories and contemporary cultures of Indigenous people of the Great Lakes region. Located on the site of one of only two former Residential School buildings left standing in Ontario, the Woodland Cultural Centre strives to provide complete and immersive information and education about the history of the Residential School system in Canada and its impact on First Nations people. The Woodland Cultural Centre offers educational programs and resources to schools, school boards, universities and colleges, community organizations and the public audience.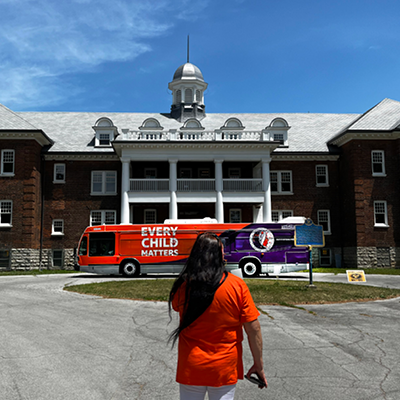 Hope for Wellness Helpline
Recognizing this subject matter can be painful and traumatic to many, support services for survivors and intergenerational survivors are available by calling the Hope for Wellness Help Line at 1-855-242-3310 to access toll-free, 24/7 counselling and crisis intervention. The Indian Residential Schools Crisis Line (1-866-925-4419) is also available 24 hours a day for anyone experiencing pain or distress as a result of their residential school experience. Indigenous Victim Services at Six Nations can be reached at 1-866-964-5920 or after hours and weekends at 1-866-445-2204.
Subscribe to this Page