Empey Street Wastewater Pumping Station Upgrades
The Study
The City of Brantford has initiated a Municipal Class Environmental Assessment (MCEA) for the upgrades to the Empey Street Wastewater Pumping Station (WWPS). The need for increasing the capacity of the Empey Street WWPS was identified in the recent City of Brantford Water, Wastewater and Stormwater Master Servicing Plan Update and is required to meet planned growth, including the areas within the City's new settlement area.
This study will evaluate various alternatives for the WWPS, which may include new construction on the existing property or an alternate property, twinning of the existing wetwell, in addition to incorporation of new twin forcemains, provision of an emergency overflow storage tank, and other upgrades to the existing WWPS necessary to meet future service area demands.
The Process
The study is being conducted in accordance with Schedule 'B' requirements of the Municipal Engineers Association "Municipal Class Environmental Assessment," (October 2000, as recently amended in 2015) which is approved under the Ontario Environmental Assessment Act.
Study Area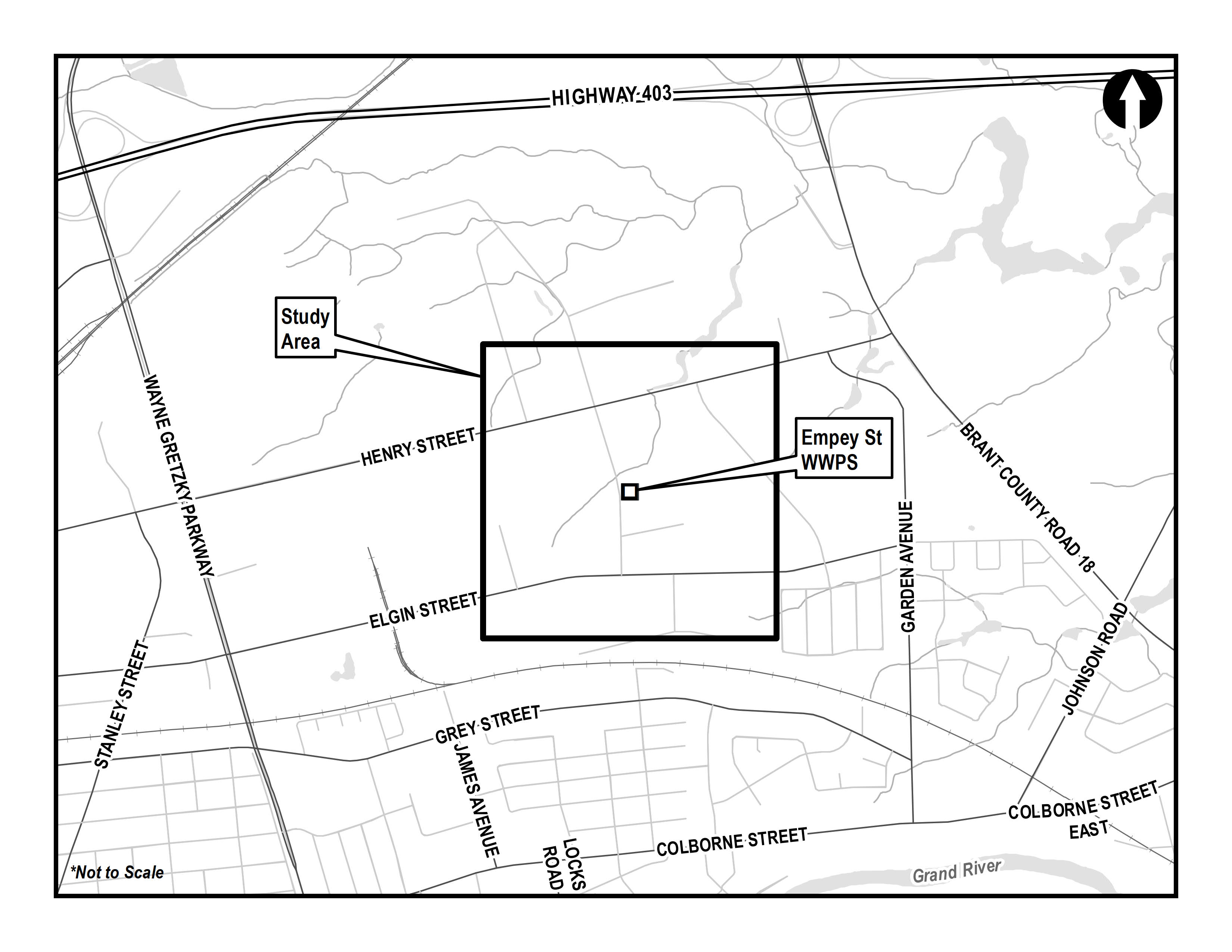 Virtual Public Information Centre - May 27, 2021
Due to the COVID-19 pandemic, the City hosted this Public Information Centre (PIC) virtually. In addition to the following video presentation, a transcript of the video content and PIC boards are also available for review.
How to Get Involved
If you have any questions or comments regarding this study or wish to be added to the study mailing list, please contact either one of the project team representatives below:
Shahab Shafai, M.Sc., P.Eng.
Project Manager
City of Brantford
Phone: 519-759-4150 Ext. 5745
Chris Gouett, M.A.Sc.
Project Manager
AECOM Canada Ltd.
Phone: 519-650-8614
Subscribe to this Page