Ava Road Bridge Rehabilitation Project
Background
The Ava Road Bridge, constructed in 1958 is a four-span concrete slab on steel I-girder bridge with a total length of 59.73 m. The bridge is located in the City of Brantford between Paris Road and Brant Avenue. The bridge carries traffic on Brant Avenue over two (2) CNR tracks and the service road. The surrounding area at this site includes the intersections of Ava Road/ Brant Avenue and Paris Road/ Terrace Hill Street.
The bridge underwent major rehabilitation in 1985 and 1998. In 1998, the rehabilitation included removal of expansion joints, concrete patch repair at deck, piers, abutments, and diaphragms, replacement of bearings at the north abutment, blast cleaning and coating of girder ends and steel bearings, and replacement of deck waterproofing and pavement on the deck.
The project, originally made up of the bridge rehabilitation and intersection improvements, was split into two stages to improve traffic flow, and pedestrian and worker safety.
Aerial view of the site showing the intersection configuration prior to the Phase 1 work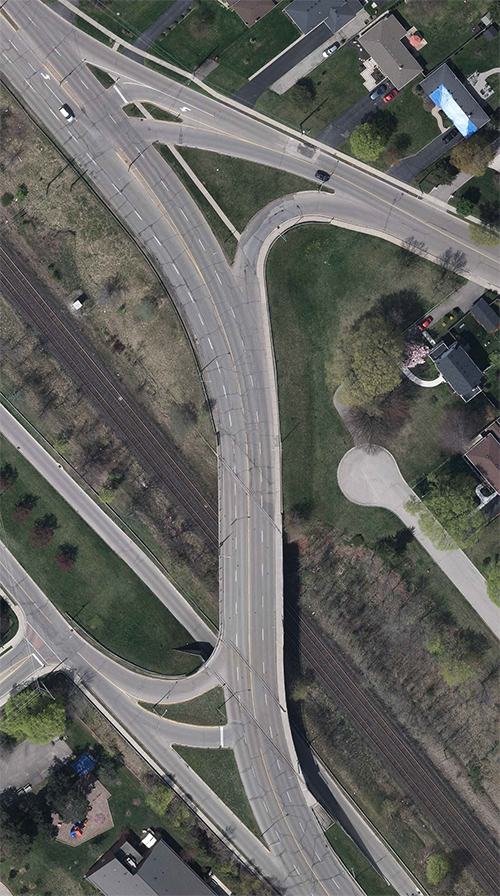 Phase 1 - Completed in 2019
Phase 1 involved the re-alignment of the Paris Rd/Terrace Hill Street intersection to address operational deficiencies. The re-alignment forms part of the overall plan of the Ava Road Bridge rehabilitation to improve pedestrian safety movements across the bridge. Work commenced with the design and re-alignment of the Ava Road/Terrance Hill Street/Paris Road intersection and concluded with the reconstruction of the roadway, curb, sidewalk, boulevards, storm sewer and associated items.
Aerial view of the site showing the Phase 1 intersection improvements and the Phase 2 bridge rehabilitation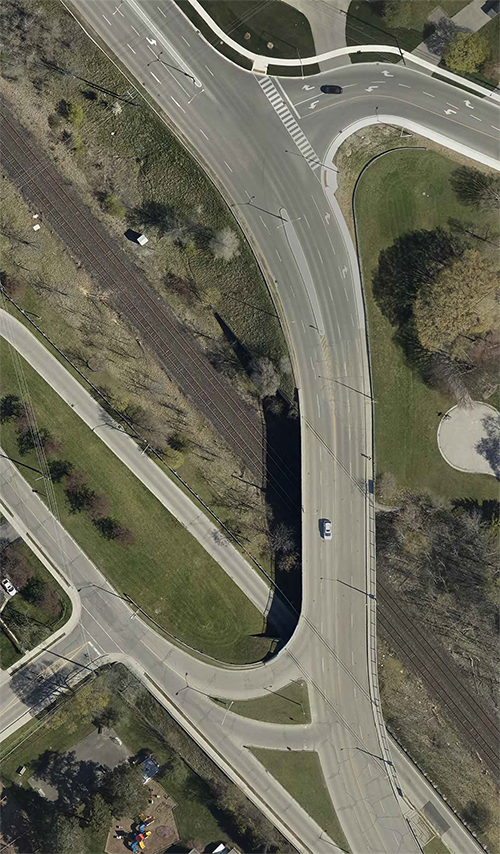 Phase 2 - Currently Underway
Phase 2 involves bridge rehabilitation including deck repairs, and road and sidewalk re-alignment on the Ava Road Bridge between Paris Road and Brant Ave as well as replacement / installation of traffic signals. A 2013 bridge inspection recommended the following: repair poor concrete throughout, replace expansion joints, repair poor asphalt on wearing surface and clean and paint structural steel.
In 2021 the City retained McIntosh Perry Consulting Engineers Ltd. to carry out a detailed condition assessment of the bridge structure, preliminary and detailed design. During the assessment, deterioration to some beams on the east side of the bridge was discovered. The deterioration of the beams was extensive enough to cause concern about the structural integrity of that particular portion of the bridge. Out of an abundance of caution, it was decided to close the east side of the bridge and it will remain closed until rehabilitation is complete.
This page will continue to be updated as progress is made.
Contacting the Project Team
If you have any questions about this project, please contact us using one of the following methods:
By Mail – please mail to Mike Campbell, City of Brantford, 58 Dalhousie Street, Brantford, ON N3T 2J2
Phone – please contact the City at 519-759-4150 Ext. 5247
By E-mail – please contact the Project Team
Subscribe to this Page