Northwest Brantford Municipal Services Expansion
The Study
The City of Brantford has initiated a Municipal Class Environmental Assessment (MCEA) for the Municipal Services Expansion in northwest Brantford. It is to provide and improve municipal service infrastructure to the Designated Greenfield Area development, according to the policy and principles in the Official Plan. The need for expanding the municipal systems was identified in the City's 2020 Master Servicing Plan (MSP) Update 2051 Amendment and the Transportation Master Plan (TMP) 2051 Update. It is required to meet planned growth, including the areas within the City's new settlement area.
This study will evaluate various alternatives for the service infrastructures, which include trunk watermain and trunk sewer extensions, road widenings, and stormwater management in and adjacent to the study area.
The Process
The study will be conducted in accordance with Schedule B and Schedule C project requirements of the Municipal Class Environmental Assessment (October 2000, as amended in 2007, 2011, and 2015), which is approved under the Ontario Environmental Assessment Act.
The MCEA process includes public and agency consultations, the evaluation of alternatives, assessment of potential environmental effects of the proposed works and identification of reasonable measures to mitigate any potential adverse impacts.
Study Area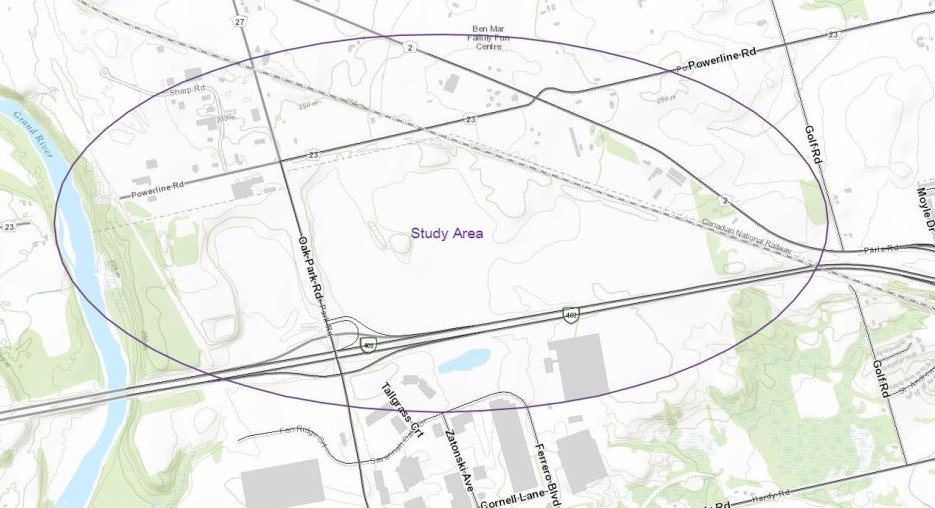 How to Get Involved
Public comments will be taken into consideration throughout the decision-making process. The City will host Public Information Centres (PICs) at various phases of the MCEA. Notices for the study, including the PIC notifications will be posted on this project page.
Upon completion of the study, an Environmental Study Report will be prepared and posted for public review and comment.
If you have any questions or comments regarding this study, or wish to be added to the study mailing list, please contact the project team representative below:
Guangli Zhang, P. Eng.
Senior Project Manager
City of Brantford
Please note that information will be collected in accordance with the Municipal Freedom of Information and Protection of Privacy Act. With the exception of personal information, all comments will become part of the public consultation record.
Subscribe to this Page