North East Flood Remediation Study
The City of Brantford, similar to many other Cities in Ontario, has been experiencing significant rainfall events with intensities, durations, and higher frequency of re-occurrence causing extensive flooding. On August 11, 2017, and in April of 2018, the City of Brantford experienced severe storm with short duration, high-intensity rain events in some parts of the City, which resulted in flooding in some areas of the City, predominantly in the North East Area.
Many flood mechanisms have been identified including isolated localized flooding to roadways, surface flooding and some cases of flooding of residential and commercial properties which were reported by numerous area residents.
In response to these storm events, the City has commenced the North-East End Flood Remediation Study to investigate the causes of flooding, identify any deficiencies in the infrastructure, and recommend solutions to reduce risk of future flooding in the area.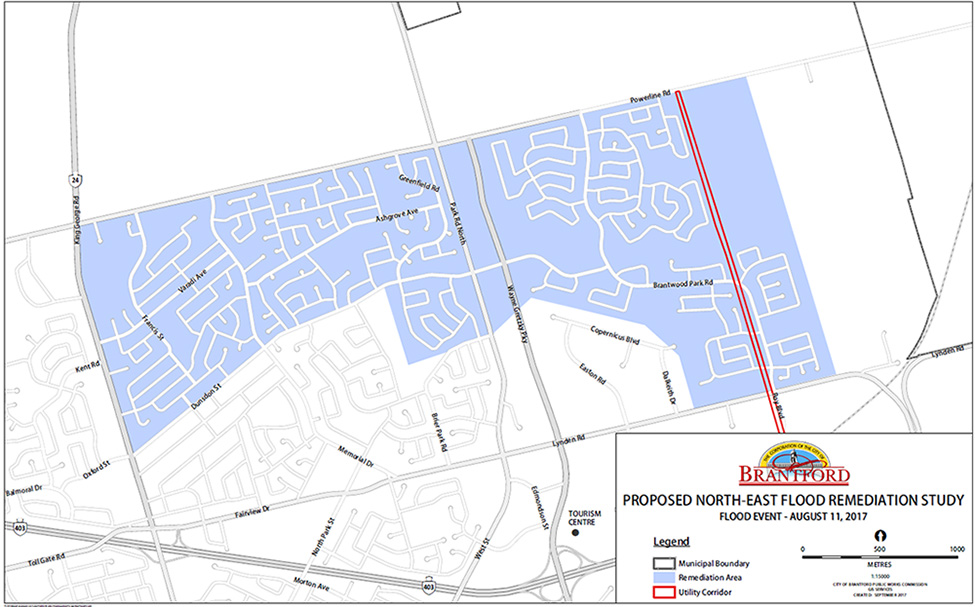 Detailed Map of North-East Remediation Study Area
If you have any comments or questions regarding this study, please contact:
Nahed Ghbn, P.Eng.
Senior Project Manager
City of Brantford
Tel: 519-759-4150 ext. 5262
Email: Nahed Ghbn
Dave Maunder, P.Eng.
Aquafor Beech Limited
905-629-0099 ext. 290
Email: >maunder.d@aquaforbeech.com<Dave Maunder
Links to Project Materials:
Residents Flooding Questionnaire
Presentation at the Public meeting in December 2018
Comments Sheet
Subscribe to this Page