Remembrance Day Services
Remembrance Day has always been a special day when the community could gather together to pay tribute to the courage and sacrifice of those who served and continued to serve our country during times of war, military conflict, and peace.
This year, the City of Brantford Remembrance Day Committee are pleased to present a fulsome virtual program as well as an in-person service to allow residents to remember with respect and gratitude those who served our nation.
Virtual Remembrance Day Ceremony
The City of Brantford is pleased to present a virtual Remembrance Day Service for 2021 in addition to the in-person service taking place at the Brant County War Memorial.
2021 Remembrance Day Service Schedule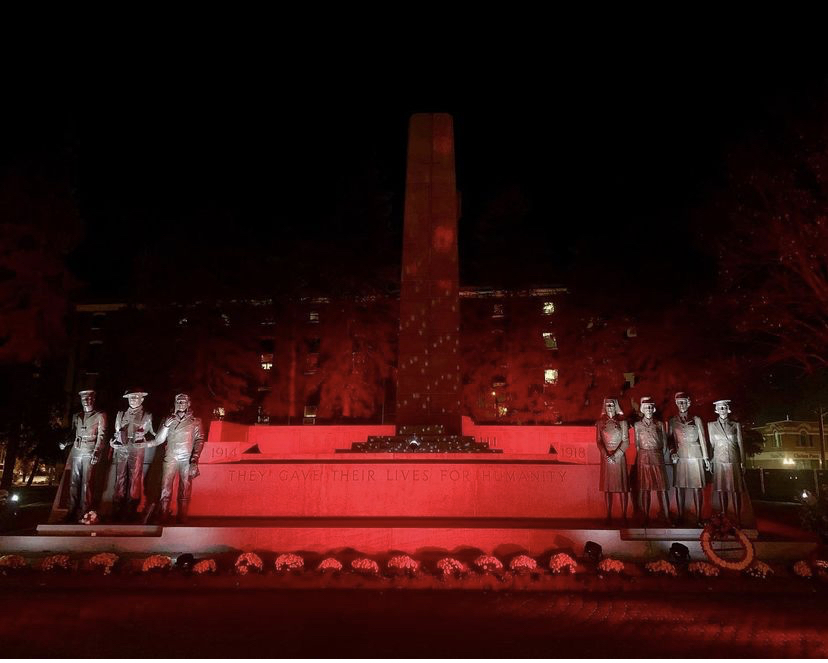 Overnight Lighting Display at the Brant County War Memorial
(corner of Dalhousie Street and Brant Ave.)
Wednesday, November 10 at 6 p.m. until Thursday, November 11 at 7 a.m.
The public is invited to drive-by within these hours to view the light display to honour our veterans.
Remembrance Day Service
Residents are invited to attend the Remembrance Day Service at the Cenotaph and are asked to follow all COVID-19 safety protocols including physical distancing and wearing face coverings to keep everyone in attendance safe. Seating will only be available to veterans and their spouses or companions.
The order of proceedings for the City's Remembrance Day Service and Parade on Thursday, November 11, 2021 is as follows:
10:40 a.m.: The Walking March leaves the Armouries en route to the Cenotaph at the Brant County War Memorial
11:00 a.m.: Civic Service of Remembrance at the Brant County War Memorial, Brant Ave and Dalhousie Street, Brantford. A Fly-pass will occur during the service courtesy of the Canadian Warplane Heritage Museum
Look Up and Remember
Thursday, November 11 approximately 11:15 a.m., weather permitting.
Residents are encouraged to step outside your home, place of business or place of learning and "Look Up and Remember" as vintage airplanes including the Lancaster, orbit our city in remembrance. The City of Brantford extends our gratitude to the Canadian Warplane Heritage Museum for including our community in their efforts to touch thousands of people in the Golden Horseshoe area during the COVID-19 Pandemic.
Temporary Road Closures
The following streets will be closed on Thursday, November 11, 2021 from 9:30 a.m. to 11:45 a.m. for the City's Remembrance Day Services and detour routes will be signed to accommodate vehicular traffic:
Dalhousie Street between King Street to Brant Avenue
Brant Avenue between Church and Colborne Streets
Parking
Between the hours of 10 a.m. and 1 p.m. on November 11, 2021, free parking will be provided at downtown area municipal parking lots. Parking time restrictions at on-street parking spaces in the downtown area will be waived.
Brantford Transit
Brantford Transit fares will also be waived for riders wearing a poppy to and from the service.
Student Speeches: What Remembrance Day means to me
Elliott Maratos
Remembrance Day means to me that I can go to school safely and I have a desk and chair and my school in a safe environment.

Remembrance Day is a day I thank the veterans for the fighting they did so I could have a safe place to live and not worry about being shot or living in a not free country.

This day I can thank my predecessors and their family members. I could not imagine leaving home at such a young age, so I would like to honour the veterans who fought for us and say thank you very much.
Olivia J Brown
Remembrance Day is a day to show our appreciation and respect for everyone who fought in the wars. They fought for all the people at home. We remember those who suffered injury or were killed in battle. We remember those left behind who suffered from their loss.

We remember that their sacrifice made us free.

Remembrance Day is a day for us to mourn their loss. It is a day to think about the great damage done, the lives lost and those affected.

In a way it is also a day to celebrate the freedom they won for us. We are able to work, go to school, go to stores play outside and do all the things we do for a happy life. We thank those who fought and helped during the wars and, because of them, we live in freedom.
Sophie Brown
To me, Remembrance Day means a lot of things. Every year, before Covid, our school would have a Remembrance Day assembly where all the students would make poppy art or just Remembrance Day art in general. We would hang this art up on the walls of our gym.

At this assembly we would listen to our national anthem and observe a moment of silence to remember all the men and women who fought or helped fight for our country. We would also watch slide shows that are connected with Remembrance Day.

With that being said, to me, Remembrance Day means that we remember all the people who fought for this wonderful country of ours. It also makes me sad knowing that many people died fighting so that we could all have a better life. That is what Remembrance Day means to me.
Thank you
The City of Brantford is grateful for the efforts of those who have assisted in organizing the Civic Remembrance Day Service, including various veterans groups, organizations, the 56th Field Artillery Regiment, City of Brantford and County of Brant staff, our local MP, MPP, emergency services and various school boards and legions.
Subscribe to this Page