Remembrance Day Services
Remembrance Day has always been a special day when the community could gather together to pay tribute to the courage and sacrifice of those who served and continued to serve our country during times of war, military conflict, and peace.
The City of Brantford is pleased to present an in-person Remembrance Day Service for 2022 taking place at the Brant County War Memorial.
2022 Remembrance Day Service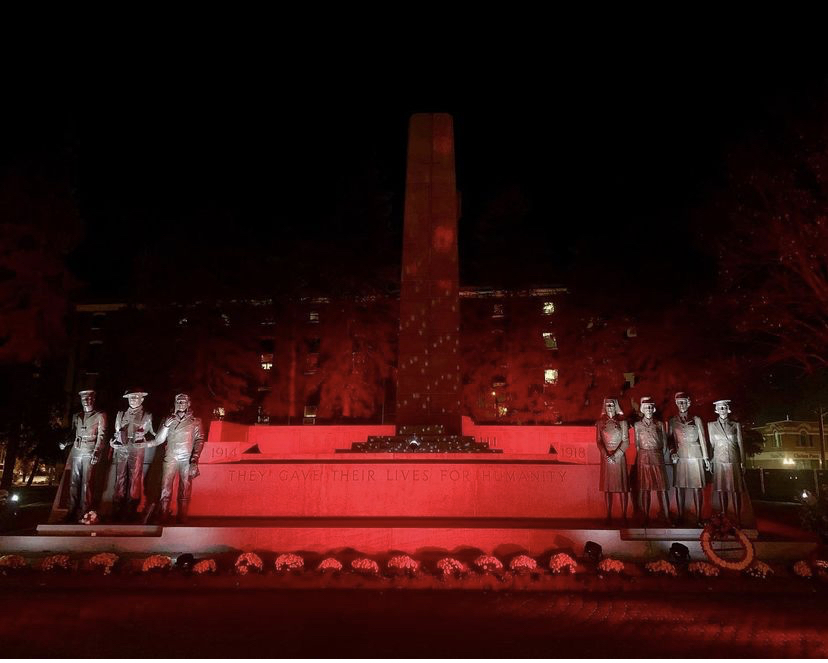 Overnight lighting display at the Brant County War Memorial
An overnight lighting display will take place at the Cenotaph on Thursday, November 10 beginning at 6:00 p.m. until Friday, November 11 at 7:00 a.m. A cadet vigil will take place Thursday, November 10 from 6:00 p.m. to 12:00 a.m. resuming again on Friday, November 11 from 7:00 a.m. to 10:30 a.m.
This memorial is located at the corner of Dalhousie Street and Brant Avenue. The public is invited to drive-by within these hours to view the light display to honour our veterans.
Remembrance Day Service schedule
Residents are invited to attend the Remembrance Day Service at the Cenotaph seating will only be available to veterans and their spouses or companions.
The order of proceedings for the City's Remembrance Day Service and Parade on Friday, November 11, 2022 is as follows:
10:40 a.m.: The walking march leaves Harmony Square en route to the Brant County War Memorial
10:50 a.m.: Civic Service of Remembrance at the Brant County War Memorial, Brant Avenue and Dalhousie Street, Brantford.
Approximately 11:15 a.m.: A Fly-pass will occur with vintage airplanes former 437 RCAF Squadron and D-DAY C47 Dakota Veteran Aircraft with North American B25J Mitchell Bomer in 98 RAF Squadron markings courtesy of the Canadian Warplane Heritage Museum
Look up and remember
Friday, November 11 approximately 11:15 a.m., weather permitting.
Residents are encouraged to step outside your home, place of business or place of learning and "Look Up and Remember" as vintage airplanes including Former 437 RCAF Squadron and D-DAY C47 Dakota Veteran Aircraft with North American B25J Mitchell Bomber in 98 RAF Squadron Markings Provided by Canadian Warplane Heritage Museum, orbit our city in remembrance. The City of Brantford extends our gratitude to the Canadian Warplane Heritage Museum for including our community in their efforts to touch thousands of people in the Golden Horseshoe area.
Temporary road closures
The following streets will be closed on Friday, November 11, 2022 from 9:30 a.m. to 11:45 a.m. for the City's Remembrance Day Services and detour routes will be signed to accommodate vehicular traffic:
Dalhousie Street between Market Street to Brant Avenue
Brant Avenue between Church and Colborne Streets
Parking
Between the hours of 10:00 a.m. and 1:00 p.m. on November 11, 2022, free parking will be provided at downtown area municipal parking lots. Parking time restrictions at on-street parking spaces in the downtown area will be waived. Veteran parking will be available in the RBC parking lot.
Brantford Transit
Brantford Transit fares will also be waived for riders wearing a poppy to and from the service.
Virtual Remembrance Day Ceremony
Student speeches
Students from the Brant Haldimand Norfolk District Catholic School Board (BHNCDSB) and Central Baptist Academy (Central Baptist) submitted speeches for consideration based on this year's Remembrance Day theme Honouring minority and/or marginalized groups' service to the nation. Each year, schools are selected on a rotational basis. This year's winning student from BHNCDSB is Ethan Russell and the winner from Central Baptist is Olivia Smith. Both students will read their speeches at the Remembrance Day Service on Friday, November 11. Read each winning speech below.
Ethan Russell - BHNCDSB
The first words that come to mind when I think about Canadian society are diversity and strength. In diversity we find strength, as through difference we find durability. However, diversity is often not a word heard much of on Remembrance Day.
I ask this year; you take a moment to remember the many veterans from diverse backgrounds. Their stories detail a history of professionalism and service that goes above and beyond. Their history includes the almost 600 Black Canadians who served in No. 2 Construction Battalion in WWI, the Chinese Canadians who were a part of the Allied Intelligence Force 136 and the WWI victory medal recipient John Singh among countless other stories.
Take a moment to remember the contributions of women, who since 1885 have been an integral part of our military. Fighting for the right to be treated equally, their roles expanded from 2,800 being nurses in the Canadian Army Medical Corps during WWI, to over 50,000 serving in non-combat roles as a part of the Canadian Women Army Corps in WWII, to today, where thousands of women serve in every role the military has to offer.
Take a moment to remember the over 12,000 Indigenous people, who served in the Canadian Armed Forces, and the over 500 who lost their lives. Their service was in roles all across the Army, Navy and Air Force. Uniquely, we were the Cree code talkers, who during WWII used language translation to prevent sensitive radio transmissions from being intercepted.
All of these groups, and many more, often fought two battles. One against the enemies of our nation, and the other against injustices in their society.
Thank a veteran today, and honour all those who did not see the sun rise this November 11. Their service will never be forgotten.
We shall remember them, lest we forget.
Olivia Smith - Central Baptist
"Lest we forget"
What does it mean? We all have said it once in our lives, it is written in poems, in speeches. We all know that we say it to show respect, it is a phrase filled with relief and hope reminding us of sacrifices many have made that have influenced the war and our freedom. We recognized all of you, and are very thankful for their service to provide in the war. Some minorities are not as acknowledged as others. But all of them paid tribute and did their part and we appreciate them. A significant minority was women; they served in the military by healing others, putting their lives on the line. They were a huge support and never stopped encouraging others, facing discrimination, from those who believed they should stay home, they were strong and kept to defending their country. The women who stayed home, were a big support too, they took over the household and kept things in order, they donated cookware supplies and metal for the use of guns and food for those who were fighting. We thank black Canadians, who served in the war, also facing discrimination for their colour, they joined the military, sacrificed their lives to fight in the war, they helped in factories, to manufacture and assemble weapons, such as guns. We recognize the many other minorities for their bravery and motivation and contributions to the war efforts, and will be remembered.
We say thanks to you.
The sacrifices that you made had a big impact on our lives today. We cannot express anything except that we are exceptionally filled with gratitude and thankfulness. So to answer your question, "Lest we forget'' means "it should not be forgotten" Their sacrifices, their support, their service they had offered, peace keeping, and how it affects us today. We will always remember you, and recognize your hecatomb.
Thank you
The City of Brantford is grateful for the efforts of those who have assisted in organizing the Civic Remembrance Day Service, including various veterans' groups, organizations, the 56th Field Artillery Regiment, City of Brantford and County of Brant staff, Larry Brock, MP Brantford-Brant, Will Bouma, MPP Brantford-Brant, emergency services, Brant Men of Song, the Telephone City Musical Society, Braemar House School Choir, the Canadian Warplane Heritage Museum, and various school boards and legions.
Subscribe to this Page