Oak Park Road Extension
The City of Brantford, through consulting firm Parsons Inc., is undertaking a Municipal Class Environmental Assessment (EA) Study for the extension of Oak Park Road between the Kramer's Way / Hardy Road intersection and Colborne Street West. This project is being carried out under the planning and design process for a Schedule C project as outlined in the Municipal Class Environmental Assessment (October 2000, as amended in 2007, 2011 and 2015).
The extension is intended to improve overall traffic operations and accommodate population and employment growth in the City by helping to connect communities, alleviate traffic demand on existing local routes, reduce travel times, and support future developments. Previous transportation master plans and the most recent Transportation Master Plan (TMP) Update (2014) recommends the extension include a four-lane arterial road with a crossing over the Grand River. This study will build off the Brantford Corridor Study 1981, the recommendations of the City's TMP Update, and the Oak Park Road Extension Feasibility Study 2019, that evaluated technical alternatives for the Oak Park Road extension.
The Oak Park Road Extension Class EA will: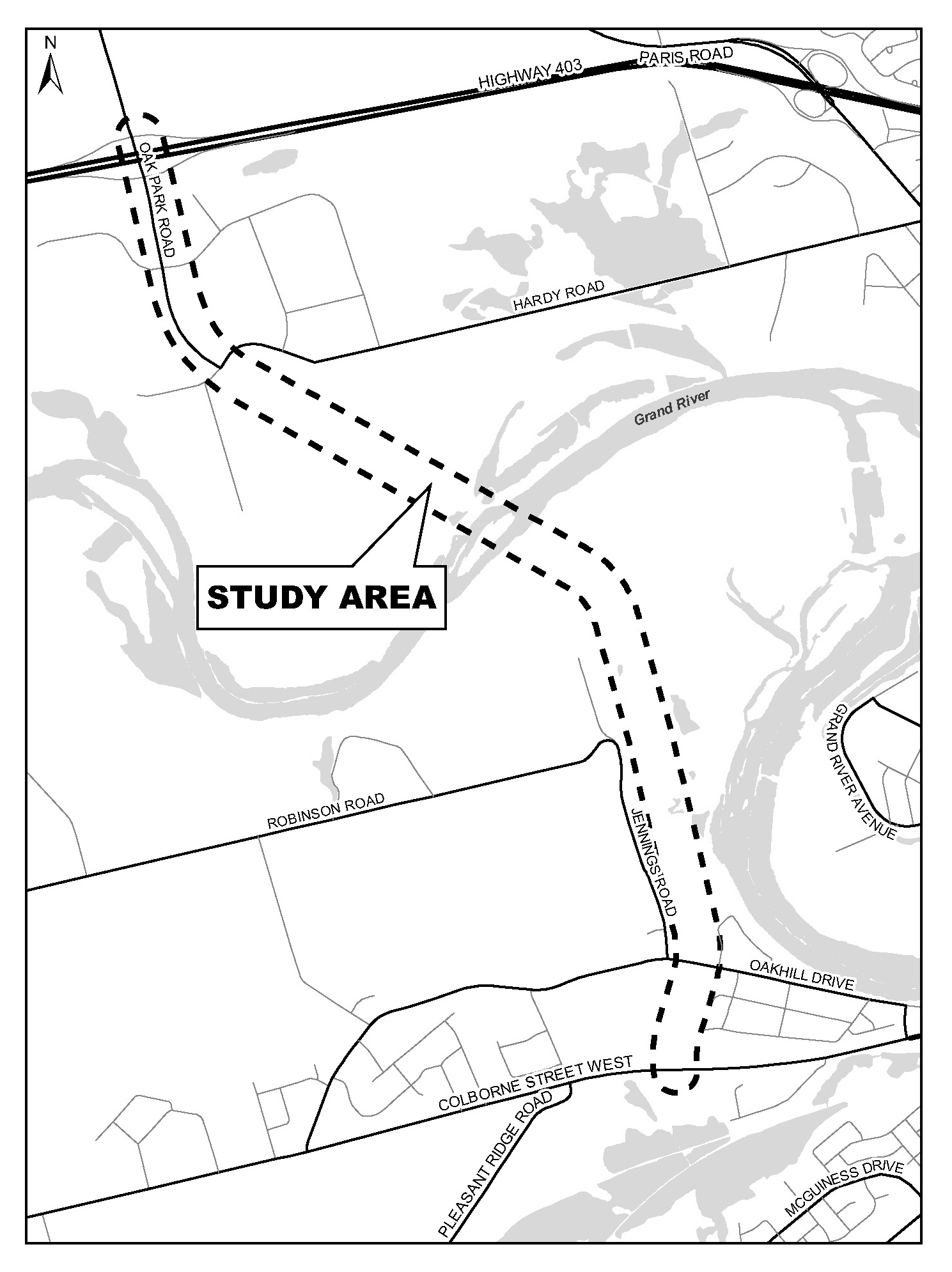 Assess / confirm the need and justification for the extension of Oak Park Road
Identify and evaluate a range of alternative solutions and design concepts to support traffic demand and growth, while also considering impacts on natural, cultural and socio-economic environments
Develop a preliminary design and identify mitigation measures for environmental impacts to be carried forward into subsequent project phases
Consultation with the public, relevant technical agencies and stakeholder groups is a key element of the Class EA study. To facilitate this, Public Information Centres (PICs) will be held to present project information and progress. PIC notices will be advertised during the study and mailed to agencies and stakeholders to provide opportunities for involvement in the study. Upon completion of the study, an Environmental Study Report (ESR) will be prepared and made available for a 30-day public review period. The ESR will document the Municipal Class EA planning and decision-making process undertaken.
For more information, to provide comments, or to be added to the mailing list contact, please contact:
Chris Fong, P. Eng., Project Manager
City of Brantford
100 Wellington Square
Brantford, ON N3T 2M2
519-759-4150 Ext. 5630
Marko Paranosic, P.Eng., Project Manager
Parsons Inc.
101-540 Bingemans Center Drive
Kitchener, ON N2B 3X9
519-340-1078
Subscribe to this Page