Reimagining Arrowdale
On December 17, 2019 Brantford City Council approved the sale of the existing Arrowdale Municipal Golf Course lands to fund much needed affordable housing projects. The sale of the Arrowdale lands provides a substantial capital foundation to create much needed, sustainable affordable housing in our community. The proceeds from the land sale combined with ongoing tax revenues, creative financial planning, partnerships with non-profit housing sectors and federal and provincial funding streams have the potential to result in over 470 units of affordable, sustainable, mixed income housing options for the residents of Brantford and Brant over the next 10 years.
New 17-Acre Community Park
Council's decision also directed that a large portion of the lands be retained for a community park, that will be accessible to the public year-round and designed in close consultation with the community.
As a community park, this unique development will service the immediate neighbourhood but given its scope and scale, it will also the broader community and provide enhanced amenities and park features beyond what is normally found in a typical neighbourhood park.
The City of Brantford is excited to begin the design and development process of the new community park that will not be gated, require no fees or a membership, and will make the parklands accessible by all residents free of charge, every day year-round.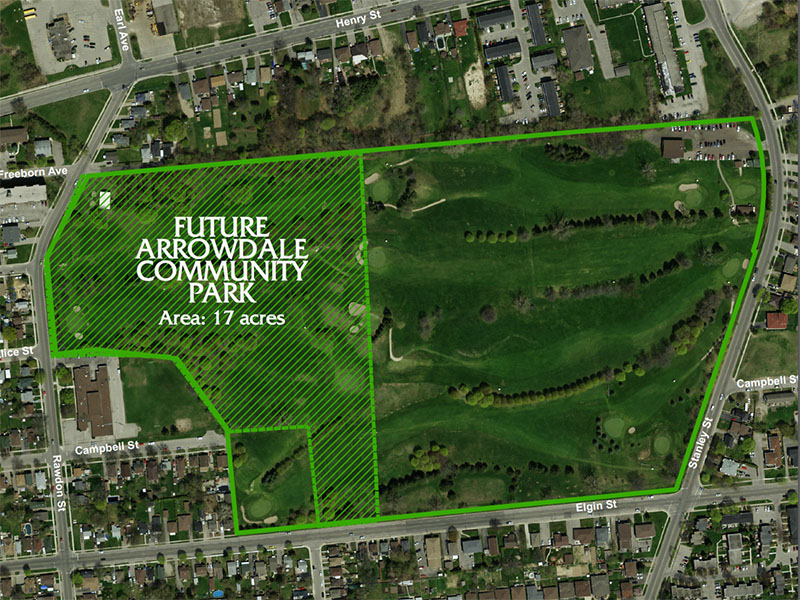 We want to hear from you
Play, exercise, explore, relax…all of the above?
In order to create a park that is reflective of the community, we need your input! While the City is unable to host in person meetings at this time, numerous opportunities for residents to provide input and feedback will be available throughout the design process:
Stage 1: Design Exploration - now- August 4, 2020
To get started, we would like to hear your ideas about the new community park; what activities are most desired and the types of park amenities that are most valued. This will help create initial park concept plans that will be shared with residents for additional input and feedback during Stage 2 of the community consultation process.
Community parks provide many environmental, aesthetic, and recreation benefits and can be designed to emphasize different experiences. Whether you would like to get active and play, relax and enjoy nature in the city or explore a bit of both Arrowdale Park presents many exciting community possibilities.
Check out each activity idea outlined in the links above and then please complete our online survey to share your thoughts by August 4, 2020.
Stage 2: Concept Development – August 2020
Based on the ideas and information collected in our initial outreach, in Stage 2, three park concepts will be developed for residents' feedback. These concepts will be featured on the website and accompanied by online survey #2. The information collected in Stage 2 will inform and help the design team finalize a concept design that will be shared with the community for additional input in Stage 3.
Stage 3: Final Concept Development – Oct 2020
In this stage, a final concept plan will be developed based on feedback from the Stage 2 community outreach. This final design will be shared with the community online and via social media.
Opportunities for the community to gather virtually will be explored so that members of the public have the opportunity to ask questions of staff and the design team in real time. If possible, should the COVID-19 gathering restrictions be lifted, in person meetings may also be initiated.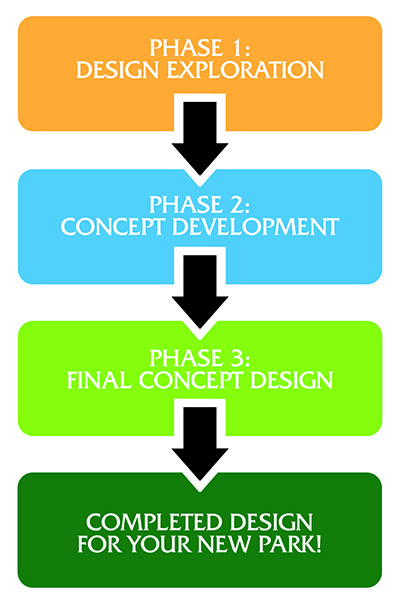 Subscribe to this Page