Coordinated Access
The City works alongside community organizations in a Coordinated Access approach that supports individuals experiencing or at risk of homelessness by assessing each unique situation and connecting them to financial, social services, health, and support systems. This coordinated network is called the Brantford-Brant Homelessness System of Care and includes the following organizations:
The Brantford-Brant Homelessness System of Care Coordinated Access System takes the following steps:
Entry Points
First point of contact.
Entry Point Management
Complete consents with the individual. Create/Verify their profile in the Homeless Individuals and Family Information System (HIFIS) and support them to stay housed or access other supports.
Managing Admissions
The individual is directed to emergency accommodations.
Case Planning
More information is gathered about housing-related strengths, needs, and barriers, while adding their information to the By-Name List.
BNL Prioritization
The individual is added to the By-Name List and ranked by locally defined factors.
Matching and Referral
Finally, the individual is transferred to a home.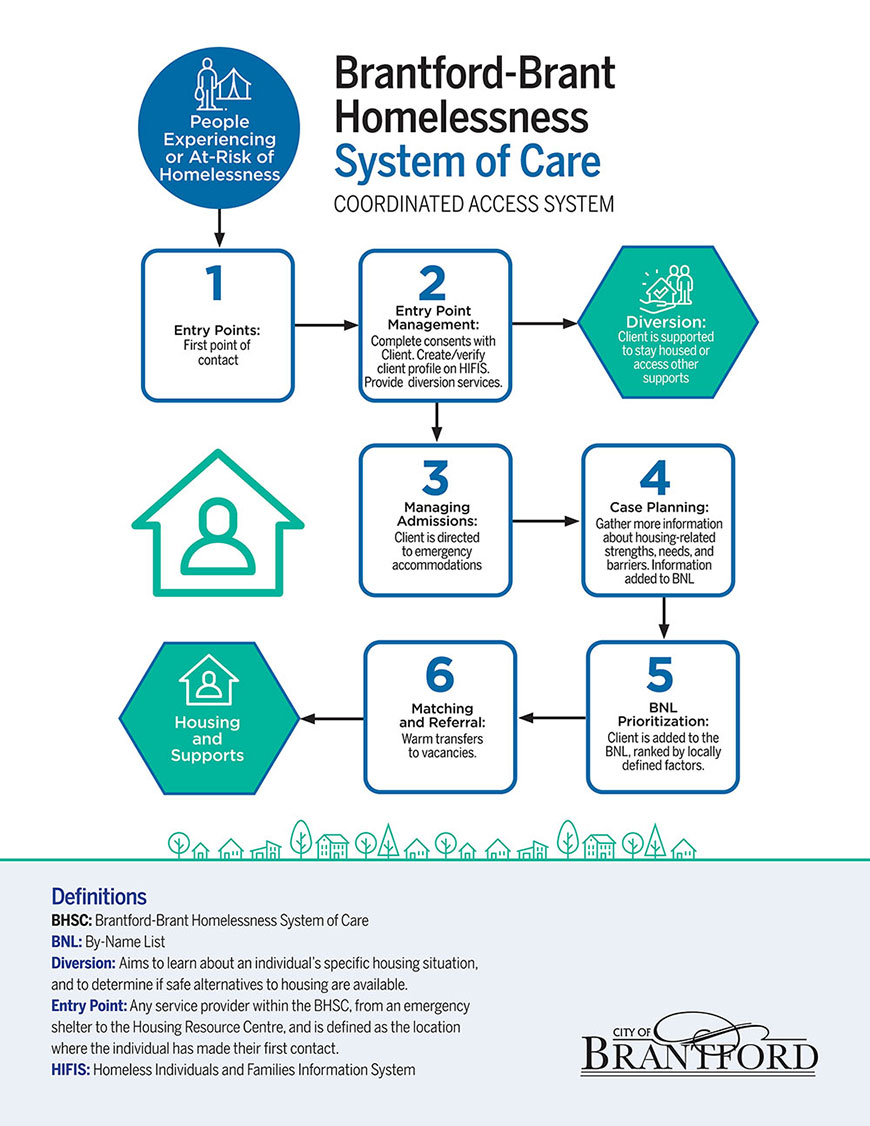 While engaging with any organization within the Brantford-Brant Homelessness System of Care, individuals and families may also connect with outreach services, emergency shelters, and housing support programs – depending on the circumstances.
Reach out to our local Housing Resource Centre by calling 519-802-4332, emailing hrc@salvationarmy.ca, or visiting 255 Colborne Street. To learn more about their services, you can also visit their website at hrcbrantford.org/.
What is a By-Name List (BNL)?
A By-Name List (BNL) is a real-time list of all known individuals experiencing homelessness in Brantford-Brant. It includes data that supports coordinated access and prioritization for housing by understanding those who experience homelessness and those who find housing. This real-time data supports triage to services, system performance evaluation and advocacy for the policies and resources necessary to end homelessness.

For more information on By-Name Lists, please visit Built For Zero Canada.
What is the Homeless Individuals and Families Information System (HIFIS)?
The Homeless Individuals and Families Information System (HIFIS) is a comprehensive data collection and case management system designed to better understand what is happening in our community and how we can work collaboratively.
Subscribe to this Page