Activities
We'll have a variety of fun activities for all ages throughout the day on July 1 and information on how to plan your stay for the weekend.
Canadian Citizenship Ceremony
Everyone is welcome to attend the Brantford Citizenship Ceremony where residents take an oath to officially become Canadian citizens at 10:00 a.m. at the Boys and Girls Club of Brantford located at 2 Edge Street. Free parking is available for guests with an invitation at the Boys and Girls Club parking lot located at 2 Edge Street. Parking for the general public attending the Citizenship Ceremony only, can park for free on Gilkison Street adjacent to the Boys and Girls Club. Please note paid parking is required for those attending the Canada Day after event beginning at 11:00 a.m.
Main stage events
Main Stage Live music and performances - 12:00 p.m. to 10:00 p.m.
12:00 p.m. Frank DiFelice Band with special guest David McKee
1:20 p.m. Three Legged Horse
2:35 p.m. Backburner
3:50 p.m. Mystic Highway
5:10 p.m. Jace Martin & the Pace
6:30 p.m. Sass Jordan
8:30 p.m. KIM MITCHELL
Young Canadians Area
The Young Canadians area is a space for families to gather, enjoy interactive activities and learn about local community organizations and is open from 12:00 p.m. to 6:00 p.m.
Young Canadian Stage
12:00 p.m. Barry O' Kids Show
1:00 p.m. TEAM T&J
1:30 p.m. TEAM T&J Meet and Greet
2:00 p.m. PAW PATROL's Chase Story Time with Deputy Chief Saunders
2:30 p.m. PAW PATROL's Chase Meet and Greet
3:00 p.m. TEAM T&J
3:30 p.m. TEAM T&J Meet and Greet
4:00 p.m. Blue's Clues Interactive Story Time
4:30 p.m. Blue Meet and Greet
5:00 p.m. TEAM T&J
5:30 p.m. PAW Patrol - Chase Meet & Greet
Young Canadian Interactive Displays
Academy of Arts and Education
Girl Guides of Canada
Scouts Canada
Pony Rides
Come down to the Young Canadians Area for a pony ride. The cost is $5.00 per ride. KidZone Carnival and Midway tickets/wristbands cannot be used on pony rides.
KidZone Carnival and Midway – 11:00 a.m. to 11:00 p.m.
The KidZone Carnival and midway by Albion Amusements LTD will be providing plenty of fun and excitement for all ages. Some ride favourites include Ferris Wheel, Merry-go-Round, and Zero Gravity. Full price ride tickets and ride-all-day wristbands can be purchased on-site.
PRESALE OPTION: purchase a Ride-All-Day bracelet online for only $35.00 each ($45.00 each on the day of the event) until June 30, 2023 at albionamusements.com.
Onsite pricing:
Ride-All-Day Wrist Band: $45.00 each
Single Ticket: $2.00 each (all rides require 1, 2 or 3 tickets)
6 Ride Ticket Package: $25.00 per package
Independent Pro Wrestling Show
Independent Pro Wrestling Show - 1:00 p.m., 3:00 p.m. and 5:00 p.m.
Join us for three quality Independent Pro Wrestling (IPW) shows at 1:00 p.m., 3:00 p.m., 5:00 p.m. for the Canada Cup Tournament in the Red Diamond. With the main event being the Canada Day Cup Tournament final.
Independent Pro Wrestling (IPW) made their debut in 2002 at the Dunnville fair. IPW is the longest running pro wrestling company in Ontario bringing family entertainment for 20 years.
IPW first presented the Canada Day Cup eight man tournament in Brantford at the annual Canada Day event at Lions Park from 2015 to 2018 and returned to a huge crowd in 2022 after the pandemic. This year, IPW will return to the Canada Day event with the annual Canada Cup Tournament.
This year there will be a meet and greet before the event starts and between the shows.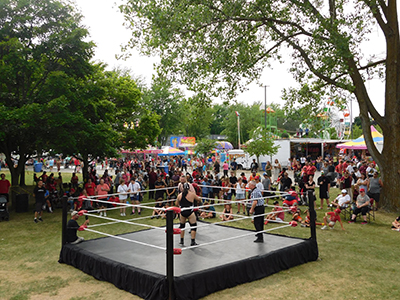 Marketplace
Marketplace Vendors 11:00 a.m. to 11:00 p.m.
There will be a variety of vendors on-site.
Beads Plu$ Accessories
Bellhollow Amtgard
Brantford Police Service: Adult School Crossing Guards
Brantford Police Service: Citizens on Patrol
Co-operators – McMillan Insurance
Crops of Luv & ZT Designs
EdgeUKid
Face Painting by Tina
The Green Team
House of Restyle
I.S. Creations
Kasseih Designs
Kross and Bones
The Link
Tanyas Dreamcatchers
Plan your visit
Explore Brantford's world-class entertainment options, shop at unique boutiques, taste your way through the city, and be sure to learn about Brantford's history at one of our museums and galleries during your visit. Find accommodations, shopping, recreation, food and drink and more at discoverbrantford.ca
Photo gallery
Photo Gallery: Canada Day 2022 will appear here on the public site.
Subscribe to this Page