Youth Week
National Youth Week celebrates youth across Canada. Youth Week is always May 1 to 7 each year. Brantford Youth Council (BYC) is a proud host of youth week in partnership with the City of Brantford.
Follow Brantford Youth Council on social media at facebook.com/BrantfordYouthCouncil or instagram.com/BrantfordYouthCouncil for daily events and information on how to win prizes and join the conversation using the hashtag #BrantfordYouthWeek.
A grand prize draw for a $50.00 iTunes gift card will be awarded at the end of the week. To enter simply join an event and your name will be automatically entered into the draw. You will receive one entry for each event you join.
Youth Week Activities
May 1 to 7, 2023 Woodman Park Community Centre, 491 Grey Street, will be open for youth drop-in programs from 3:00 p.m. to 9:00 p.m. and May 6, 2023 from 10:00 a.m. to 2:00 p.m. Become a member today! You must be ages 11 to 17 to participate and all Youth Week activities take place at Woodman Park Community Centre located at 491 Grey Street.
Events details
Monday, May 1-Chess Tournament
Join us at 6:00 p.m for a chess tournament. Pre-registration is required.
Register online or call 519-759-4150 ext.5079.
Tuesday, May 2-Taco Tuesday
Join us as we celebrate everything taco! Take part in taco themed games, crafts and enjoy eating tacos from 4:00 p.m. to 6:00 p.m. Pre-registration is required.
Register online or call 519-759-4150 ext.5079.
Wednesday, May 3-Drop-in Open Gym Time and Drop-in Basketball
Drop-in between 3:00 p.m. to 6:00 p.m. to enjoy a night of sports with Open Gym Time where all skill levels are invited to participate in a variety of fun skill-building sports activities with some friendly competition. You can choose to stay or drop-in anytime and play a game of Drop-in Basketball from 6:00 p.m. to 9:00 p.m.
Thursday, May 4-Star Wars Night
'May the Fourth Be With You' as youth will enjoy Star Wars Night with themed activities such as trivia, a craft, and more from 7:00 p.m. to 8:00 p.m. followed by a friendly game of dodge-ball from 8:00 p.m. to 9:00 p.m. Pre-registration is required
Register online or call 519-759-4150 ext.5079.
Friday, May 5-Woodman After Hours Event
Woodman Park Community Centre will be open late from 3:00 p.m. to 11:00 p.m. for youth to celebrate youth week. Enjoy the open gym, video games and pool in the WLounge as well as free snacks, karaoke, bouncy castle, Just Dance competition and more. Youth must be signed in before 8:00 p.m. and re-entry is not allowed.
Youth Members are admitted for free and non-members cost $3.00.
Saturday, May 6-D.I.Y Sea Scape Paint Class (PROGRAM NOW FULL)
Create your very own Seascape painting to keep from 10:00 a.m. to 12:00 p.m. An instructor will give you easy step-by-step instructions and provide all the supplies you will need to make your own masterpiece. Registration is required.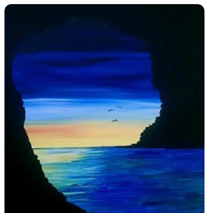 Register online or call 519-759-4150 ext.5079.
Celebration of Youth Excellence Event
On, Sunday, May 7, a Celebration of Youth Excellence event and Municipal Leadership Development Graduation will be held at the Sanderson Centre for the Performing Arts, 88 Dalhousie Street from 1:00 p.m. to 6:00 p.m. This event aims to elevate and empower youth aged 11 to 24 and celebrate the unique contributions that they make in our community. Youth-serving organizations will be presenting Recognition Certificates to local youth who have demonstrated exemplary character traits and heroic dedication to making Brantford a better place. There will also be a free photo booth, snacks and the evening will conclude with a free movie screening of the Disney movie Big Hero 6, rated PG at 4:00 p.m. Attendees are encouraged to dress in super-hero themed clothing to celebrate the super powers of the youth in our community.
Free tickets can be obtained online at tickets.SandersonCentre.ca or through the Sanderson Centre Box Office by calling 519-758-8090 or in person Monday to Saturday from 12:00 p.m. to 5:00 p.m.
Subscribe to this Page