Summer Programs
The City of Brantford is thrilled to offer free programs to the community this year! Harmony Square has many community favourites this year and we are excited to offer free programming this summer.
Bring your swim suit and cool down in the Harmony Square splash pad.
Summer programs (July/August 2023)
Roller Skate in Harmony Square
Monday and Wednesday
Two onsite registered time slots: 7:00 p.m. to 8:00 p.m. and 8:15 p.m. to 9:15 p.m.
July 10 to August 30 (No programming on Monday, August 7)
Kickin' it old school! Let's get movin' and groovin', for a summer roller skate in the Square, with a live D.J.
Retro Rollers skate rentals available on-site ($10.00 per pair to rent. Debit and credit will be available). Sizes range from J12 to adult size 15.
Proudly sponsored by Downtown Brantford BIA.
Roller Rink Rules
Helmets and safety gear are strongly recommended
Roller skaters must all skate in the same direction as others at all times.
Please refrain from carrying your child on the roller rink
Extreme speed/racing while roller skating is not permitted
No food and drink allowed on the roller rink
Headsets, cell phones and hand held electronic devices are not permitted
No horseplay, games or sports permitted
Stunts, tricks and/or roller skating backwards is not permitted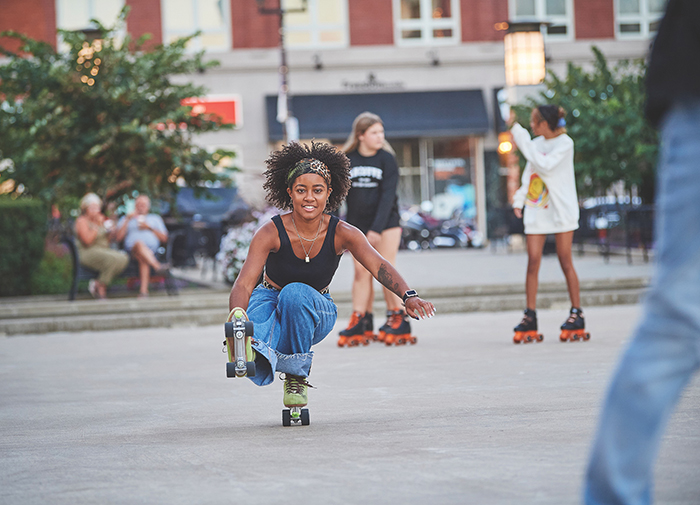 Character Meet and Greet
Tuesdays from 10:00 a.m. to 11:00 a.m.
Bringing magic to life in Harmony Square! Say hello to a different Glass Slipper Company character weekly. Children will also have the opportunity to colour a colouring page photo of the character, and have it autographed! Photos can be taken.
Subscribe to our page below for updates on weekly character.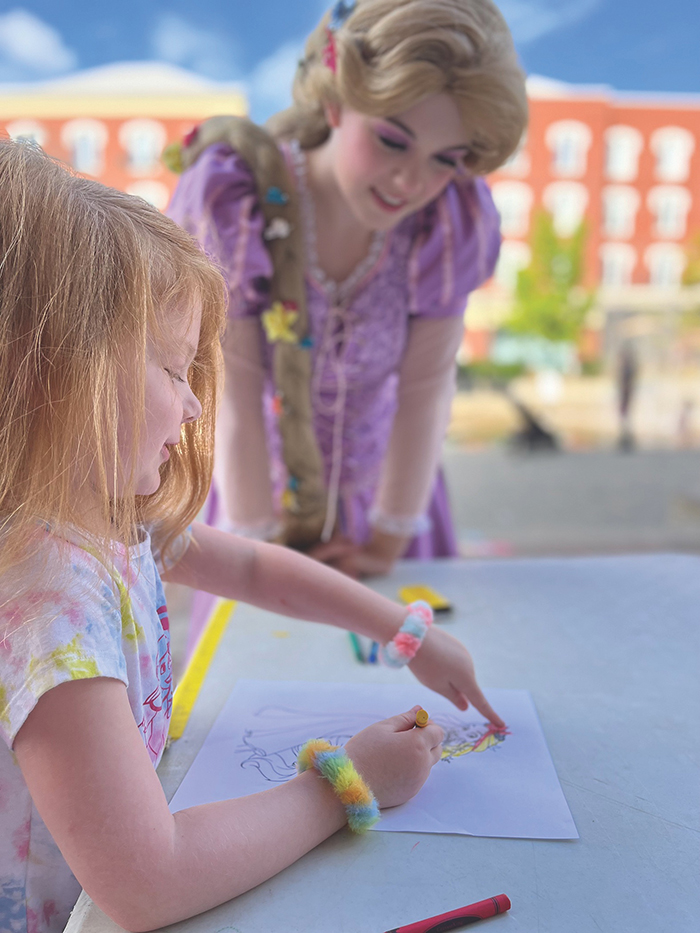 Fitness in the Square
Harmony Square is partnering with Laurier Brantford YMCA to offer free fitness classes! See below for class dates and times.
Mondays from 7:15 a.m. to 8:00 a.m. (July 10 to August 28) (No program on August 7)
HIIT (High Intensity Interval Training): when you're short on time but want an effective, full body workout that will leave you breathless, High Intensity Interval Training is your answer. HIIT workouts have been proven to improve your fitness level with a shorter workout. Bursts of cardiovascular and conditioning exercises are coupled with active rest periods. You'll work hard, but at your own intensity level - suitable for all fitness enthusiasts.
Tuesdays from 6:00 p.m. to 6:45 p.m. (July 11 to August 29)
Yoga: rediscover and improve your strength, balance, and flexibility through traditional yoga postures. A YMCA Yoga class will help you relax your mind while gently challenging, stretching, and relaxing your muscles. Don't worry if you're not flexible: yoga is safe and healthy for a wide range of body types. You'll soon notice a stronger, more balanced body and an increase in your overall feeling of health and vitality.
Wednesdays from 7:15 a.m. to 8:00 a.m. (July 12 to August 30)
BodyFit: gently stretch and tone your whole body in this well-rounded class. Work at your own pace and maintain your strength while improving your flexibility.
Build stronger muscles, bones, and joints with weight-bearing exercises designed to challenge your strength & balance
Thursdays from 6:00 p.m. to 6:45 p.m. (July 13 to August 31)
Total Fit: This great class involves 20 minutes of cardio, 20 minutes of strength training and 20 minutes of core work. A great way to get a full body workout in!
Fridays from 7:15 a.m. to 8:00 a.m. (July 14 to September 1)
CardioFit: this class offers you variety in one workout including sport conditioning, step, high/low moves and kickboxing. Prepare to sweat! Tone your muscles and build your cardio capacity in this choreographed workout with high impact moves and low impact modifications. Cardio Fit may include a variety of movements from different styles of workouts, such as boxing, step, dance, and sports conditioning.
Important information:
Bring your own water bottle, yoga mat and/or towel to each class
No previous experience is required. There will be many options provided so that all fitness levels can enjoy the class
Classes will be instructed by canfitpro certified Fitness Instructor
Always consult a qualified medical professional before beginning any exercise program
Must be 14 years of age or older to attend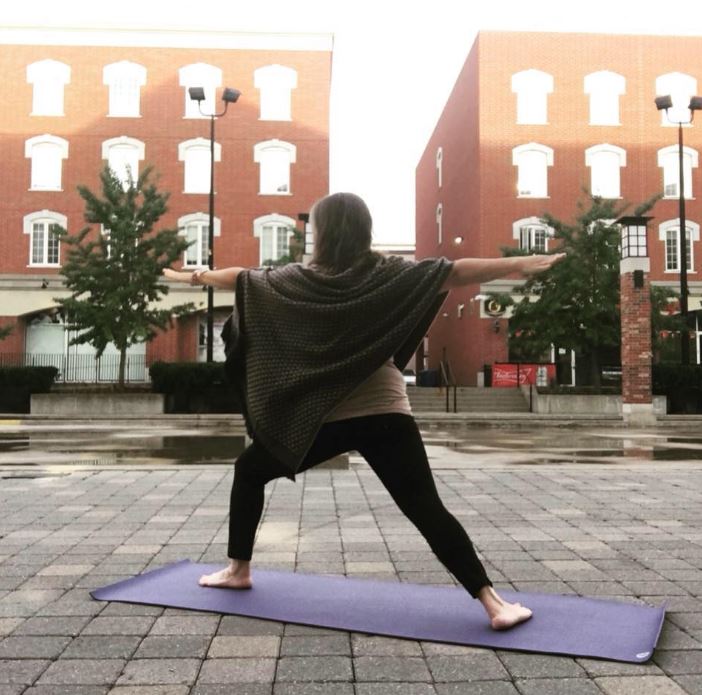 Music in the Square
Fridays from 7:00 p.m. to 8:30 p.m. (July 14 to September 1)
Enjoy the smooth sounds of good music performed outdoors presented by TD. Each week will be a show you won't want to miss. Don't forget your lawn chair.
Proudly sponsored by TD Banking Group.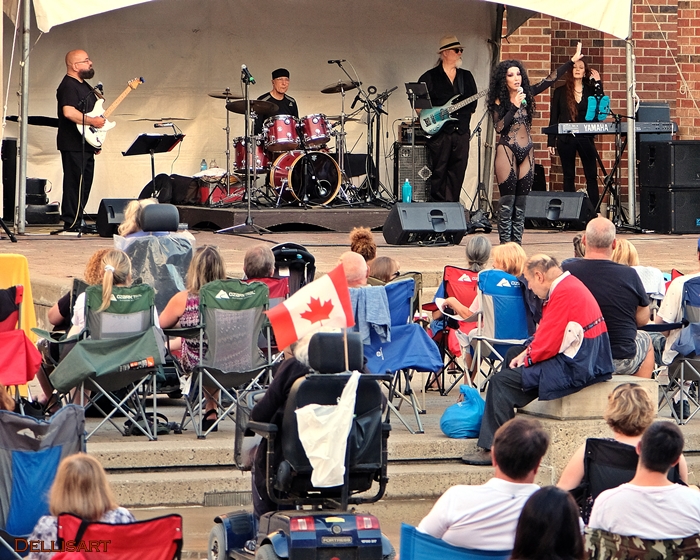 Movies in the Square
Thursdays starting at dusk
Bring your lawn chair and enjoy a movie under the stars in Harmony Square!
Join us for pre-show activities and a movie on the big screen starting at dusk. Popcorn and sweet treats will be available for purchase.
Follow us on Facebook to answer the weekly trivia poll. The winner will receive VIP treatment, two drinks and two bags of popcorn and front row seats in a Muskoka Chair.
Go green and receive a free popcorn out of it! We are offering 1 free popcorn to each person who rides their bike to Movies in the Square this year.
July 13 – Toy Story 1: Bring your favourite stuffed animal. Sponsored by: Millards Chartered Professional Accountants Pre-show entertainment by: Wee Watch
July 20 – Minions: The Rise of Gru: Join the Minion Army; come dressed in yellow and blue. Sponsored by: Old World Marketplace Pre-show entertainment by: Studio 5. 6. 7. 8.
July 27 – Missing Link: Dress up in your best adventurer outfit. Sponsored by: Brimich Logisitcs. Pre-show entertainment by: Freedom House.
August 3 – Turning Red: RED is the theme! Colour your hair red, paint your face red or wear red. Sponsored by: West Brant Window World Pre-show entertainment by: Family Gathering Urban EarlyON
August 10 – DC League of Super Pets: Show us what your favourite animal is. Sponsored by: Brantford Professional Firefighters Assoc. Pre-show entertainment by: Belonging Brant
August 17 – Thor: Love and Thunder: Dress as your favourite superhero. Sponsored by: Hudson Public. Pre-show entertainment by: Freedom House.
August 24 – Pokémon Kyurem Vs The Sword of Justice: Which Pokémon gym do you belong to? Sponsored by: Heads or Tails Gaming Pre-show entertainment by Heads or Tails Gaming
August 31 – Spider Man- No Way Home: Show off your spider senses; come dressed as spiderman. Sponsored by: Hudson Public Pre-show entertainment by: Just Dance
Thank you to all the Movies in the Square sponsors!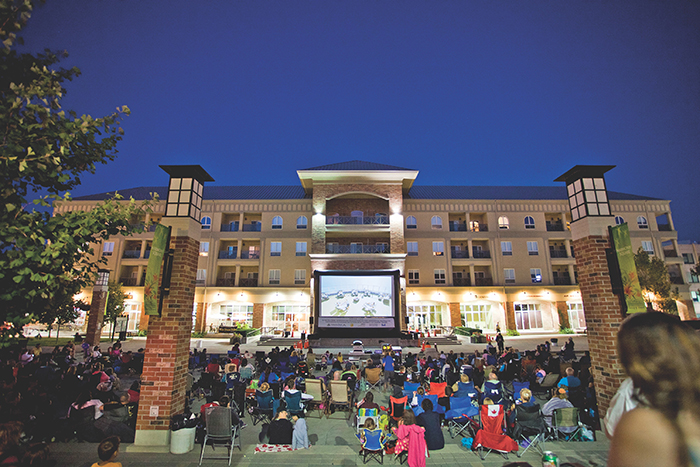 Chess in the Square
Tuesday and Thursdays from 12:00 p.m. to 2:00 p.m. (July 11 to August 31)
Join the Brantford Chess Club for an afternoon of recreational chess. No previous experience required.
Chess Tournaments to be held on Sunday, July 16 and August 20 from 10:00 a.m. to 6:00 p.m.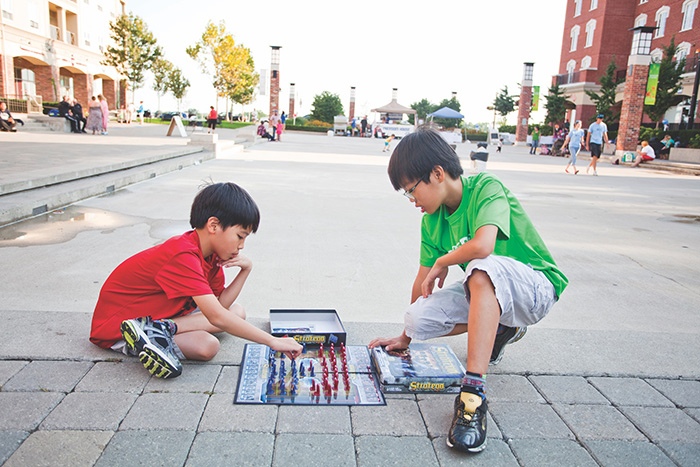 Playdate in the Square
Wednesdays from 12:00 p.m. to 1:00 p.m. (July 12 to August 30)
Join the Brantford Public Library for an outdoor playdate in Harmony Square. Every week we'll be bringing giant games, bubbles and more. This program will run weather-permitting.
Fun in the Sun with Family Gathering
Thursdays from 10:00 a.m. to 11:30 a.m. (July 13 to August 31)
Join Family Gathering Urban EarlyOn (519-720-0448) for crafts, physical activity, science experiments, sensory, painting and Indigenous Cultural education!
HipFest
Saturday, August 19 from 7:00 p.m. to 10:00 p.m.
Enjoy an evening of musical tributes celebrating the Tragically Hip presented by Hudson Public. Looking for Tragically Hip tribute artists, apply today at harmonysquare@brantford.ca to be a part of this amazing night.
Sponsored by Hudson Public Kitchen & Bar, Downtown Brantford BIA
Livi & Friends Kid's Show
Sunday, August 27 from 3:00 p.m. to 4:00 p.m.
Are you ready for your kids to sing, dance, jump, and learn? Livi & Friends is coming to Brantford! Your children will enjoy Livi's educational songs, dances, and interactive games. Join us at our Livi & Friends concert and get ready to have a fun and interactive time!
Livi & Friends is a partner of JonAyves Learning Club. Visit www.jonayves.com for more about Livi & Friends, children's books, tutoring, and more!
Contact us
Subscribe to this Page