Fire Prevention Week
Subscribe to this page using the link at the bottom for updates about our next Fire Prevention Week.
Fire Prevention Week: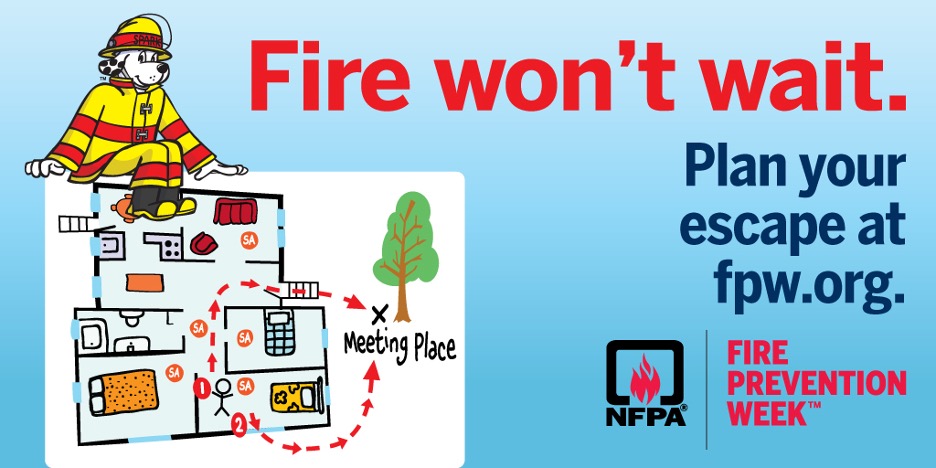 In partnership with the National Fire Protection Association ® (NFPA®) – the official sponsor of Fire Prevention Week – the Brantford Fire Department is pleased to celebrate the 100th year of Fire Prevention Week! This year's theme, "Fire won't wait. Plan your escape," effectively serves to remind us the importance of Home Fire Escape Planning in avoiding fatality due to fire.
Follow Brantford Fire on Facebook, Instagram or Twitter for up to date information on Fire Prevention Week programs and activities in Brantford or visit www.fpw.org to start planning your home escape.
Fire Prevention Week's history
The history of Fire Prevention Week has its roots in the Great Chicago Fire, which occurred on October 9, 1871, and killed more than 250 people, left 100,000 homeless, destroyed more than 17,400 structures and burned more than 2,000 acres in 27 hours.
While the origin of the fire has never been determined, there has been much speculation over how it began. One popular legend, which was recently refuted by a Chicago historian, is that Mrs. Catherine O'Leary was milking her cow when the animal kicked over a lamp, setting the O'Leary barn on fire and starting the spectacular blaze.
On the Great Chicago Fire's 40th anniversary, the Fire Marshals Association of North America (FMANA) sponsored the first National Fire Prevention Day, advocating an annual observation as a way to keep the public informed about the importance of fire prevention.
Fire Prevention Week 2022 Activities
We invite you to join us on the following dates as we give our community the necessary tools and knowledge to stay safe from fire!
Sunday, October 9th - The Home Depot and Brantwood Farms
The Home Depot, located at 25 Holiday Drive, from 10:00 a.m. to 2:00 p.m.
Brantwood Farms, located at 251 Powerline Rd, from 10:00 a.m. to 5:00 p.m.
Tuesday, October 11th - Lowes and Kidtastic Adventures
Lowes, located at 215 Henry St, from 10:00 a.m. to 4:00 p.m.
Kidtastic Adventures, located at 603 Colborne St, from 4:00 p.m. to 7:00 p.m.
Wednesday, October 12th - Lynden Park Mall and Elements Casino
Thursday, October 13th - Walmart and Wayne Gretzky Sports Centre
Friday, October 14th - Brantford Public Library
Saturday, October 15th - Fire Prevention Week Open House (Fire Station #2)
To celebrate the end of Fire Prevention Week, an Open House will be taking place at Fire Station #2, located at 21 Fairview Drive, Brantford on Saturday, October 15, 2022 from 10:00 a.m. until 2:00 p.m. including bucket rides in an aerial ladder truck for a $20 donation in support of Food4Kids Brant-Haldimand. Please note that all bucket ride times have been filled.
Subscribe to this Page