Behind the Scenes with Mayor Kevin Davis premiere on Rogers TV Brantford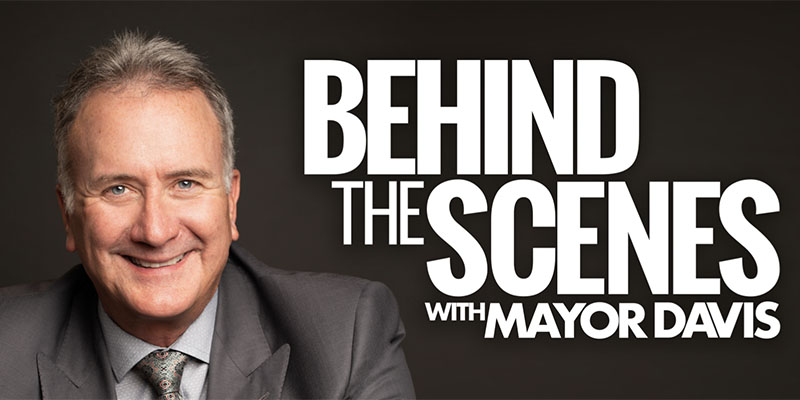 Brantford, ON – Mayor Kevin Davis is very pleased and excited to announce the launch of his new television show, 'Behind the Scenes with Mayor Kevin Davis', premiering on Saturday November 23rd at 10:00 p.m. on Rogers TV Brantford. The objective of the program is to provide the community with an inside look at how the City works, and more specifically, all of the fascinating things that happen 'behind the scenes' to implement and execute the 200 plus programs and services the City delivers to residents and visitors each and every day.
As the prime natural asset that defines and distinguishes our community from others, The Grand River is the inspiration for the premier episode to air on Rogers TV Brantford at 10:00 p.m. that examines City services related to water quality, wastewater management, and joint efforts underway between the City and the Grand River Conservation Authority to upgrade and further secure the dike and river channel along the Grand River.
"I hope residents will join me as I tour City facilities and talk to City staff and partner organizations who work tirelessly behind the scenes every day to improve the quality of life in our great city", said Mayor Davis. "I think viewers will learn a lot and really enjoy this unique inside look that will presented in a way they've never seen before."
The first show will air on Rogers TV Brantford on:
Sat, Nov 23 - 10:00 PM
Mon, Nov 25 - 9:00 AM and 4:30 PM
Tue, Nov 26 - 5:30 PM
Thu, Nov 28 - 7:00 AM
Sat, Nov 30 - 8:30 PM
Residents are encouraged to visit rogerstv.com Brantford for up to date local listings.
-30-
Media Contact:
Maria Visocchi Director, Communications and Community Engagement
City of Brantford | Office: 519.759.4150 Ext. 5754 | mvisocchi@brantford.ca
Subscribe to this Page