Brantford Civic Centre transforming to welcome the OHL Brantford Bulldogs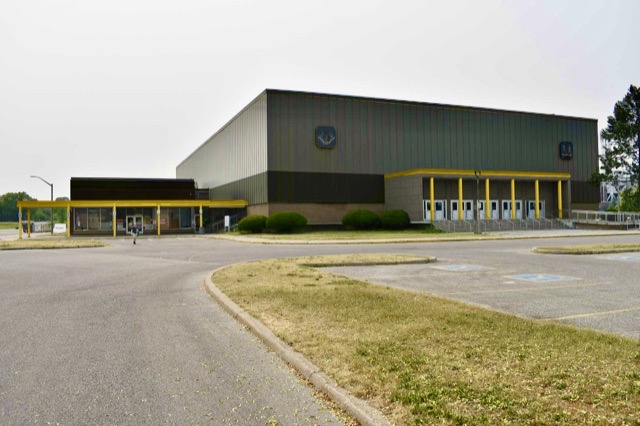 BRANTFORD, ON – Excitement is building as Brantford prepares to welcome the OHL Brantford Bulldogs to their new home at the Brantford Civic Centre. In anticipation of the Bulldogs' home opener on October 7, 2023, the Civic Centre renovations are well on track for completion and we are excited to share the following renovation highlights:
Exterior Refresh: Beginning Monday, September 11th, the Civic Centre exterior will be painted to proudly display the Bulldog colors of black and yellow. Our thanks to the Bulldogs organization for funding this part of the Centre's new look.


Parking Lot Upgrade: The resurfacing and realignment of the parking will result in an expansion of parking spaces, enhanced lighting, and improved pedestrian flow.


New Addition: Offices within the addition will be finalized and ready for occupancy this week. This modern space will serve as the hub for the Bulldogs organization.


New Scoreboard: A brand-new, state-of-the-art scoreboard has been installed, enhancing the game-day experience for fans and players.


Enhanced Arena Amenities: Renovations within the arena include new rink glass, upgrades to gondolas, and the completion of concession areas to ensure that fans have a comfortable and enjoyable experience.


Ice Installation: This week the City's dedicated arena staff will begin the process of installing the ice in the rink. The ice is expected to be ready for action by September 18th.


Fitness Area: A fully equipped fitness area will be completed by September 18th, providing the Bulldogs organization with a modern training facility.


HVAC Installation: The final phase of the HVAC installation is set to be completed in April, 2024, ensuring optimal climate control for both players and spectators alike.
The City of Brantford eagerly anticipates welcoming fans, players, and the entire community to the revitalized Civic Centre. The Bulldogs' home opener on October 7th promises to be a memorable experience for fans and players alike, as we celebrate the start of a new era in Brantford hockey history.
-30-

The City of Brantford Newsroom
Subscribe to News Alerts | City of Brantford Website | Privacy Policy
© City of Brantford
Subscribe to this Page