Brantford Delegation encouraged by meetings at 2019 AMO Conference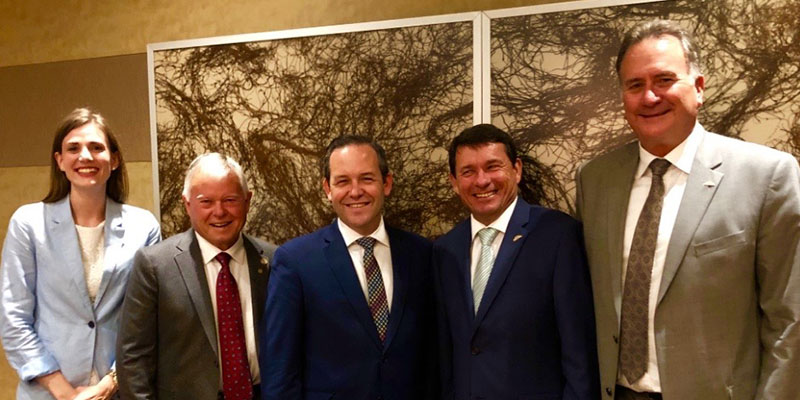 Brantford, ON – The Brantford Delegation is very encouraged by the number and quality of discussions with Ministers and provincial staff at the 2019 AMO Conference, currently taking place in Ottawa.

"The conference has provided meaningful opportunities for us to discuss the challenges and lobby for the needs and resources specific to our community", said Mayor Kevin Davis. "Nothing replaces a face to face chance to strengthen relationships with our provincial counterparts and lobby for the vital resources we need to advance issues of importance in our community."

Attending meetings and sessions from August 18 – 21st, the City of Brantford Delegation includes Mayor Kevin Davis, Councillor Richard Carpenter, Councillor John Utley, CAO Brian Hutchings, Aaron Wallace, Director of Strategic Planning and Community Partnerships and Robin Matthews-Osmond, Chief of Staff, Office of the Mayor.

The Delegation has had the opportunity to meet with various Ministers including the Honourable Christine Elliott, Minster of Health and Long-Term Care, the Honourable Michael Tibollo, Associate Minister of Addictions and Mental Health, as well as representatives from the Ministry of Labour, Ministry of Transportation, Ministry of the Environment, Conservation and Parks, and the Solicitor General.

Of primary importance during the meeting with the Honourable Michael Tibollo was advancing the City's objective to acquire sustainable funding for the Brantford Downtown Outreach Team (BDOT). Associate Minister Tibollo has committed to visiting Brantford in the near future to learn more about how the province can support this important community initiative.

The meeting with representatives of the Ministry of Labour focused on strategies to prevent and minimize the number of post-traumatic stress disorder cases for frontline emergency services and first responders and more mental health, preventative and return to work supports and programming from WSIB.

Added Mayor Davis, "The City spends a majority of our budget on Emergency Services including Police, Fire and Health and Human Services programming. Because these are services that most directly impact people's health and well-being, it is appropriate that these vital services make up our largest investment. However, it's also important to balance priorities with fiscal accountability which is why we took this opportunity to reiterate the need for more provincial support to help better manage and offset the unexpected incremental costs associated with PTSD and frontline emergency services."

The Mayor has also met with the Honourable Doug Downey, Attorney General to reiterate the Large Urban Mayor Caucus of Ontario (LUMCO) supported resolution that additional local regulatory controls be approved by the Province of Ontario around retail cannabis stores that would provide municipalities with the ability to control the location of retail cannabis stores through zoning and more clearly define sensitive land uses in addition to just schools.

The delegation has been attending various sessions about topics including cyber security, cannabis legalization, local economies in transition, changes to the health care system, recycling and the rise of plastics, affordable housing, municipal policing, rural economic development, climate change and addressing social and health problems facing our communities.

Of particular interest for the Brantford Delegation were learnings from sessions related to local economies in transition, affordable housing, changes to the health care system and expediting the Planning process.
Photo Caption:
Featured in the attached photo from left to right are: Lindsey Park, Parliamentary Assistant to the Attorney General, City of Brantford Councillor John Utley, The Honourable Doug Downey, Attorney General, City of Brantford Councillor Richard Carpenter, Brantford Mayor, Kevin Davis.

-30-

Local Media Contact:
Maria Visocchi, Director
Communications & Community Engagement | City of Brantford
T: 519-759-4150 ext. 5754 | E: mvisocchi@brantford.ca

For more information about AMO or the 2019 Conference, contact:
Brian Lambie, AMO Media Contact, 416-729-5425, lambie@redbrick.ca
Follow the conference on Twitter: @AMOPolicy, Hashtag: #AMOConf19
Program information is available at www.amo.on.ca.
Subscribe to this Page