Brantford Mayor Kevin Davis acclaimed to AMO Board of Directors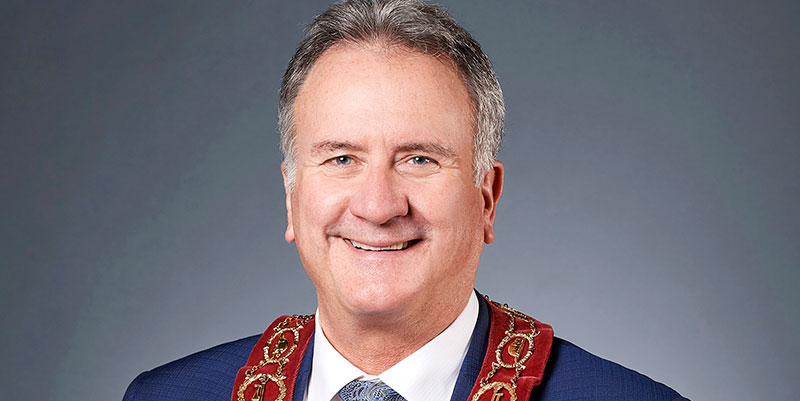 BRANTFORD, ON – The City of Brantford is pleased to announce that Mayor Kevin Davis has been acclaimed as a member of the Association of Municipalities of Ontario (AMO) Board of Directors – Large Urban Caucus.
While elections often take place, this year Mayor Davis was acclaimed along with four other eligible candidates to the five available positions in this caucus. As a Board member, Mayor Davis will continue to have the opportunity to bring Brantford's voice to the table, raise issues specific to Brantford's interests, and contribute to AMO's commitment to advance the mutual interests of Ontario municipalities.
In order to be considered for the Board of AMO, applicants must be an elected official of a member municipality or an employee of a member municipality and submit a resolution of support from their City Council. Mayor Davis received this support from Brantford City Council at their City Council meeting held in June.
"I'm grateful for Council's support in continuing my role as an AMO Board member where I have the opportunity to champion and advance issues that matter most to the residents of Brantford, including expanding provincial programming and funding for transit, affordable housing social services, essential infrastructure projects and the impact of the COVID-19 pandemic on our community.
Additionally, Mayor Davis will continue to be a voice for improved administration of PTSD claims by WSIB including more effective treatment and Return to Work programs, as well as allowing for greater municipal input regarding changes to Provincial legislation that impact municipal processes.
AMO is a non-profit organization representing almost all of Ontario's 444 municipal governments. AMO supports strong and effective municipal government in Ontario and promotes the value of municipal government as a vital and essential component of Ontario and Canada's political system. Through their advocacy, AMO ensures that the needs of Ontario's diverse communities are reflected in provincial policies and programs.
The Board of Directors is AMO's governing body; it sets AMO's direction and adopts its policies and its priorities. As a corporate body, the Board of Directors ensures adherence to legal requirements, as set out in the foundation charter and in the law. Board terms are two-years.
The Large Urban Caucus of AMO consists of representatives from many similarly sized municipalities including Burlington, Guelph, St. Catharines, London, and Kingston.
-30-
Media Contact:
Maria Visocchi Director, Communications and Community Engagement
City of Brantford | Office: 519.759.4150 Ext. 5754 | mvisocchi@brantford.ca
Subscribe to this Page