Brantford Promotes Day of Action on Litter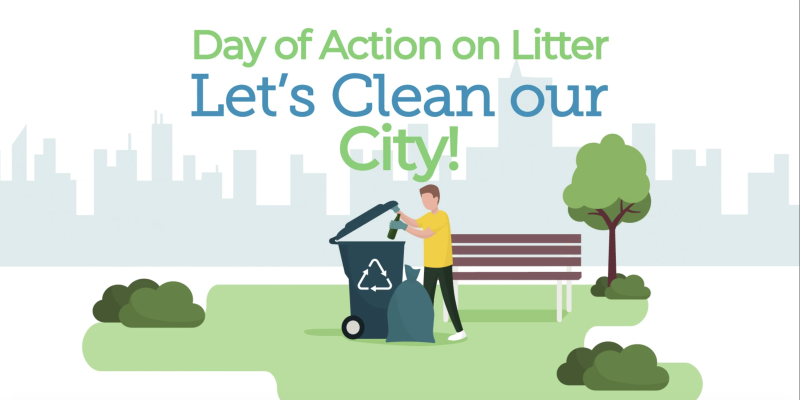 BRANTFORD, ON – The City of Brantford is proud to take part in the first annual Provincial Day of Action on Litter to be held on May 12, 2020. Announced late last year, the Provincial Day of Action on Litter is officially recognized in Ontario on the second Tuesday of May. It was established to bring attention to the impact waste and litter has on our environment, and what we can do to stop it.
While residents should be regularly mindful of ways in which they can reduce waste, the Day of Action on Litter represents an opportunity to positively contribute to our community.
In light of provincial and local efforts to slow the spread of COVID-19, residents are encouraged to recognize this inaugural Day of Action on Litter on May 12, 2020, with individual clean-up efforts. Participants are asked to collect any litter found during short walks while taking a break outdoors and then share their progress on social media using #TrashTag and #CleanBrantford.
Later this year during Waste Reduction Week (October 19-25, 2020), provided physical distancing measures are eased by then, the hope is to bring residents together to organize larger cleanups in a collective effort to make Brantford a cleaner, healthier place to live, work and grow. More detailed information on these cleanup efforts and how residents can get involved will be provided closer to the date of Waste Reduction Week.
Tips for residents:
Practice social distancing while picking up litter. When collecting litter while taking short breaks outdoors, be sure to keep 2 metres (6 feet) between you and anyone outside of your home.
Practice thorough sanitation before, during and after your cleanup. Make sure to wash your hands before and after picking up litter and bring hand sanitizer with you in case you need it while you're out. Wear gloves and safely dispose of them afterwards. Don't touch your face while you're picking up litter.
Be cautious. Only pick up litter that is safe to handle and can be easily disposed of or recycled. Alternatively, try using a garbage picker, BBQ or salad tongs to pick up litter.
Plan your route. Choose a location where social distancing rules can be maintained. Limit your break outside to a maximum of one hour and ensure you have enough daylight and good weather to get back home.
Share your progress. Make sure to share pictures of the litter you picked up on social media with #TrashTag and #CleanBrantford
Reduce waste at home. Create a backyard compost bin, buy products without packaging, and reuse items where possible. Remember to securely seal used masks, gloves and cleaning wipes in garbage bags for collection.
-30-
Media Contact:
Stephanie Quattrociocchi
Communications Specialist |Communications and Community Engagement |
City of Brantford | 519-759-4150 Ext. 5533 | squattrociocchi@brantford.ca
View more news
Search the City Newsroom
Subscribe to News Alerts | City Website| Privacy Policy
© City of Brantford, 100 Wellington Square Brantford
Subscribe to this Page