Brantford's new 2022-2026 City Council sworn in at Inaugural meeting Tuesday night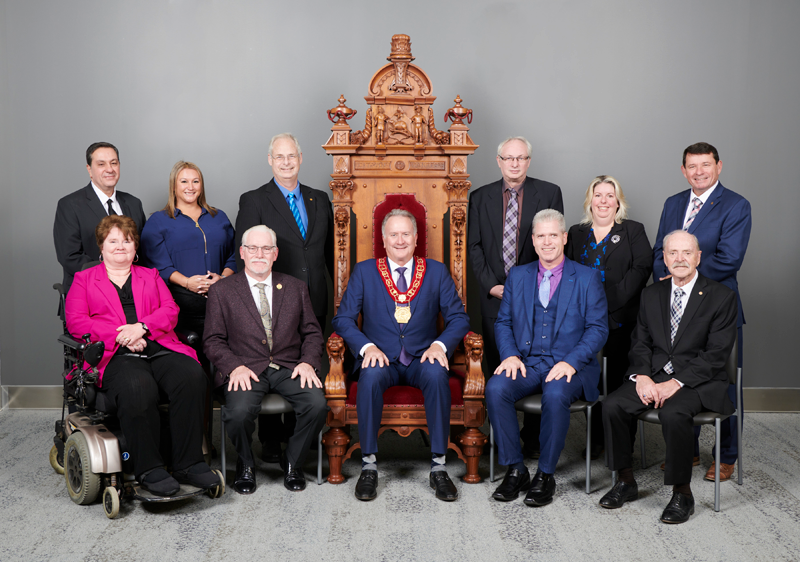 BRANTFORD, ON – Tonight, Council members of the City of Brantford 2022-2026 term of Council swore their oaths of office at their official inaugural meeting and Mayor Kevin Davis delivered his inaugural address whereby he outlined key goals, objectives and community priorities that Council will focus on over the next four years.
"Each new member of council – new or returning – comes to council with ideas about how to improve our community. It's important that we work together to craft a common vision of council's goals for the next term," said Mayor Kevin Davis in his inaugural address, "We will see a growing city with new opportunities – for employment, attainable housing, education, retail, entertainment, transportation and more. We will face challenges, differences, and as in the past, we will adapt, learn and make those opportunities work for our community."
Over 80 people were in attendance inside Council Chambers, this being the first inauguration to take place in new City Hall at 58 Dalhousie Street. The new space accommodates a larger amount of people than previous Council Chambers and is equipped to stream meetings of Council live on the City of Brantford's YouTube channel.
Councillors representing constituents for the first time this term are Michael Sullivan for Ward 1, Councillor Gino Caputo for Ward 2, Councillor Linda Hunt for Ward 4 and Councillor Mandy Samwell for Ward 5. Returning Councillors are Councillor Rose Sicoli for Ward 1, Councillor John Sless for Ward 2, Councillor Dan McCreary for Ward 3, Councillor Greg Martin for Ward 3, Councillor Richard Carpenter for Ward 4 and Councillor Brian Van Tilborg for Ward 5.
The next meeting of Council will take place on November 22, 2022 where Councillors will be appointed to Committees of Council.
Photo Caption: (back row left to right) Councillor Gino Caputo, Councillor Rose Sicoli, Councillor Greg Martin, Councillor Brian Van Tilborg, Councillor Mandy Samwell, Councillor Richard Carpenter (front row, left to right) Councillor Linda Hunt, Councillor Dan McCreary, Mayor Kevin Davis, Councillor Michael Sullivan and Councillor John Sless.
-30-
The City of Brantford Newsroom
Subscribe to News Alerts | City of Brantford Website | Privacy Policy
© City of Brantford, 58 Dalhousie Street, Brantford
Subscribe to this Page