Brantford's Santa Claus Parade made spirits extra bright this year!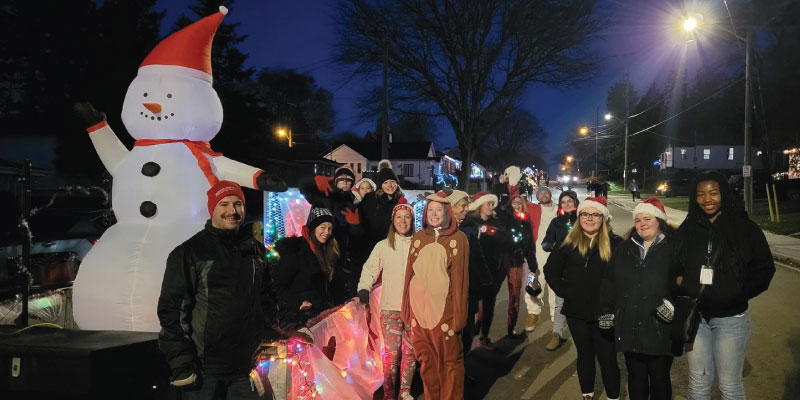 BRANTFORD, ON – The City of Brantford, in partnership with GrandBridge Energy, hosted the return of the Brantford Santa Claus Parade on Saturday, November 26 to the delight of thousands of residents.
"It is estimated that over 15,000 people lined the streets to see the parade," says Brantford Mayor Kevin Davis. "The City received 90 entries from local businesses, organizations, schools and community groups to participate in the parade, and an incredible outpouring of local business sponsorships, which led to this year's success."
Those that were unable to attend in-person can watch the parade on RogersTV Brantford (Cable 20) on Saturday, December 3 at 4:30 p.m.
The City would like to extend its gratitude to the Brantford JCI volunteers Aaron and Brenda DeMille and Shawn Stemmler, who played an integral part of this year's parade planning and to the organizations and businesses who offered their support through sponsorship including; Arise AM 1380, Brant County Ford, Brantford Expositor, Ferrero, GrandBridge Energy, Hot Country 93.9, Lite 92.1, Sorbara Group of Companies, West Brant Window World and Westland Insurance.
Several community partners were also involved in the planning process including; Brantford Youth Council, Grand Erie School Board's Pauline Johnson High School, Impact Entertainment, Rogers TV, Rotary Club of Brantford's Clowns for Kids, Southern Ontario Twirling Association and St. John Ambulance.
Several City departments were involved in the planning and implementation of the parade including; Brantford Mayor Kevin Davis and members of Council, Brantford Brant Paramedics, Brantford Fire, Brantford Police Services, Building Services, Brantford Transit, Communications, Community Engagement and Customer Service, Clerks, Community Recreation and Events, Economic Development and Tourism, Finance, Fleet Services, Human Resources and Accessibility, Information and Technology, Insurance and Risk, Legal, Mayor and CAO's Office, Parks Services, Sanderson Centre for the Performing Arts and Traffic Services.
"As parade entrants lined the streets ahead of the parade, there was a strong sense of community and holiday spirit. We are grateful to the participants who put in so much effort, creativity and energy into each entry," says Lori-Dawn Cavin, Manager of Community Recreation and Events for the City of Brantford. "Seeing the Brantford Community come together to support and participate in the parade was magical!"
An extra special thanks to the community for making monetary donations to the parade, for bringing non-perishable items in support of the Brantford Food Bank and especially to Santa Claus for making the trip to Brantford from the North Pole during the busy holiday season.
-30-
Media Contacts:
Sharon Sayles, Communications Specialist, Communications and Community Engagement
City of Brantford | 519-759-4150 ext. 5218 | ssayles@brantford.ca
© City of Brantford, 58 Dalhousie Street, Brantford
Subscribe to this Page