Brantford's Scare in the Square returns to Harmony Square in October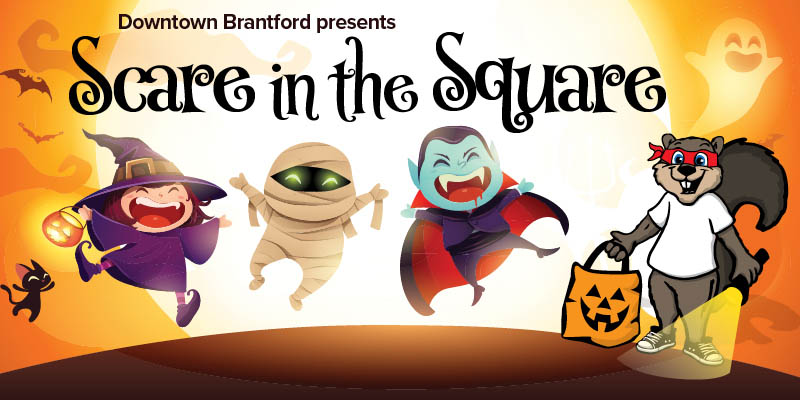 BRANTFORD, ON- The City of Brantford, in partnership with Downtown Brantford BIA, is excited to announce the highlights of the annual Scare in the Square on Friday, October 6 from 5 p.m. to 10 p.m. and Saturday October 7, from 12 p.m. to 10 p.m. Halloween-themed activities will take place at Harmony Square, located at 89 Dalhousie Street.
"Brantford's favourite fall event returns to the heart of downtown as Harmony Square transforms into a two-day Halloween extravaganza," says Jennifer Middleton, Special Events Supervisor. "We're so thankful to the Downtown Brantford BIA and all community partners for sponsoring and supporting this event to provide residents with plenty of free activities and fun for the whole family to get into the spooky spirit."
Families can expect all their favourite free annual Halloween activities in Harmony Square including trick-or-treating, costume contests, Casper's Craft Corner, roller skating, scarecrow and pumpkin displays and carving contest, the HOWL-o-ween Dog Parade, and much more. Onsite registration is required to roller skate and rentals will be available for $10.
On Saturday, while supplies last, free trick-or-treat bags will be provided to everyone participating in the trick or treating downtown. Families can also enjoy a free fun game of Disney Trivia at Hudson Public beginning at 6 p.m. Registration is required by calling Hudson Public at 519-304-4561. Hockey enthusiasts will be excited to hear that the sold-out OHL Bulldogs Home Opener game taking place at the Brantford and District Civic Centre, will be broadcast live in Harmony Square beginning at 7 p.m. for those looking to watch the game with fellow fans.
For those looking for extra spooky fun, tickets can be purchased for the amusement rides and tractor drawn hayrides. Other attractions include the Paranormal Tour at the Brant County Museum and Archives, located at 57 Charlotte Street, presented by Ontario Paranormal Society and the Witches' Hut or Golden Gambit Escape Rooms hosted by Five Nineteen Productions. Children ages 10 and under must be with an adult to enter the Escape Rooms.
While the majority of activities are free, tickets must be purchased for the Paranormal Tours ($5), amusement rides ($7 ride all day wrist band), Escape Rooms ($5) and the accessible tractor drawn hayride ($2). Ticket packages for multiple attractions are also available. Package 1 includes a ride-all-day wristband for both Friday and Saturday for $10 and Package 2 includes the hayride, Escape Room and Paranormal Tour for $11.

Beat the lines and purchase tickets in advance at the Harmony Square office (89 Dalhousie Street) on September 25 or 28 from 10 a.m. to 6 p.m. or at the event. Refunds will not be offered for unused tickets.
Brantford Transit is available to attendees looking for transportation to Harmony Square, with the main terminal conveniently located only one block away. Schedules, routes and rates are available online at Brantford.ca/Transit.
Detailed schedules and information can be found at Brantford.ca/ScareintheSquare. Join the conversation on Harmony Square's Facebook page using the hashtag #ScareintheSquare.
Volunteer opportunities
The City of Brantford is currently seeking volunteers to assist with the Scare in the Square event. Volunteer opportunities include; HOWL-o-ween Dog Parade, Casper's Craft Corner, Escape Rooms, tractor drawn hayride, Paranormal Investigations, set-up and take-down, and other duties as assigned for various events. Volunteers can also collect high school community hours where applicable. Accepted volunteers will be required to take mandatory virtual training on September 27, 2023 from 6 p.m. to 7 p.m.
Volunteer Applications are available at Brantford.ca/ScareintheSquare and will be accepted until Friday, September 22.
Thank you to Brantford's Scare in the Square sponsors
Community sponsors for this event include; Associated Paving and Materials Ltd., Brantwood Farms, Downtown Brantford BIA, Express Employment Professionals, Family Gathering Urban EarlyON, Heads or Tails Gaming Inc., Hudson Public, Kiddies Fun Track, Levac's Trophies, Boyle Plumbing and Heating, Global Pet Foods, JH Young Jewellers, Len's Mill Stores, Millards Chartered Professional Accountants, Mitsui High-tec Inc, TD Bank, The Ontario Paranormal Society, and West Brant Window World.
- 30 -
Media contact:
Sharon Sayles | Communications Specialist, Communications and Community Engagement
City of Brantford | 519-757-2840 | ssayles@brantford.ca
Event contact:
Jennifer Middleton | Special Events Supervisor
City of Brantford | 519-759-4150 ext.5074 | jennifermiddleton@brantford.ca
Subscribe to News Alerts | Privacy Policy
© City of Brantford, 58 Dalhousie Street, Brantford
Subscribe to this Page