Celebrate your new City Hall on September 18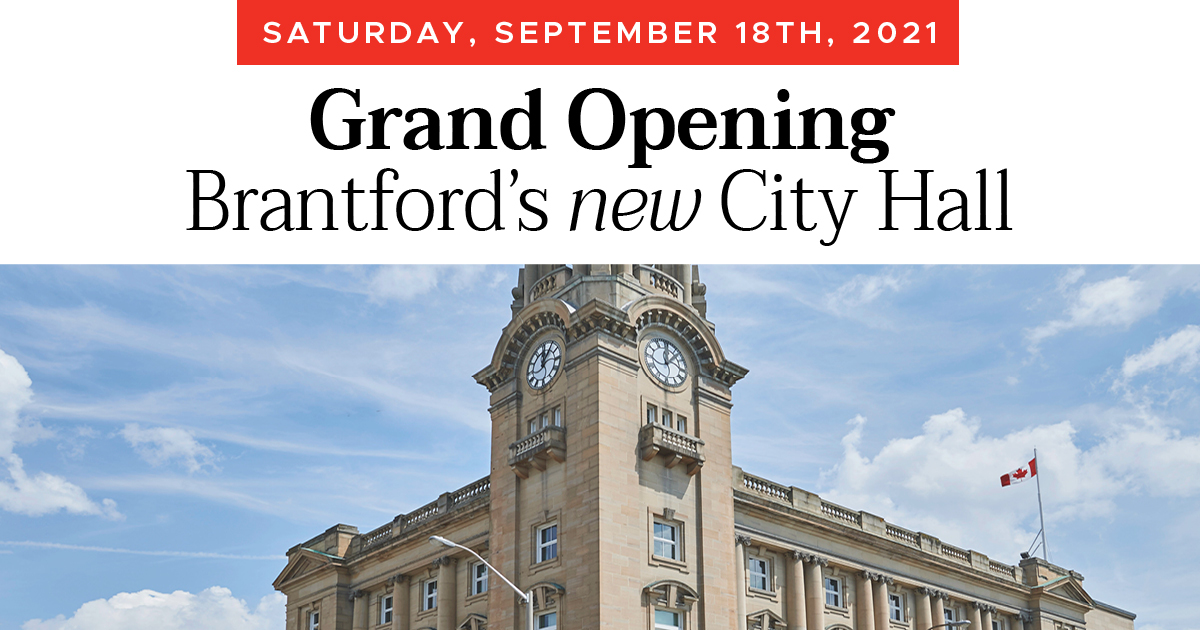 BRANTFORD, ON – The City of Brantford is pleased to invite residents to attend the grand opening celebration of the new and improved Brantford City Hall on Saturday, September 18 from 10 a.m. to 2 p.m. There's something for everyone including a free jazz concert at Harmony Square, fun giveaways for the kids, guided tours through City Hall and more. Please note that all COVID-19 safety protocols will be in place, pre-registration for the event is required, and everyone in attendance must complete a COVID-19 screening.
"I am thrilled to invite the community to celebrate this historic event and showcase the hard work of Councillors and staff in repurposing this iconic building to better serve the residents of Brantford," says City of Brantford Mayor Kevin Davis. "The new City Hall will provide enhanced services in a centralized location, help revitalize the city's downtown and position the City for long-term savings by consolidating administrative operations."
The day kicks off with some world-class jazz from the DiFelice Jazz Quartet at 10 a.m. in Harmony Square where residents will find Harmony Squirrel handing out customized cookies, world record stilt walker Doug the Great, Tourism Brantford sharing what's new and exciting, Healthy Kids providing fun giveaways and so much more. Guided tours will take place throughout the day beginning at 10 a.m. with pre-registration required as space is limited.
The official ceremony begins at 12 p.m. where a ribbon cutting will take place to celebrate Brantford's new City Hall followed by a flag raising in Harmony Square.
To register to attend the event or to take part in a tour, please visit www.Brantford.ca/CityHallGrandOpening for details.
Quick Facts
The most recent update to the City's Accommodation Strategy approved by City Council in September 2020 forecasts a savings of $21.57 million in the City's 10-year Capital Plan and $1.12 million in annual operating budget savings. The update also reflects new business models that have come into effect since the onset of the COVID-19 pandemic.
The centralized location will house staff who previously occupied six decentralized corporate administrative facilities including 100 Wellington Square, 84 Market St., 1 Market Square, 180 Greenwich St., 1-3 Sherwood Drive, and 399 Wayne Gretzky Parkway.
Consistent with the City's Corporate Energy Management Plan, renovations include green, high efficiency Leadership in Energy and Environmental Design (LEED) elements throughout the building.
By reducing the City's facility footprint, over the next three-year period staff estimate that the City will meet 52 per cent of the Corporate Energy Management Plan's greenhouse gas emissions reduction target.
Consistent with the City's commitment to inclusivity, the building has been renovated to ensure it is fully accessible by all members of the community.
The renovated building features a fully accessible and significantly larger Council Chambers with more seating for the public.
For the public's convenience when visiting the new City Hall in person, there are approximately 50 on-street parking spaces with varying time limits near 58 Dalhousie Street (19 surround the new City Hall, including two accessible spaces). Additional parking is available in Lot #3 on Darling Street or at the Market Centre Parkade (59 Icomm Drive).
-30-
Media Contact:
Heather Carvalho, Acting Manager, Communications and Community Engagement
City of Brantford | Office: 519-759-4150 ext. 5741 | hcarvalho@brantford.ca
The City of Brantford Newsroom
Subscribe to News Alerts | City of Brantford Website | Privacy Policy
© City of Brantford, 100 Wellington Square Brantford.
Subscribe to this Page