City and community partners connect seniors to technology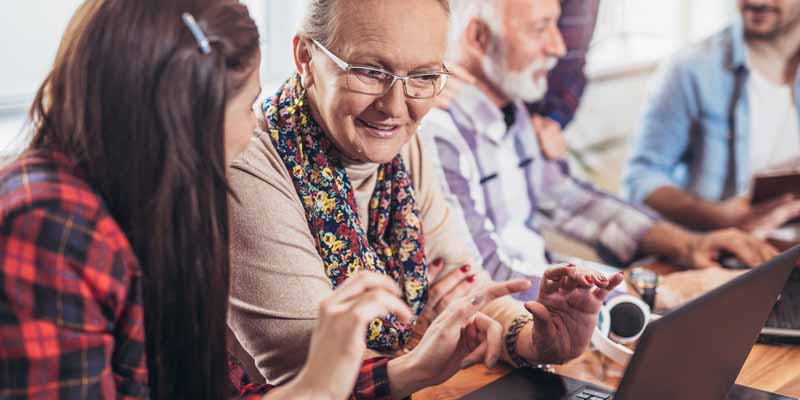 Brantford, ON – The City of Brantford, in partnership with Seniors and Kids Intergenerational Programs (SKIP), are hosting SKIP into Technology, an event aimed to help seniors learn more about technology and enhance their digital skills on Friday, November 29, 2019 from 9:00 a.m. to 1:00 p.m. at the Brantford Visitor and Tourism Centre located at 399 Wayne Gretzky Parkway.
Seniors are invited to bring their electronic devices to receive one on one support from student volunteers, and ask questions they have regarding technology, such as how to use email, Facebook, Facetime or Skype. SKIP into technology will help support seniors to utilize technology to access information, resources, and stay connected with family and friends. The event provides a unique opportunity for youth and seniors to connect and learn from one another. "Intergenerational relationships can help build stronger communities by fostering a greater sense of understanding and belonging", says Liz Martorano, Director of Seniors and Kids Intergenerational Programs.
Earlier this year, the City hosted three Seniors Tech Fairs where more than 100 seniors explored various community booths to learn about different technology. The City, in partnership with the Grand River Council on Aging and various community service providers, will be hosting another free Seniors Technology and Information Fair on Saturday, November 30, 2019 from 10:00 a.m. to 1:00 p.m. at T.B Costain-SC Johnson Community Centre located at 16 Morrell St. Exhibitors will include; Brantford Public Library, Brant Elder Abuse Awareness Committee, Brant Skills Centre, the Alzheimer Society of Brant, Stemotics, Seniors and Kids Intergenerational Programs and more. Booths are available for seniors to drop in, ask questions and learn about technology, healthy living, and volunteer opportunities. The fair will also feature two engaging workshops; Smart Home Technology, facilitated by the Brantford Public Library, at 10:00 a.m., and iPad Tips & Tricks hosted by Brant Skills Centre at 11:00 a.m.
Everyone is welcome to attend. Registration is only required for the Tech Fair workshops. To learn more and register, please call 519-759-3330 ext. 6279.
Providing opportunities for seniors to enhance their skills and participate in the community is a key focus of the City's Healthy Aging Plan. "We are excited to offer programs that help seniors learn more about technology and how to connect to the community", says Chris Henderson, Corporate Initiatives Coordinator, City of Brantford.
-30-
Media Contact:
Kelly Page, Communications Specialist, Communications and Community Engagement |
City of Brantford | Office: 519.759.4150 Ext. 5741 | kpage@brantford.ca
Subscribe to this Page