City announces anti-graffiti campaign that Celebrates our History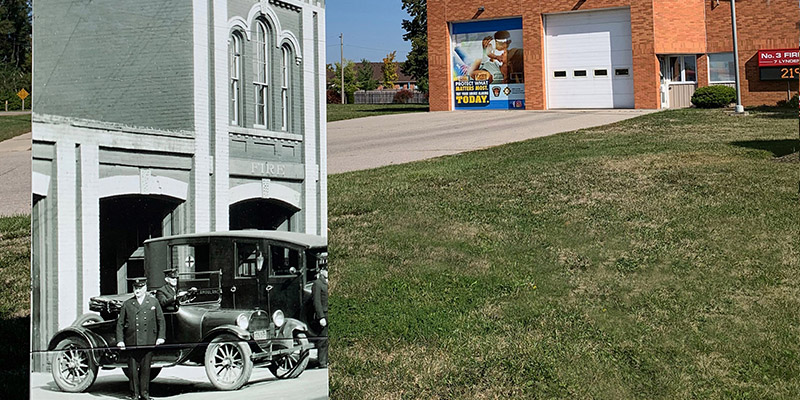 BRANTFORD, ON – The City of Brantford is pleased to announce the completion of the first phase of an anti-graffiti campaign that beautifies our city while celebrating our history. Working together, Public Works and Communications and Community Engagement staff teamed up to produce an effective new method to curb instances of graffiti on City-owned traffic boxes, that unfortunately are a major target for graffiti throughout the city.
Traffic boxes serve an important primary purpose of storing electrical equipment, however Public Works staff determined that traffic boxes could also serve another purpose as wrapped "billboards" that could tell stories about the city. The City's Communications and Community Engagement team came up with the concept to feature historical imagery, oftentimes relevant to where the traffic box is located, to encourage residents to "Celebrate our History".
"I am very pleased with the implementation of this campaign that provides a unique look into the City's rich and vibrant history," says Brian Hutchings, CAO, City of Brantford. "It represents the ingenuity of City staff to utilize an existing and practical piece of equipment to inspire civic pride and make our city a more beautiful place."
One of the first traffic boxes to be wrapped in historical imagery is located by Fire Station No. 3 on Lynden Road. Before this campaign launched, the traffic box was covered in graffiti, but now it features an image of the Central Fire Station from 1930 that shows firefighters demonstrating their equipment outside the station. Other historical photos include the Carnegie Library in 1913, E. Pauline Johnson in 1890 and Brantford's Canadian National Railways Station in 1905. A full list of historical photos and their locations can be found on Brantford.ca/CelebrateHeritage. The City thanks the Brant Historical Society for providing the photos and historical background information.
To date, eight traffic boxes throughout the City are wrapped in historical images, with more scheduled to be completed in Spring 2021. City staff are working diligently to curb graffiti throughout Brantford and the "Celebrate our History" campaign is one of many that are in development to continue to beautify Brantford.
-30-
Media Contact:
Heather Carvalho | Communications Specialist, Communications and Community Engagement
City of Brantford | hcarvalho@brantford.ca
View more news
Search the City Newsroom
Subscribe to News Alerts | City Website| Privacy Policy
© City of Brantford, 100 Wellington Square Brantford
Subscribe to this Page