City announces Frank Cowan Company donation to Brantford youth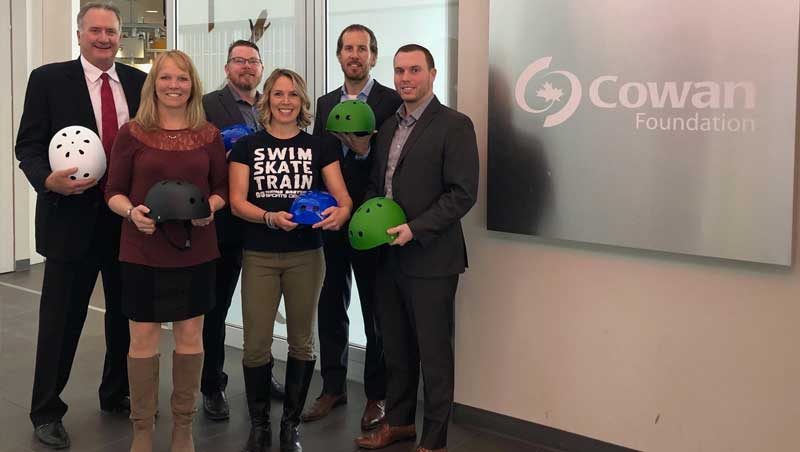 BRANTFORD, ON – As we celebrate Bike Month and the upcoming Grand Opening of the Brantford Rotary Bike Park, the City is pleased to acknowledge a $3,000 donation from The Frank Cowan Company towards the purchase of approximately 50 bike helmets for disadvantaged youth to be distributed by the City in collaboration with the Brant Cycling Club.
The Frank Cowan Company Hometown Program provides financial support to municipal-related, community focused, grassroots initiatives that help to improve public safety and quality of life in communities across Canada in collaboration with their business partners and The Cowan Foundation.
"Providing the youth and families of Brantford a world class bike park was one of the reasons I became a Councillor", said Councillor Rick Weaver. "Thanks to the Frank Cowan Hometown Program, youth in our community can enjoy the Rotary Bike Park safely and responsibly. I was very pleased to partner with Frank Cowan Company to bring this initiative forward."
"It's so important that youth have every opportunity to be healthy and active", said Sandy Jackson, the City's General Manager of Community Programs, Parks and Recreation. "We're very grateful to The Frank Cowan Company for this gift and their ongoing support in our community."
"We know that active involvement greatly enriches community life", said Colin Smith, Account Manager, Frank Cowan Company. "That's why we are committed to improving the quality of life in the communities where our employees live and work."
Pictured from left to right above are: Brantford Mayor Kevin Davis, General Manager of Community Programs, Parks and Recreation Sandy Jackson, Councillor Rick Weaver, Fitness Supervisor, Katie MacDonald, Brant Cycling Club President Duncan Ross and Frank Cowan Company Account Manager, Colin Smith.
The Brantford Rotary Bike Park (390 Grand River Ave) Grand Opening is this Saturday June 15, 2019 at 10:00 am. All welcome.
- 30 -
Media Contact:

Maria Visocchi Director, Communications and Community Engagement
City of Brantford | Office: 519.759.4150 Ext. 5754 | mvisocchi@brantford.ca
Subscribe to this Page