City announces new intergenerational program called Bridging the Gap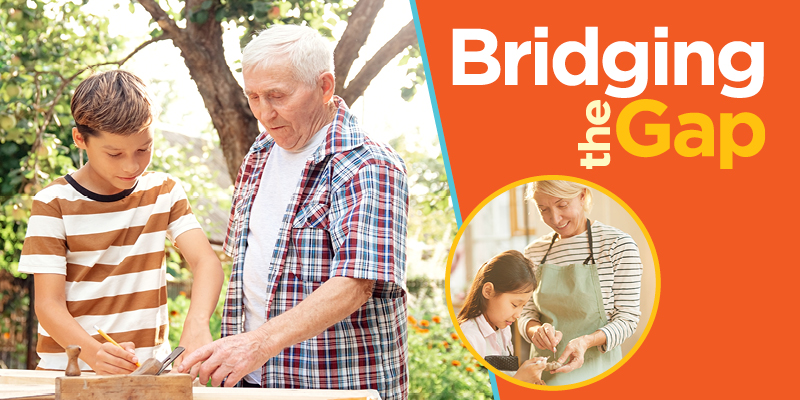 BRANTFORD, ON – The City of Brantford is pleased to provide residents with a new intergenerational program called Bridging the Gap, where older adults will have the opportunity to volunteer as facilitators to introduce a wide variety of skills to local youth. This program is made possible by funding from the Ministry of Seniors and Accessibility, under the Seniors Community Grant Program.
Older adults (55+) who possess skills, knowledge or hobbies including but not limited to cooking, gardening, woodworking, or engineering are invited to volunteer to co-create programs and events that enable them to share their skills and knowledge with youth. These programs will help to bridge social and relational gaps between generations, while also providing youth the opportunity to explore career options by trying out new activities. It will also provide meaningful opportunities for older adults to actively connect with their community.
Bridging the Gap aims to provide valuable opportunities for social participation, skills development, and life-long learning that benefit both older adults and participating youth. Participants will build meaningful relationships and reduce their social isolation while sharing important skills and talent with their community. Vulnerable sector screening checks are mandatory and provided at no cost to participating volunteers.
Bridging the Gap will be run in partnership with the Grand River Council on Aging (GRCOA), who will recruit and provide orientation to eligible volunteers. Volunteers will work with City staff to co-create skills-sharing programs and events which will be held between August 2023 and March 2024. Those interested in volunteering can contact the Grand River Council on Aging at info@grcoa.ca or 519-754-0777 ext. 438. All knowledge, hobbies and skills will be considered through the volunteer recruitment process but will be subject to location and equipment availability, as well as insurance and liability considerations.
Providing seniors with intergenerational programming opportunities and reducing social isolation are key components of the Healthy Aging: City of Brantford's Age-Friendly Strategy. Initiatives such as Bridging the Gap provide an opportunity for older adults to remain active and connected to our community, while fostering positive intergenerational relationships.
As part of the City's Empowering Youth Strategy, increasing access to free and low-cost community programming and skill-development opportunities remains a key priority. Initiatives like Bridging the Gap provide much-needed mentorship opportunities which help participants to grow and thrive in our community.
To learn more about Bridging the Gap, visit Brantford.ca/BridgingTheGap.
Quotes
"Seniors Community Grants keep our seniors fit, active, healthy and socially connected. Our seniors are the ones who raised the families and built the best province – Ontario, in the best country in the world -Canada. They deserve our dignity and respect. Congratulations to the City of Brantford." - Raymond Cho, Minister for Seniors and Accessibility
"I am so pleased to be part of a government that recognizes value of the wisdom that seniors have to pass along to the youth. Bridging an experience gap with stories and life skills with knowledge that they may not have otherwise learned in a conventional setting, may also motivate many into fields that they never considered in the past…well done." - Brantford-Brant MPP Will Bouma
"There is a wealth of 'lived experience' in the older adult population! With the City providing the materials and the location, all we need is to have people who are interested in passing on some of that experience and knowledge to our youth. We all know how rewarding it is when a young person discovers they can do something that we've taught them." - Lucy Marco, GRCOA Executive Director
"This program empowers community members to support one another by sharing their strengths, skills and talents, giving older adults more opportunities to participate in meaningful ways. Programs like Bridging the Gap that use Asset Based Community Development allow for us to focus on what is good in people, neighbourhoods, and organizations. Building on community assets through the sharing of knowledge of elders and older adults is important to create belonging for all people. Intergenerational spaces, where diversity is welcomed and gifts are shared, are important for a vibrant community." - Sara Collyer, Director of Community Development and Support Services at Community Living Brant
"We are very grateful to the provincial government for this funding that will allow us to launch this program that bridges the gap between generations, fostering meaningful relationships while also providing positive mentorship opportunities that reconnect participations with our local community. This program will create an environment where the knowledge of the past meets the promise of the future, forging connections to ensure a more inclusive community." - Brantford Mayor Kevin Davis
- 30 -
Media Contact:
Chelsey Tobin | Communications Specialist, Communications and Community Engagement
City of Brantford | 519-759-4150 ext. 5048 | ctobin@brantford.ca
Subscribe to this Page