City cancels New Year's Eve event to mitigate community spread of omicron variant of concern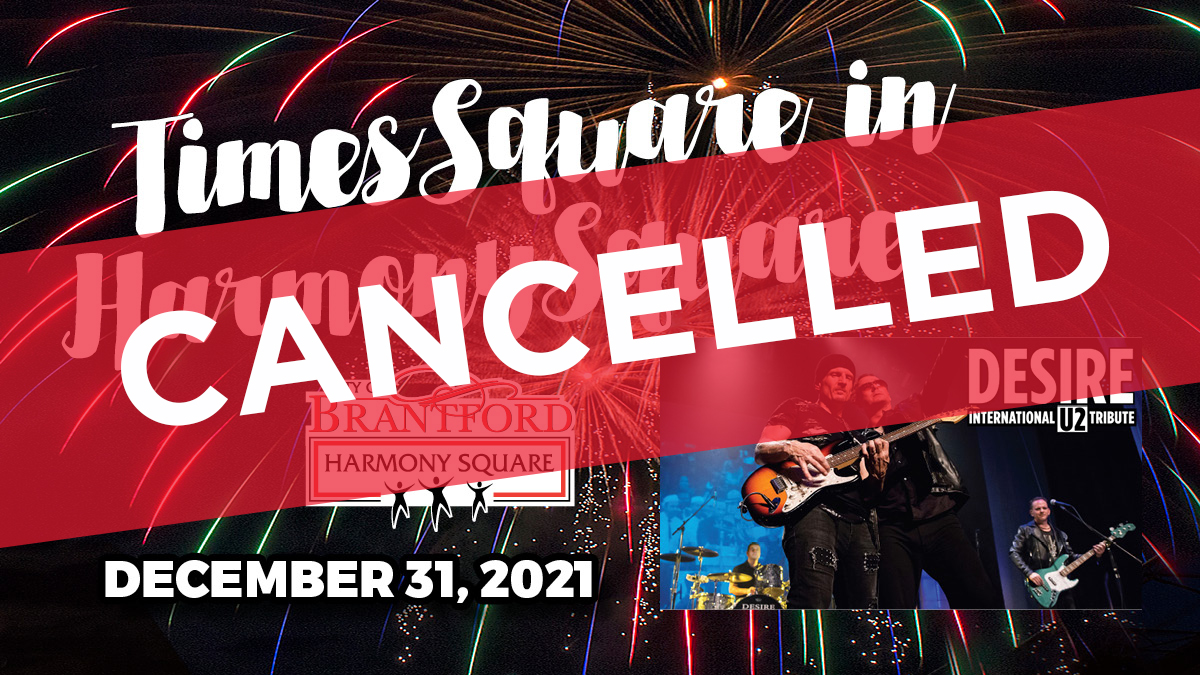 Since the onset of the COVID-19 pandemic, the City's decisions have been guided by our number one priority to protect the health and safety of our citizens and staff.
In light of increasing case numbers of COVID-19 locally, and upon the advice of public health officials to avoid large gatherings to curb the spread of the omicron variant of concern, the City has made the difficult but necessary decision to cancel this year's Times Square in Harmony Square event.
At this time, we want to thank all of our dedicated Events staff who worked so hard to plan this event, the entertainers, and our sponsors for their understanding and ongoing support during what continues to be an extraordinary and unpredictable time.
"This was a very difficult decision and one that we did not make lightly", said Lori Dawn Cavin, City of Brantford Manager, Community Recreation and Events. "We know how much many in our community look forward to this event, however, people's safety has to take priority. We very much look forward to hosting this event and others as soon as it is safe to do so again."
ADDITIONAL MEASURES IN PLACE
In accordance with provincial regulations and new preventative measures announced on December 17, the following changes to City services and programming are now in effect until further notice:

Capacity Limits
Capacity limits in all City facilities will be limited to 50%. This includes Brantford City Hall as well as the Wayne Gretzky Sports Centre (WGSC), Brantford Farmers' Market and all City owned Community Centres and arenas. Capacity in all spaces including spectator and non-spectator areas, the WGSC fitness Centre and the Centreline Physio, Sports & Wellness clinic will be reduced to 50%.

Entry requirements
Arenas
50% capacity limit in spectator and non-spectator areas
Players can arrive 30 minutes prior to your ice time and need to vacate within 30 minutes following the end of your ice time.
Dressing rooms are open with masks and 2m/6ft physical distancing required.
Showers remain available at this time
Concessions at WGSC/Brantford & District Civic Centre/Lions Park Arena are closed at this time
WGSC Lookout Sports Lounge restaurant will be limited to 50% capacity and close by 11:00 p.m.
Alcoholic beverages will not be served after 10:00 p.m.
No external food/drink permitted in spectator and non-sport areas of any City facility.
Aquatics and Fitness programs at the WGSC remain open, limited to 50% capacity. Pre-registration will continue to be required for some programming such as Aquafit and Fit for Life.
Cancellation of Brantford Minor Hockey Wayne Gretzky Tournament

Today, Brantford Minor Hockey announced the cancellation of this year's Wayne Gretzky International Hockey Tournament. With the uncertainty caused by the Omicron variant and increasing team cancellations, unfortunately it has become logistically impossible to host this year's event. Questions regarding the cancellation should be directed to Brantford Minor Hockey at waynegretzky@brantfordminorhockey.com.
Community Centres
Current programming offerings will continue, limited to 50% capacity at the following facilities:
Beckett Adult Leisure Centre
SC Johnson/T.B. Costain Community Centre
Woodman Park Community Centre
Doug Snooks Eagle Place Community Centre
Branlyn Community Centre
EarlyON Brantford Brant Child and Family Centres
Protect yourself and others
As of Monday, December 20, 2021, COVID-19 booster dose eligibility will expand to those who are 18+ years old and 84 days have passed since their second dose. To book your vaccine appointment, please visit the Brant County Health Unit's website at www.bchu.org or Ontario's online booking portal at covid19.ontariohealth.ca. You can also book your COVID-19 vaccine appointment through participating pharmacies at covid-19.ontario.ca/vaccine-locations.
Stay Vigilant
Please continue to follow these important COVID-19 guidelines to keep yourself and others in our community safe:
Wash your hands frequently, avoid touching your eyes, nose and mouth, cover coughs or sneezes, clean and disinfect surfaces and stay home if you are sick.
Wear a face covering in all public enclosed indoor spaces or when physical distancing (2 metres apart from those outside your household) cannot be maintained outdoors to reduce the risk of transmission.
Book your COVID-19 vaccination.
Additional updates regarding City programs and services are shared regularly on the City's Facebook and Twitter pages and at www.Brantford.ca/Coronavirus.
The City of Brantford Newsroom
Subscribe to News Alerts | City of Brantford Website | Privacy Policy
© City of Brantford, 100 Wellington Square Brantford
Subscribe to this Page