City hosts Mohawk Lake District information meeting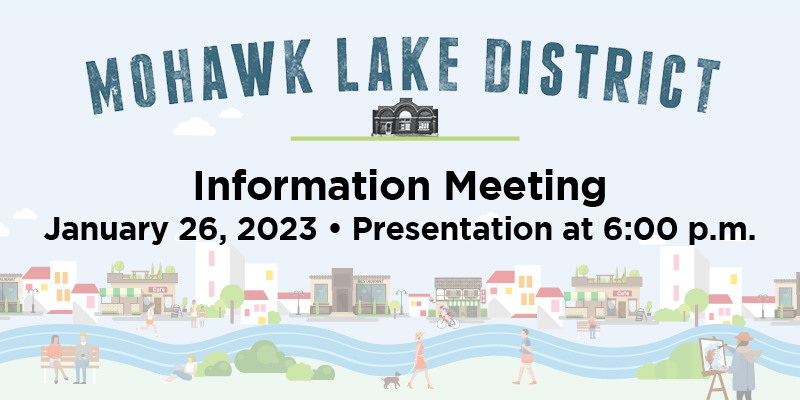 BRANTFORD, ON – The City of Brantford is pleased to host an information meeting on Thursday, January 26 for residents and businesses to learn more about the Mohawk Lake District project. The meeting will take place at the Brantford and District Civic Centre Auditorium, 79 Market Street South, and will begin with a presentation at 6 p.m. where staff and involved organizations will share the latest updates. Attendees will have the opportunity to share feedback and ask questions.
This meeting is intended to ensure residents and businesses are updated about the implementation of the Mohawk Lake District Plan, which was approved by Council in November 2020.
Everyone is welcome to attend and participating is easier than ever. There is the option to attend in-person, participate virtually through Zoom or watch the meeting live on the City of Brantford's Neighbourhood Planning Meetings YouTube page. Topics covered during the meeting include: an Official Plan amendment required to implement the approved Mohawk Lake District Plan, the purpose of a draft plan of subdivision process, the status of the Mohawk Lake and Mohawk Canal rehabilitation projects, potential new housing, and the proposals of local community organizations to relocate to the Mohawk Lake District.
There is no need to register to join in-person. Those who would like to participate virtually and provide comment or ask questions through Zoom will need to register in advance by emailing cobplanning@brantford.ca by 4:30 p.m. on January 25. There is no need to register to watch the meeting live on YouTube.
For more information about this project and meeting, please visit www.Brantford.ca/MohawkLakeDistrict.
About the Mohawk Lake District Area
The City of Brantford's Mohawk Lake District is located in the southeast part of Brantford and includes Mohawk Park, Mohawk Canal, and the 50-acre property that was home to the former Massey Ferguson and Cockshutt Plow farm equipment factories. The City's goal is to bring new activities and land uses to this area to create an exciting destination for people to visit, explore and celebrate festivals and events. Learn more at www.Brantford.ca/MohawkLakeDistrict.
- 30 -
Media Contact:
Heather Carvalho | Manager, Communications and Community Engagement
City of Brantford | 519-759-4150 ext. 5741 | hcarvalho@brantford.ca
Subscribe to this Page