City invites community to participate in the TH&B Crossing Bridge art project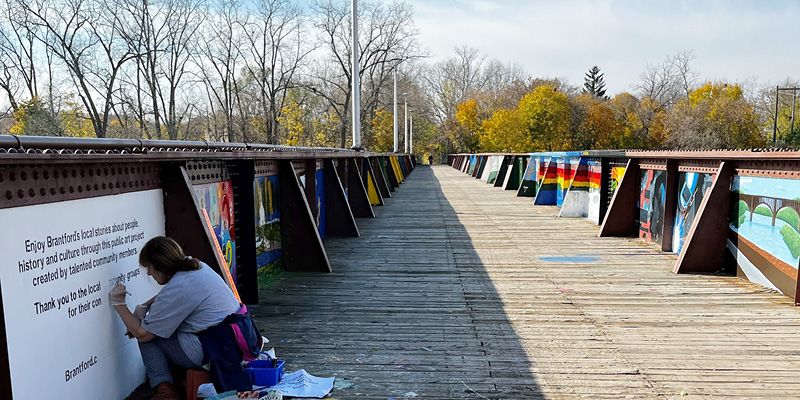 BRANTFORD, ON – The City of Brantford is inviting community members to take part in the TH&B Crossing Bridge Public Art Project. The second phase of the project is set to begin in May 2023 and submissions to participate are now being accepted. Anyone interested in painting a portion of the interior TH&B Crossing bridge panels can submit their application at www.Brantford.ca/THBPublicArt.
To contribute to the ongoing revitalization of this important landmark, individuals, businesses, community groups, and schools are invited to submit designs for up to five bridge panels that depict one or more of the following themes:
Local culture
Local history
Local people
Local events
Local destinations
There are 41 interior bridge panels available for painting that are 7-8 feet wide by 4.4 feet high. Community members whose designs are selected will be able to paint their assigned panels throughout May and early June, 2023. The City will supply both liquid and spray paint, paint brushes, mixing cups, and other supplies for participants. Applications are due by 4:30 p.m. on Monday, April 24, 2023. Submissions will be reviewed by a team of City staff and selected based on how well they align with the project themes. Once applicants are notified of their successful submission, the City will provide a painting schedule and access to the art supplies.
The first phase of the project was completed in Fall 2022, where nearly 100 community volunteers came together to paint 71 interior bridge panels with 40 unique designs. School groups, local businesses, community organizations and individual artists contributed their creativity and skills to create a beautiful piece of public art for the entire community to enjoy.
In July 2022, the TH&B Public Art project was unanimously endorsed by City Council and the Cultural Advisory Committee to help deter inappropriate graffiti and to foster a sense of pride in this important landmark. The completed artwork will be sealed with a clear protective coating.
Upon completion of the second phase of painting, the bridge will undergo a deck replacement to complete its revitalization.
Quotes
"The TH&B public art project is a true reflection of our community's character and creativity. On behalf of Council, I am proud to support this initiative and I look forward to seeing the finished product that showcases the unique talents of our residents." - Brantford Mayor Kevin Davis
- 30 -
Media Contact:
Heather Carvalho | Manager, Communications and Community Engagement City of Brantford |
hcarvalho@brantford.ca
Subscribe to this Page