City launches Healthy Aging Without Walls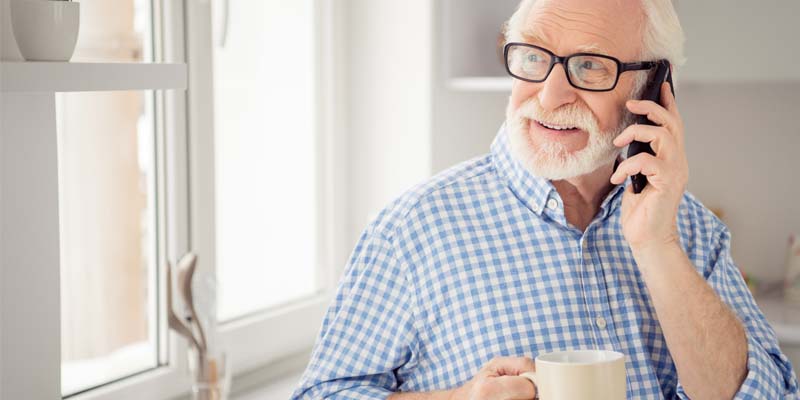 City launches Healthy Aging Without Walls to support older adults during Covid-19 pandemic
Brantford, ON – As part of the City of Brantford's response to COVID-19 and the Healthy Aging Plan, the City is launching Healthy Aging Without Walls, in partnership with the Older Adult Centres' Association of Ontario and sponsored by the Ministry for Seniors and Accessibility.
Healthy Aging Without Walls is a free interactive telephone based program that connects older adults with one another from the comfort of their home, as a way to keep older adults connected during the Covid-19 pandemic.
Adults aged 50+ are encouraged to call in and participate in trivia, health and wellness seminars, and engaging discussion groups. Starting Monday, May 4, 2020, participants can call in at 10:00 a.m. every Monday, Wednesday, and Friday. The first week will be an introduction for participants to connect and learn about the different activities planned for the month of May. Throughout the remainder of the month, Mondays will focus on "Mindfulness", with the exception of no programming on the Victoria Day holiday, Wednesdays will be "Categories", and Fridays are "Fun Fridays" featuring song requests, fun facts, jokes, and more.
"It's important now more than ever to keep older adults connected during this time of physical distancing," says Lucy Marco, President of the Grand River Council on Aging, "We hope this program will keep our seniors informed and entertained while we continue to mitigate the spread of Covid-19 in our community."
The City of Brantford continues to strongly urge citizens to stay home to protect themselves and others, particularly older adults, to mitigate the spread of COVID-19.
While physical distancing is critical to prevent the spread of the virus, it could exacerbate feelings of loneliness in a demographic already vulnerable to social isolation. The Canadian Mental Health Association is calling for urgent community investments that respond to the projected surge in mental health problems as a result of COVID-19, particularly for vulnerable populations such as older adults.
The City has a responsibility to support older adults and encourages neighbours and family members to keep finding creative ways to stay connected to older adults in their lives. Continue to phone or video conference older adults, drop off supplies while maintaining physical distance, and/or refer older adults to the resources outlined in the Neighbours Helping Neighbours initiative.
To participate in a Healthy Aging Without Walls scheduled program, please call 1-866-279-1594 and enter the 6 digit passcode 642249, then press the # key, followed by a recording of your name, and the # key.
For more information and the list of the scheduled of programs, please visit brantford.ca/HealthyAgingWithoutWalls or call the Beckett Adult Leisure Centre at (519) 756-3261, ext 5569.
-30-
Media Contact:
Kelly Page, Communications Specialist, Communications and Community Engagement | City of Brantford | Office: 519.759.4150 Ext. 5741 | kpage@brantford.ca
Subscribe to this Page