City launches "Let's Talk About Walter" campaign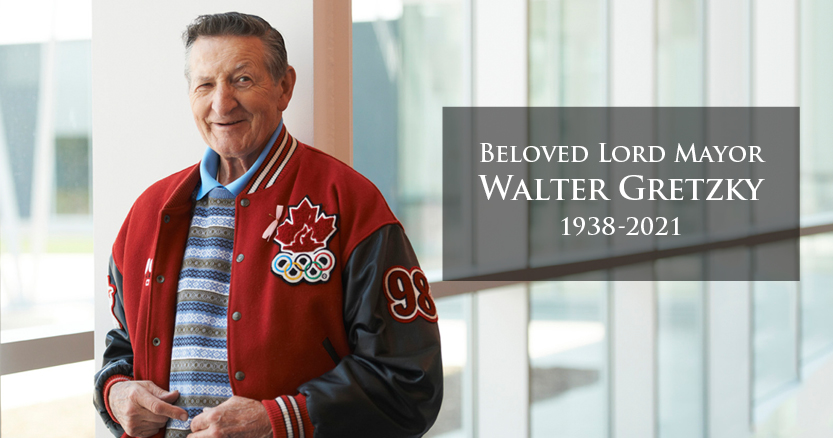 BRANTFORD, ON – The term "national treasure" is reserved to describe the most special people among us. Brantford's beloved Lord Mayor Walter Gretzky was just such a person who will always be cherished as a national treasure. In Brantford, Walter was also someone who made himself accessible to his (many) fans and admirers which is why in addition to being Canada's most famous hockey Dad, locally, Walter will also be affectionally remembered as a dear friend, colleague, coach, mentor, neighbour, and extraordinary ambassador for our community.
Walter Gretzky personified what Brantford is all about – hard work, compassion for our neighbours, a deep love of community, a champion for minor sports and inspiring youth to be the leaders of tomorrow.
It is often said locally that everyone from Brantford has a "Walter story", because he made himself so accessible to so many. Walter spent countless hours at hockey tournaments at the Wayne Gretzky Sports Centre in Brantford and during the summer would often surprise young baseball players and golfers at various parks throughout the city. He always, always had time for one more autograph or one more photo, so that everyone who wanted one would not leave disappointed.
Let's talk about Walter
Today, the City launched the first in a series of tributes to honour our beloved Lord Mayor Walter Gretzky. The "Let's Talk About Walter" campaign is featured on the City's public engagement portal Let's Talk Brantford where we are asking members of our community to use the "Stories" tool to share a story about Walter online and/or send us a photo or video of time spent with Walter by uploading the image to a Dropbox or WeTransfer (depending on size) and emailing a link to communications@brantford.ca.
The "Let's Talk About Walter" campaign can be easily accessed online at: https://letstalkbrantford.ca/let-s-talk-about-walter.
Selected photos/videos/stories collected during this campaign will be shared in a video tribute to our beloved Lord Mayor Water Gretzky as part of the City's virtual Canada Day celebration on July 1st, 2021.
Information regarding additional tributes in Walter's honour will also be shared publicly in the coming weeks.
-30-
Media Contact: 

Maria Visocchi Director, Communications and Community Engagement
City of Brantford | Office: 519.759.4150 Ext. 5754 | mvisocchi@brantford.ca
View more news
Search the City Newsroom
Subscribe to News Alerts | City Website| Privacy Policy
© City of Brantford, 100 Wellington Square
Subscribe to this Page