City launches new online engagement platform to offer more opportunities for public input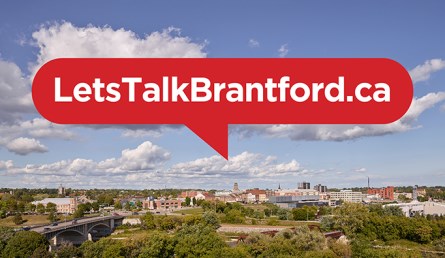 BRANTFORD, ON – In fall 2020, Brantford City Council approved the implementation of a new online engagement platform to provide citizens with a host of additional online virtual opportunities to be involved in the 2021 Budget Process, as well as other priority corporate engagement campaigns including the City's Asset Management Plan and the City Council Governance Review.
Today the City is excited to unveil the new "Let's Talk Brantford" online engagement portal that will be a one stop hub for all open public consultation campaigns, making it more convenient for citizens to provide their input regarding City programs and services. The new engagement platform currently features the following important input opportunities for residents:
2021 City Budget Process
The City of Brantford recognizes that municipal budget decisions have a profound impact on the daily lives of residents. From garbage collection, to public transit, to the safety of our neighbourhoods, budgets sit at the heart of residents' quality of life and the community's future development. As the City considers its 2021 budget, we want to hear from Brantford residents about what they think the City's 2021 budget priorities should be and what programs and services are most important to them. To help inform the City's 2021 operating budget, we are excited to offer a series of new input opportunities for residents to have their say about the City budget at LetsTalkBrantford.ca.
Asset Management Plan – Service Levels
Asset management helps the City manage our infrastructure assets and make better investment decisions. It also helps reduce risk so we can provide reliable and affordable services for our residents. To make good decisions, we need good data. We also need to know how the City may grow over time and what levels of service our residents expect from the infrastructure we operate, maintain, replace and repair. We invite the public to share your thoughts about infrastructure and asset service level expectations by visiting LetsTalkBrantford.ca.
Council Governance Review
A comprehensive Brantford City Council Governance and Employment Status Review and Ward Boundary Review is currently being undertaken in two phases with several opportunities for the public to provide input. The first phase of The Review focuses on council governance and employment status. Council governance includes the number of councillors and the method of election (in wards or at-large). Employment status refers to whether councillors should be part-time (as they have been in the past) or full-time in the future. We invite the public to share their thoughts about the structure of governance for the City by visiting LetsTalkBrantford.ca.
"Recognizing that in-person opportunities normally offered for public consultation will continue to be restricted due to the ongoing pandemic, we were very encouraged by City Council's support to provide these additional, safe engagement opportunities that residents can participate in from the safety of their own homes", said Maria Visocchi, Director of Communications and Community Engagement. "Members of Council and City staff recognize the importance of involving citizens in the development of policy, programs and services and are committed to ensuring there is a range of opportunities for the community to become knowledgeable about local government and actively involved in civic life."
-30-
Media Contact: 

Maria Visocchi Director, Communications and Community Engagement
City of Brantford | Office: 519.759.4150 Ext. 5754 | mvisocchi@brantford.ca
View more news
Search the City Newsroom
Subscribe to News Alerts | City Website| Privacy Policy
© City of Brantford, 100 Wellington Square Brantford
Subscribe to this Page