City makes important strides to support older adults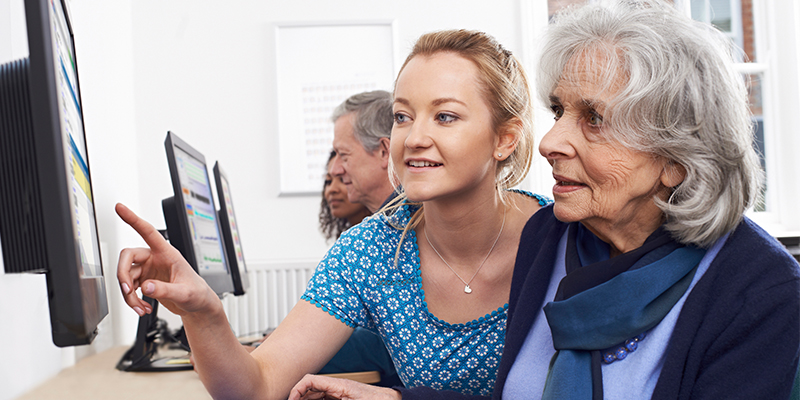 Brantford, ON – Within the next 20 years more than one quarter of Brantford residents will be age 65 or older. To keep pace with the needs of an aging population, the City continues developing programs and services to ensure older adults remain engaged and enjoy a high quality of life in our community.
In May 2018, Brantford City Council approved Healthy Aging: The City of Brantford's Age-Friendly Plan, a three-year plan based on the World Health Organization's eight domains for an Age-Friendly City, including outdoor spaces and buildings; transportation; housing; social participation; social inclusion, civic participation and employment; communication and technology; and community and health services.
At the Committee of the Whole meeting on Tuesday September 10th, staff provided Council with an overview of a series of significant benchmarks of the Healthy Aging plan that have been achieved, including the completion of the new John Noble Seniors' Apartments build, development of a fully accessible new City website, and the winning Bid to co-host the 2021 Ontario 55+ Winter Games.
"I'm very pleased with the significant progress we've made so far in creating meaningful opportunities for older adults to stay active and connected in the community", said Mayor Davis. "Given our incredible cultural, recreational and natural assets, we expect the city to become a prime destination of choice for older adults and retirees in the years to come."
Recently, the City also launched the Seniors' Studio pilot program offering social and health programming in three privately owned seniors apartment buildings. The objective of the program is to reduce barriers for seniors to access community services and resources and enhance social inclusion, by connecting seniors with services close to their homes. With support from various community partners, Seniors Studio offers health and safety programs related to healthy eating, falls prevention, Alzheimer's awareness, elder abuse prevention, and fire safety.
Other campaigns including the City's Let's Get Moving Campaign and Newcomer Seniors' Series connect older adults with important information about transit, health care and other wellness information.
To implement the programs, the City worked closely with community partners including the Grand River Council on Aging, Brant County Health Unit, Grand River Community Health Centre, Adult Recreation Therapy Centre, the Alzheimer's Society of Canada, and Elder Abuse Ontario.
"The Council on Aging has long been a strong advocate for older adults in this community and we are very encouraged by the leadership position the City has demonstrated in age-friendly planning. We are pleased that the City continues to make this a priority and look forward to working with Council and City staff to continue building on these successful campaigns", said Lucy Marco, President of the Grand River Council on Aging.
In 2017 the City of Brantford was recognized by the World Health Organization as an Age-Friendly community and in 2018 was honoured with the Ontario Age-Friendly Community Recognition Award.
-30 -
Media Contact: Kelly Page, Communications Specialist, Communications and Community Engagement |
City of Brantford | Office: 519.759.4150 Ext. 5741 | kpage@brantford.ca
Subscribe to this Page