City of Brantford announces 2022 Remembrance Day Services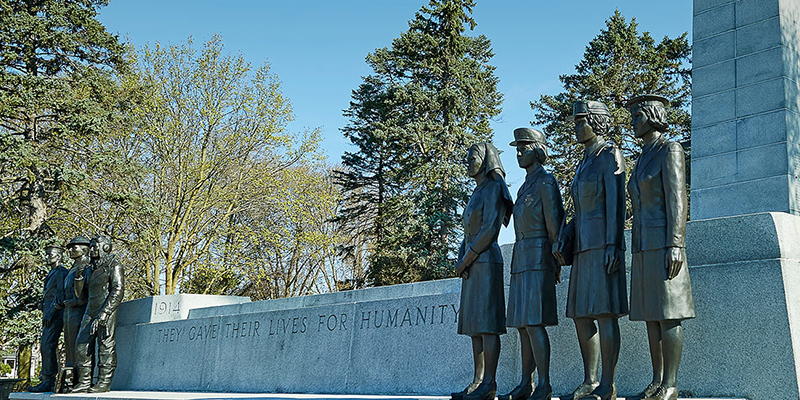 BRANTFORD, ON – The City of Brantford is proud to join fellow Canadians on Remembrance Day as we pay tribute to the courage and sacrifice of those who served and continue to serve our country during times of war, military conflict, and peace. We encourage members of our community to join us on Friday, November 11 as we remember, with deep respect and immense gratitude, those who served our nation and how meaningful their sacrifices are to our community and cherished way of life.
An overnight lighting display will take place at the Cenotaph on Thursday, November 10, 2022 beginning at 6:00 p.m. until Friday, November 11 at 7:00 a.m. A cadet vigil will take place Thursday, November 10 from 6:00 p.m. to midnight. Resuming again on Friday, November 11 from 7:00 a.m. to 10:30 a.m.
Residents are invited to attend the Remembrance Day Service at the Cenotaph. Front row seating will only be available to veterans and their spouses or companions. Bleachers will be available for the general public.
The order of proceedings for the City's Remembrance Day Services and Parade on Friday, November 11, 2022 is as follows:
10:40 a.m.: The walking march leaves Harmony Square en route to the Brant County War Memorial
10:50 a.m.: Civic Service of Remembrance at the Brant County War Memorial, Brant Avenue and Dalhousie Street, Brantford.
Approximately 11:15 a.m.: A Fly-pass will occur with vintage airplanes former 437 RCAF Squadron and D-DAY C47 Dakota Veteran Aircraft with North American B25J Mitchell Bomer in 98 RAF Squadron markings courtesy of the Canadian Warplane Heritage Museum
The following streets will be closed on Friday, November 11, 2022 from 9:30 a.m. to 11:45 a.m. for the City's Remembrance Day Services:
Dalhousie Street between Market Street to Brant Avenue
Brant Avenue between Church and Colborne Streets
Detour routes will be signed to accommodate vehicular traffic.
Between the hours of 10:00 a.m. and 1:00 p.m. on November 11, 2022, free parking will be provided at downtown area municipal parking lots. Parking time restrictions at on-street parking spaces in the downtown area will be waived.
Brantford Transit fares will also be waived for riders wearing a poppy to and from the service.
The City of Brantford is grateful for the efforts of those who have assisted in organizing the Civic Remembrance Day Service, including various veterans' groups, organizations, the 56th Field Artillery Regiment, City of Brantford and County of Brant staff, Larry Brock, MP Brantford-Brant, Will Bouma, MPP Brantford-Brant, emergency services, Brant Men of Song, the Telephone City Musical Society, Braemar House School Choir, the Canadian Warplane Heritage Museum, and various school boards and legions.
- 30 -
Media Contact:
Sharon Sayles | Communications Specialist, Communications, Community Engagement and Customer Service
City of Brantford | 519-759-4150 ext. 5218 |communications@brantford.ca
Subscribe to this Page