City of Brantford Canada Day holiday programming and schedule changes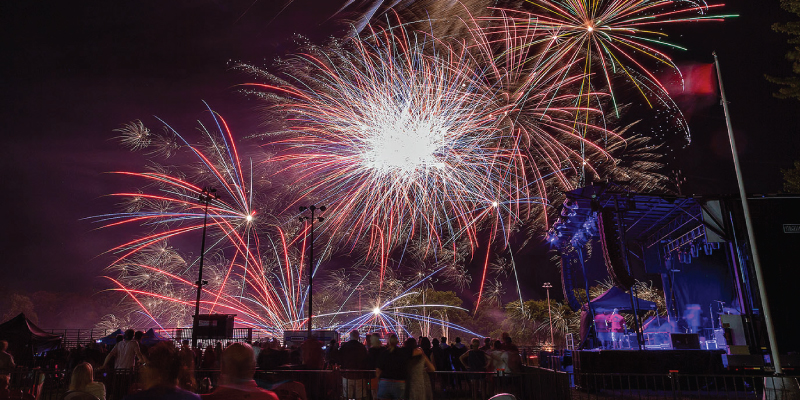 BRANTFORD, ON – The City of Brantford is pleased to provide the following programming on Canada Day weekend and changes to schedules for July 1 to 3, 2023. In addition, please note that residents are permitted to discharge fireworks on June 28 to July 1, 2023 as per the Brantford Municipal Code (Chapter 520).
Brantford City Hall at 58 Dalhousie Street will close at 4:30 p.m. on Friday, June 30 and reopen on Tuesday, July 4 at 8:30 a.m.
Online Services Reminder
Many City services can be requested using one of our comprehensive online forms, that can be conveniently accessed on the City's website at Brantford.ca/RequestService. If you have any questions, please call us at 519-759-4150.
Earl Haig Family Fun Park
The park will be open on July 1 to July 3 from 11 a.m. to 6 p.m. with pools closing at 5:30 p.m. Park amenities include lazy river, splash pad, leisure pool and waterslide and mini-putt. Detailed information can be found at www.brantford.ca/EarlHaig.
Canada Day at Lions Park Steve Brown Sports Complex
View Brantford's Canada Day schedules below for Saturday July 1, 2023. All events and activities are free with exception to the Kidzone Carnival and Midway and Marketplace Vendor purchases. Free shuttles services will be available. Brantford Lift is available and must be pre-booked by calling 519-752-4444. Find details at www.brantford.ca/CanadaDay.
Brantford's Canada Day schedule:
10 a.m: Citizenship Ceremony at the Boys and Girls Club of Brantford
11 a.m. to 11 p.m: Marketplace Vendors
11 a.m. to 11 p.m: Food vendors
Young Canadian Stage from 12 p.m. to 6 p.m.
12 p.m: Barry O' Kids Show
1 p.m: TEAM T&J
1:30 p.m: TEAM T&J Meet and Greet
2 p.m: PAW PATROL's Chase Story Time with Deputy Chief Saunders
2:30 p.m: PAW PATROL's Chase Meet and Greet
3 p.m: TEAM T&J
3:30 p.m: TEAM T&J Meet and Greet
4 p.m: Blue's Clues Interactive Story Time
4:30 p.m: Blue Meet and Greet
5 p.m: TEAM T&J
5:30 p.m: PAW PATROL's Chase Meet and Greet
Main Stage presented by OLG from 12 p.m. to 10 p.m.
12 p.m: Frank DiFelice Band with special guest David McKee
1:20 p.m: Three Legged Horse
2:35 p.m: Backburner
3:50 p.m: Mystic Highway
5:10 p.m: Jace Martin & the Pace
6:30 p.m: Sass Jordan
8:30 p.m: KIM MITCHELL
Wrestling Shows (Red Ball Diamond)
1 p.m: Wrestling show followed by a Meet and Greet
3 p.m: Wrestling show followed by a Meet and Greet
5 p.m: Wrestling show followed by a Meet and Greet
Fireworks at 10 p.m
Other City facility schedules for July 1 to 3, 2023:
Details

| Facility | July 1 | July 2 | July 3 |
| --- | --- | --- | --- |
| Beckett Recreation Centre | Closed | Closed | Closed |
| Bell Homestead National Historic Site | Closed | Closed | Closed |
| Branlyn Community Centre | Closed | Closed | Closed |
| Brantford and District Civic Centre | Closed | Closed | Closed |
| Brantford Transit | No service | Regular service | Regular service |
| Brantford Lift | Brantford Lift is available for Brantford's Canada Day activities at Lions Park Steve Brown Sports Complex only and must be pre-booked by calling 519-752-4444. | Regular service | Regular service |
| Doug Snooks Eagle Place Community Centre | Closed | Closed | Closed |
| Parking Enforcement Office | Closed | Closed | Closed |
| T.B. Costain/SC Johnson Community Centre | Closed | Closed | Closed |
| Tourism Brantford Information Desk (located within the Wayne Gretzky Sports Centre) | Closed | Closed | Closed |
| Wayne Gretzky Sports Centre (Pools/Fitness/Arena) | Closed | Open regular hours | Open regular hours |
| Woodman Park Community Centre | Closed | Closed | Closed |
| 220 Colborne Street | Not open weekends | Not open weekends | Closed |
Subscribe to this Page