City of Brantford Family Day Holiday programming and schedule changes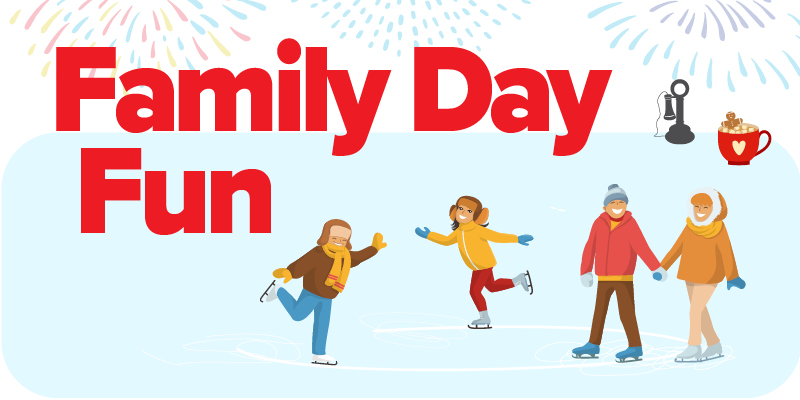 BRANTFORD, ON – The City of Brantford is pleased to provide the following programming on Family Day, February 20, 2023:
Wayne Gretzky Sports Centre free activities
Indoor track open 6:30 a.m. to 10 p.m.
Public Swim, sponsored by CUPE 181: 2 p.m. to 4 p.m.
Public Skate, sponsored by CUPE 181: 2 p.m. to 4 p.m.
Harmony Square free activities
10 a.m. to 10 p.m. Ice skating at Harmony Square
4 p.m. to 6 p.m. Family Disney trivia at Hudson Public. Registration is required by calling Hudson Public at 519-304-4561.
6 p.m. Free hot chocolate sponsored by Tim Hortons while quantities last
6 p.m. The BarryO Kidshow featuring a blend of ventriloquism and magic followed by a local educator reading the classic Dr. Seuss story, The Lorax.
7:30 p.m. Special fireworks display followed by a D.J. dance party until 8 p.m.
Please note that fireworks display is taking place this year as a result of the cancellation of the fireworks scheduled at the Time's Square in Harmony Square event on New Year's Eve. Brantford residents are not permitted to discharge fireworks on Family Day weekend as per the Brantford Municipal Code (Chapter 520).
Bell Homestead National Historic Site
The Homestead is open from 9 a.m. to 3 p.m. and closed for lunch from 12 pm to 1 pm. Pre-booked tours are available for the special admission price of $1 per person. Children six and under are free.
Book your tour by calling 519-756-6220 or by emailing bellhomestead@brantford.ca.
City Facilities Holiday Schedule on February 20, 2023
For the public's information, the following schedule changes will be in place for the Family Day holiday on Monday, February 20, 2023.
The following facilities are open and operating during regular hours:
Brantford and Area Sports Hall of Recognition: Open 9 a.m. to 9 p.m.
Garbage and Recycling Collection: no changes to regularly scheduled collection
Mohawk Street Landfill site: Open 8 a.m. to 5 p.m.
Other City of Brantford Facilities - Hours of Operation on February 20, 2023:
Beckett Adult Leisure Centre: closed
Branlyn Community Centre: closed
Brantford and District Civic Centre: closed until 4 p.m.
Brantford Lift: no service
Brantford Public Library (Main Branch and St. Paul): closed
Brantford Transit: no service
Brantford City Hall Customer Service (open regular hours for calls only at 519-759-4150)
Doug Snooks Eagle Place Community Centre: closed
Lions Park Arena: closed until 2 p.m.
Parking Enforcement Office (located in City Hall): closed
T.B. Costain/SC Johnson Community Centre: closed
Tourism Brantford Information Desk (located within Wayne Gretzky Sports Centre): closed
Woodman Park Community Centre: closed
220 Colborne Street: closed
Online Services Reminder
Many City services can be requested using one of our comprehensive online forms, that can be conveniently accessed on the City's website at Brantford.ca/RequestService. If you have any questions, please call us at 519-759-4150.
Subscribe to this Page